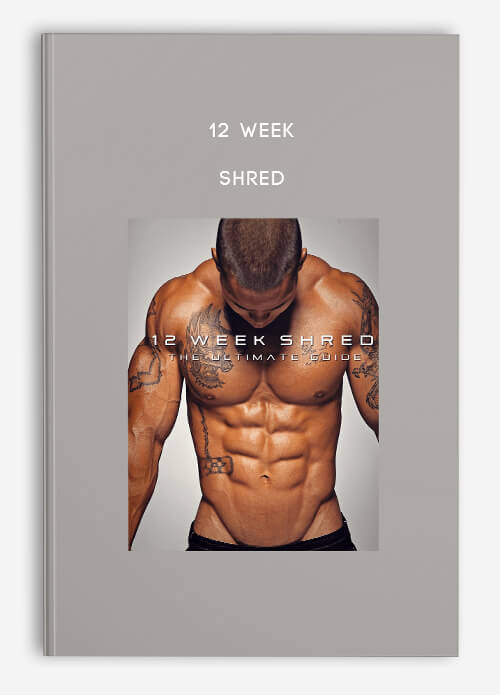 12 Week Shred
Description
The 12 Week Shred Program is the ultimate guide to achieving the body of your dreams, no matter what your experience level may be. No fads, no gimmicks, just results!
The 12 Week Shred Program will help you easily understand:
Performance Nutrition
✔ The science behind losing body-fat
✔ How to devise your own precise carb-cycling diet
✔ How to enjoy foods you love AND shred body-fat by utilizing "Flexible Dieting"
✔ How many calories and macronutrients you need per day
✔ How you can manipulate your food intake and training regimen to lose fat and keep it off for good
Training Protocols
✔ 12 Week Shred Triphasic Training leaves no stone unturned by incorporating several types of intensity techniques into your routine
✔ An overview of how manipulating rep ranges throughout the week is the best way to build strength AND muscle simultaneously
✔ Complete Exercise Guide included with clear step by step instructions
✔ Handy, easy-to-use printable workout logs to track your progress in the gym
Supplement Guide
Get immediately download 12 Week Shred
✔ Explains the science behind the most effective, research-backed supplements on the market
✔ No bogus product placement or advertisements; we want to give you the truth about what works and what is nonsense
What's included in the Transformation Pack:
The 12 Week Shred Guide is not a physical program, but an INSTANT Digital Download. You can access the files immediately, print them out, or view them on any electronic device including all smartphones and computers.
12 Week Shred Program Book + Exercise Glossary (80+ pages)
12 Week Shred Printable Workout Logs (PDF format)
Carb Cycling: Calorie & Macronutrient Calculator (Excel Spreadsheet)
12 Week Weight Loss Log (Excel Spreadsheet)
How much is a new body worth to you?

It's hard to put a financial figure on improved confidence, energy, and health in your life. Maybe it's worth $1K, $2k, or even $10K+?
The confidence you will gain from seeing your physique become more defined and toned will be worth every drop of sweat you put into this.
Imagine the grin on your face when friends and family commend you on your transformation.
This entire system costs less than a pair of shoes!
The 12 Week Shred Guide is a simple, efficient, and science-based program which is optimized to target fat and bring you REAL RESULTS! It's time to transform yourself!
Fitness
More information about Fitness:
Regular exercise and physical activity promotes strong muscles and bones. It improves respiratory, cardiovascular health, and overall health.
Staying active can also help you maintain a healthy weight, reduce your risk for type 2 diabetes, heart disease, and reduce your risk for some cancers.
Moderate aerobics exercises 3 times a week for 30 minutes can reduce cancer risk Cancer-based exercises provide relief to the patient during
cancer treatment There are many benefits to exercising. But it's even more beneficial for cancer patients. This has been proven in research published in the medical journal 'Cancer Journal for Clinicians'.
Get 12 Week Shred with Digitdl.com