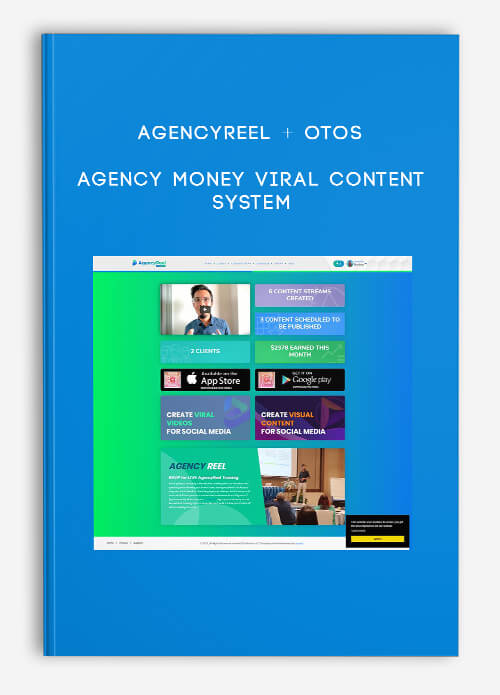 AgencyReel + OTOs – Agency Money Viral Content System
Give Your Subscribers a True "Corporate Agency Business in a Box" That Does
EVERYTHING For Them

with


YOUR Branding

– Welcome to Agency Reel
Agency Reel is the first totally comprehensive solution for anyone looking to start, grow, and run a serious marketing services agency from scratch with just minutes of work.
Not only can it find clients and add clients to the software with your branding, but Agency Reel allows you to create graphic and video content for clients. You can tap into advanced A.I. content stream technology that smartly posts a mix of that content 24-7 100% for you without having to lift a finger, just as if you run an agency with a full team yourself!
But Before We Dive Into the App,
Let Us Introduce Ourselves…
Hey, it's Ben Murray and Abhi Dwivedi back with our most exciting product to date. If you don't know us, we've been online marketers and software developers for over 14 years now, having done multiple six-figure product launches, webinar promos and running multiple successful YouTube channels; on top of many more marketing achievements.
In the past few years, we've had over 30+ Best Seller software products with 10,000s users actively using and benefiting from our apps. Our apps always deliver real-life results, they convert for our partners and the ReelApps support team is 24/7 available to help our users achieve more.
So, Why Are People

Super Excited

for AgencyReel?
The angle is that AgencyReel will allow you to position yourself, do the work, and bill customers
as a full-fledged agency with a team while really working a few minutes each day since the
software will do the client-finding, video content making, and re-scheduling you.
There's been a lot of video and agency apps released and they are always among the best
sellers. But, users are finding out that to make decent money you need to work 24-7 doing all
the work yourself. With Agency Reel, however, you can do the work of an entire video/social
agency a few minutes at the start of each week.
Agency Reel Works in
4 Steps:
Find and Integrate Clients into the App
Enter a keyword and area and the Agency Reel Leads Suite will find business prospects, their contact details, whether they have video presence, website, social media presence etc and present all of that to you in an easy to understand format. Then, reach out to prospects from right inside the app to land them as a client and integrate each client into Agency Reel to specifically organize their content, schedules, billing, and more.
Upload Their Content or Create New Content in Minutes
Begin uploading you or your client's content or if they don't have any, create some in just a few clicks. You can make content like video cinemagraphs from a 500+ library, social media quotes from a 1000+ library, memes from a 10,000+ library, and much more with a click of a mouse.
Create Smart A.I. Content Streams
Create 'content streams' or collections of a specific type of content for each client. For example, you can create a content stream of a collection of just video content, a stream of quotes, a stream of memes, etc. for each specific client. Then, specify when each type of 'stream' will post to the client's social media. Ie: quotes can post each Monday and Friday at 2 pm, memes will post at 3 pm Wednesday, etc.
Sit Back as the App Does All the Work and Track Your Profit
The app will then post whatever content you have uploaded to that particular content stream at that time and once it runs out of new posts, it will start recycling the older posts so you're always posting content continuously.
Clients will have no idea it's a smart software doing 100% of the work posting a varied suite of content all day and assume you have an around-the-clock team!
Just log into your dashboard at any time and check your monthly profits from all clients so you know how fast to scale your business.
Get AgencyReel + OTOs – Agency Money Viral Content System with Digitdl.com