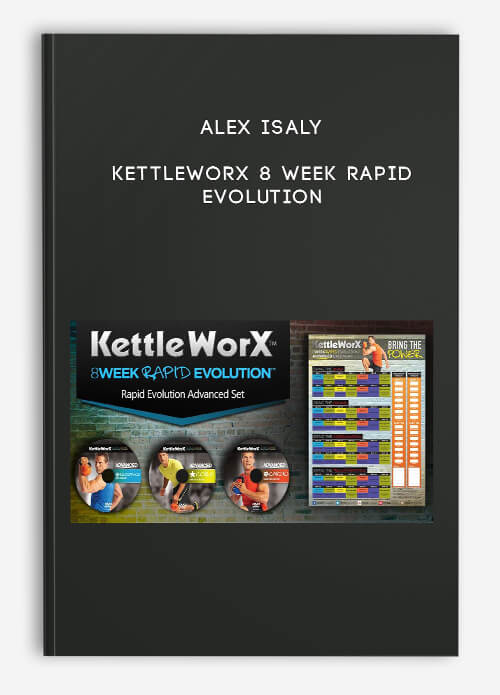 Alex Isaly – Kettleworx 8 Week Rapid Evolution
Description
KettleWorX is FAST, FUN & EFFECTIVE. Our innovative 3-dimensional training program gets your body moving in 3 directions & on 3 planes for more effective whole body workouts. We focus on the key areas of cardio, core & resistance.
KettleWorX CARDIO workouts are high energy fat burning total body routines
KettleWorX CORE workouts are designed to tighten your core & abs muscles
KettleWorX RESISTANCE workouts sculpt & tone your entire body
KETTLEWORX INTRODUCTION Jumpstarts your success as Alex teaches you the basics.
CARDIO, CORE & RESISTANCE Four unique 20-minute kettlebell training workouts per DVD
SUPERCHARGE | UPPER BODY, LOWER BODY + CORE Each DVD contains three 10-minute intense targeted workouts
Fitness online course
More information about Fitness:
Regular exercise and physical activity promotes strong muscles and bones. It improves respiratory, cardiovascular health, and overall health.
Staying active can also help you maintain a healthy weight, reduce your risk for type 2 diabetes, heart disease, and reduce your risk for some cancers.
Moderate aerobics exercises 3 times a week for 30 minutes can reduce cancer risk Cancer-based exercises provide relief to the patient during
cancer treatment There are many benefits to exercising. But it's even more beneficial for cancer patients. This has been proven in research published in the medical journal 'Cancer Journal for Clinicians'.
Get Alex Isaly – Kettleworx 8 Week Rapid Evolution with Digitdl.com