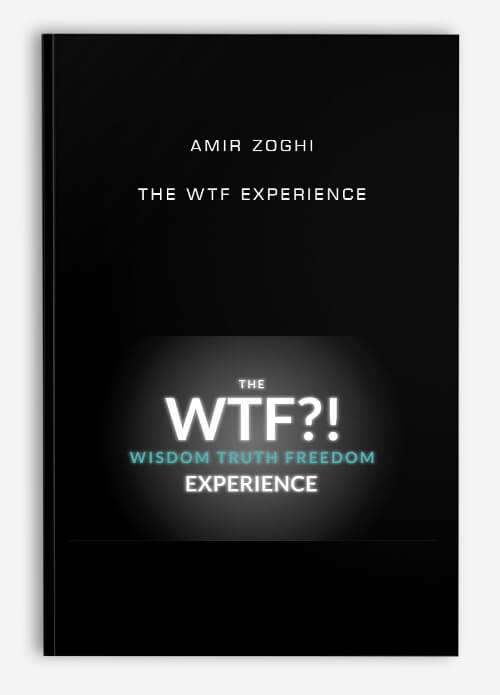 Amir Zoghi – The WTF Experience
Description
My name is Amir Zoghi and this page is about a transformational program called the WTF?! Experience (Wisdom, Truth & Freedom) and I'm not going to be telling you all the reasons of why you should attend this program with me.
Instead I'm going to share with you the 3 following important points:
– Why I share the program, and why I'm about to offer it to you in the generous way it is about to be offered below!
– Why some people have financial interests in you NOT attending this program…
– And how I'm NOT actually looking for people to join this program….

This video below is a little teaser video I have put together for you, short enough just to give you a possible tingle. And when I say a tingle I'm talking about a feeling inside you that may say to you that "this is what I've been looking for"….
The WTF?! program is renowned to give people not only that WOW experience, but that "What the F#%K?! Experience."
Although the try acronym of the program is the Wisdom, Truth & Freedom Experience, due to the depth and simplicity of the wisdom being shared by Amir Zoghi in his 2 day signatory program the true effect of the program is definitely that what the F#%K?! experience.
Amir Zoghi will share insights that will be sure to move you like no other. And let's be clear here, the WTF?! Experience is like no other! The message Amir shares will be the complete opposite to what people "know" and/or completely opposite to how they live.
This program is not about learning or being taught about the Truth, rather it is about having a direct experience of it! As Amir mentions, "there is great difference between knowing the Truth versus Being it; the one who knows it, cannot live it." The WTF?! Experience is about living all that you know. Knowledge is not power, it's wisdom that has power, and wisdom is only attained when one has had a direct experience of what they know.
The WTF?! Experience is dedicated to having a direct experience of what you know to be True, it's about living your Truth and not just knowing it. This program is about deepening your experience of who you Truly are so that you may live your infinite possibilities.
What this program is NOT about:
Spiritual teachings or ideas
Personal or professional development tools or methods
Religions or Philosophy teachings
Hype or motivation techniques
NLP online course
So what is NLP?
NLP stands for Neuro-Linguistic Programming. Neuro refers to your neurology;
Linguistic refers to language; programming refers to how that neural language functions.
In other words, learning NLP is like learning the language of your own mind!
NLP is the study of excellent communication–both with yourself, and with others.
It was developed by modeling excellent communicators and therapists who got results with their clients.
NLP is a set of tools and techniques, but it is so much more than that.
It is an attitude and a methodology of knowing how to achieve your goals and get results
Get Amir Zoghi – The WTF Experience with Digitdl.com