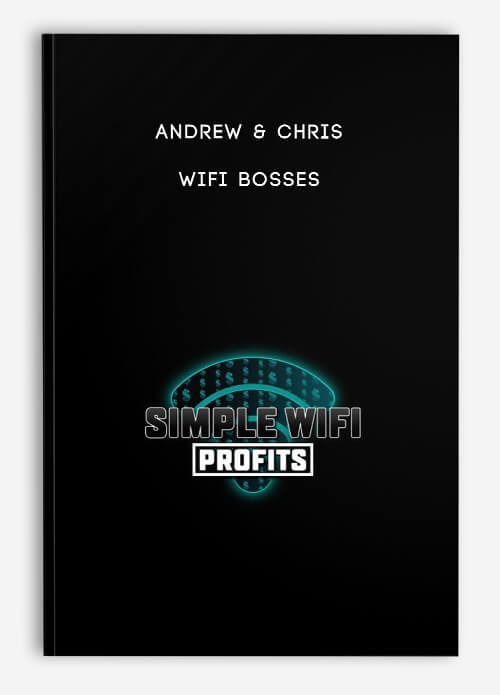 Andrew & Chris – WiFi Bosses
Description
Simple WiFi Profits by Wifi Bosses is a training course by Chris & Andrew that will show you exactly how to copy their simple 4-step process… so you can start to live the life you dream of and deserve.
This system is not available anywhere else, but right here on this page. Chris and Andrew are going to share the exact ads, products, and system they use in their own businesses, so you can duplicate this system for yourself.
Here's Their Goal: To Help You Make $10,000.00/month OR More. In your spare time!
Please note this product is released as dripfeed and new content is released every week. It is our guarantee that you will get complete course as the content is released
Remember, so far, Andrew and Chris have made over $6,700,000.00 with this process without a shred of an advantage or "guru status".
Even though this is one of the easiest money-making strategies, you'll ever see… It's only that way because Chris and Andrew have spent over $3,015,997.00 on developing and testing this system, so they know it's going to work for people like you. And so far… it really has!
Level of consistency has allowed their students to quit their jobs, pay off their mortgages, clear any debts, and confidently plan for the futures because they know this is a system that they can rely on.
But, here's the best part
Nothing is stopping you from going past the $10,000.00/month mark either. That's the benchmark that Chris and Andrew have set because they know it's realistic within their system…
Here's What You Get When You Sign Up For Simple WiFi Profits Today
The 8 Pillar Approach To Building Your Success:
Our Simple WiFi Profits System
Done-For-You Best Products
Done-For-You Ad Swipe File
Done-For-You Ad Targeting
Monthly WiFi Bosses Coaching
When you combine everything offered to you today, you're looking at well over $45,567.00 worth of value inside of Simple WiFi Profits.
That's not even taking into account the $3,015,997.00 Chris and Andrew have already invested into the system to make it as foolproof as it is today, When they launched this training, the very first batch of students paid $20,000.00 to get HALF of what's on offer to you today.
Even at $20,000, this would be well worth it, considering that you can get that entire investment back in just a couple of weeks from now. Remember, James Y. is earning $40,000.00 PER DAY now! But, today, you can get EVERYTHING, including the 5 incredible bonuses that we talked about above… And they won't charge you the full $45,567.00… They won't charge you $20,000.00… They won't charge you $10,000.00… They won't charge you $5,000.00… They won't even charge you $3,000.00… (But if they DID – again, it would be well worth it!) For today ONLY, Chris & Andrew have applied a special discount, which means
Business online course
Information about business:
Business is the activity of making one's living or making money by producing or buying and selling products (such as goods and services).[need quotation to verify] Simply put, it is "any activity or enterprise entered into for profit.
It does not mean it is a company, a corporation, partnership, or have any such formal organization, but it can range from a street peddler to General Motors."
Having a business name does not separate the business entity from the owner, which means that the owner of the business is responsible and liable for debts incurred by the business.
If the business acquires debts, the creditors can go after the owner's personal possessions.
A business structure does not allow for corporate tax rates. The proprietor is personally taxed on all income from the business.
Get Andrew & Chris – WiFi Bosses with Digitdl.com