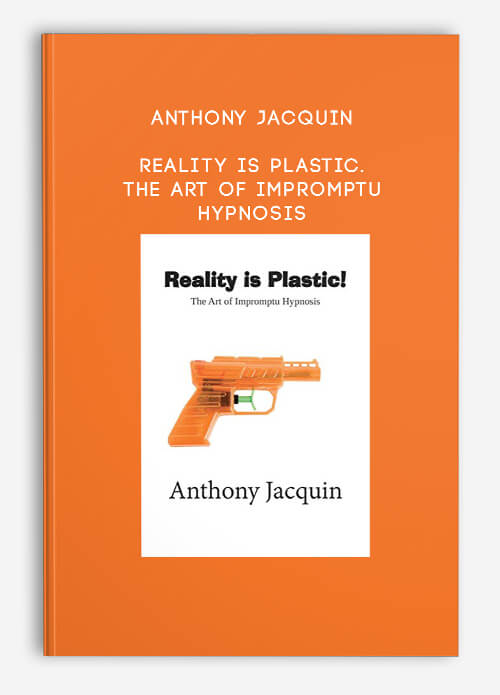 Anthony Jacquin – Reality is Plastic. The Art of Impromptu Hypnosis
Description
This book is about hypnosis and how to use it effectively. It will teach you what hypnosis is and how to hypnotise both individuals and groups of people any time and anywhere you choose. No prior experience of hypnosis is required to understand and apply the knowledge in this book. The techniques are deceptively simple yet incredibly powerful. They are entirely practical and have been road-tested over many years, with thousands of people.
This seminal book is renowned by hypnotists around the world, whether they are hobbyists or professionals.
The author is a vastly experienced hypnotist, hypnotherapist and trainer.
Originally written in 2007, this is the updated edition from 2016.
Hypnosis coures
Hypnosis is a human condition involving focused attention, reduced peripheral awareness, and an enhanced capacity to respond to suggestiom.
There are competing theories explaining hypnosis and related phenomena.
Altered state theories see hypnosis as an altered state of mind or trance, marked by a level of awareness different from the ordinary state of consciousness.
In contrast, nonstate theories see hypnosis as, variously, a type of placebo effect, a redefinition of an interaction with a therapist or form of imaginative role enactment.
During hypnosis, a person is said to have heightened focus and concentration.
Hypnotized subjects are said to show an increased response to suggestions.
Hypnosis usually begins with a hypnotic induction involving a series of preliminary instructions and suggestion.
The use of hypnotism for therapeutic purposes is referred to as "hypnotherapy", while its use as a form of entertainment for an audience is known as "stage hypnosis".
Stage hypnosis is often performed by mentalists practicing the art form of mentalism.
Get Anthony Jacquin – Reality is Plastic. The Art of Impromptu Hypnosis with Digitdl.com