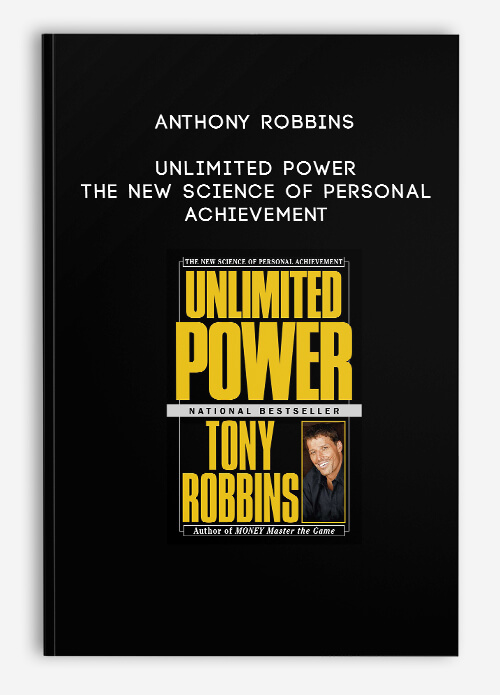 Anthony Robbins – Unlimited Power – The New Science of Personal Achievement
Description
Unlimited Power — The New Science of Personal Achievement by Tony Robbins
"The way you communicate with others and the way you communicate with your own self ultimately determines the quality of your own life"
On Christmas eve what are your feelings?
Alternately, say you know you are in for a big pay raise tomorrow, how are your feeling now?
Weren't those great feelings? Didn't they make you feel so good about yourself that you went about your day with an unstoppable attitude towards your goals, while being at your kindest best?
What if you could summon those feelings on demand? Tony Robbins provides a recipe to do just that!
This book is about two things:
1. How to communicate with your own self that brings out the best in you every single day
2. How to communicate with others that allows you to build meaningful relationships
How to communicate with your own self:
"How you feel is not the result of what is happening in your life, it is your interpretation of what is happening"
Our behavior is the result of the state we are in. And there are two kinds of states. They are:
Resourceful or good state: Confidence, love, inner strength, joy, belief, all that makes us feel powerful.
Unresourceful or bad state: Confusion, depression, fear, anxiety, sadness, frustration, all that leaves us powerless.
We all go in and out of good and bad states. He is not a bad person, he is just in a bad state.
Understanding your state is the key to understanding change and achieving excellence.
Enabling states empower you. Successful people are able to gain access to their most resourceful states consistently. Remember nothing is inherently good or bad. It is we who can represent things that puts us in a positive state or do the opposite.
State in turn is made up of two components.
1) Your internal representation (things we picture, say to ourselves)
2) Condition and use of your physiology
These two, your internal representation and your physiology are constantly interacting with each other to create the state we are in.
And the state we are in determines the type of behavior we produce.
Thus to control and direct our behavior we must control and direct our states and to control our states, we must control and consciously direct our internal representations and physiologies.
Your internal representation
What and how you picture things, as well what and how you say things to yourself about the situation at hand create the state you are in and thus the kinds of behavior you produce.
Our attitudes, beliefs, experiences, values shape our internal representations of events, people, life.
The first step to change your behavior is to change your beliefs. This can be done through education, a conducive environment, creating results or simply creating the experience you desire in future as if it were here now.
Where do your beliefs come from? If you want to succeed, choose your beliefs carefully rather than being a flypaper that picks up whichever belief sticks to it!
Find beliefs that guide you towards the outcome you want! Below are beliefs that may serve you well!
Belief 1: Everything happens for a reason and it serves us! Do you see the potential in a situation or the roadblock?
Belief 2: There is no such thing as failure. There are only results! Winners, leaders, masters, people with personal power all understand that if you try something and do not get the outcome you want, its simply feedback!
|What would you attempt to do if you knew you could not fail?"
Belief #3 — Whatever happens take responsibility
Belief #4 — It is not necessary to understand everything to be able to use everything. Successful people know that they don't need to know every detail to get started
Belief #5 — People are your greatest resource! Ask for help, build lasting relationships, create value for them.
Enter sub-modalities. These are like the ingredients that make up any dish.
We all rely on multiple senses, primarily they are seeing, listening and feeling.
Do you hear that incessant voice in your head making you feel the blues? How about making its volume lower or making the voice sound funny like a cartoon character? Do you see any task as enormous? How about reducing the size of image of the task so that it feels small?
Condition and use of your physiology?
Physiological manipulation is an instant way to control your brain. So if you want to change your state to a more resourceful state in an instant, change your physiology. Stand upright, take deep breaths, smile. Speak in a respectful tone as if you had already achieved your goals.
People who succeed commit both their mental and physical resources to work hand in hand!
This book is packed with fabulous content and I shall continue the review in parts. Till then Happy Holidays!
NLP online course
So what is NLP?
NLP stands for Neuro-Linguistic Programming. Neuro refers to your neurology;
Linguistic refers to language; programming refers to how that neural language functions.
In other words, learning NLP is like learning the language of your own mind!
NLP is the study of excellent communicationñboth with yourself, and with others.
It was developed by modeling excellent communicators and therapists who got results with their clients.
NLP is a set of tools and techniques, but it is so much more than that.
It is an attitude and a methodology of knowing how to achieve your goals and get results
Get Anthony Robbins – Unlimited Power – The New Science of Personal Achievement with Digitdl.com