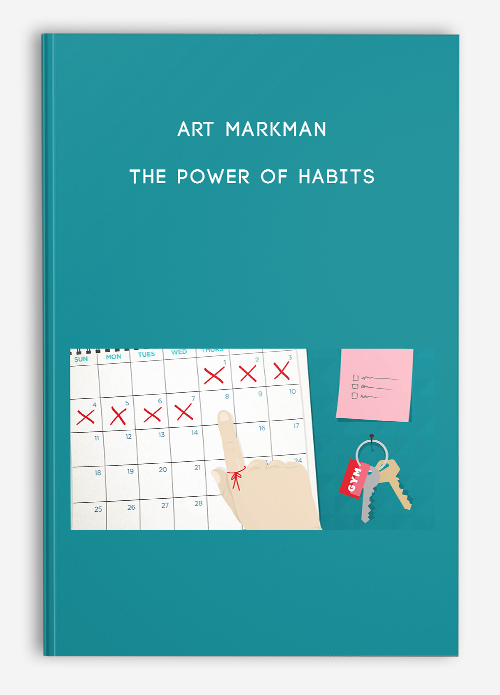 Art Markman – The Power of Habits
Description
Setting a goal is one thing, but actually doing the work to achieve that goal is a totally different endeavor. If you want to hit your targets and make lasting changes in your life, join author and psychologist Art Markman, Ph.D., to learn what it takes to build and maintain healthy habits that will last a lifetime. This course won't serve up superficial self-help tips; instead, you'll dive into the latest cognitive science behind behavior change. You'll learn how to build new, positive habits and break the cycle of existing negative ones. You'll explore what it takes to sustain healthy habits over time and increase your chances of maintaining new habits by empowering your friends and family to make positive changes, too.
Access 56 video lessons & 26 hours of content 24/7
Learn the techniques for transforming your life in measurable, powerful & positive ways
Understand your habits & goal satisfaction
Learn how to build new, positive habits & break the cycle of existing negative ones
Explore what it takes to sustain healthy habits over time
Instructor
Art Markman, Ph.D., is the Annabel Irion Worsham Centennial Professor of Psychology and Marketing at the University of Texas at Austin and Founding Director of the Program in the Human Dimensions of Organizations. He has written over 150 scholarly papers
Important Details
Length of time users can access this course: lifetime
Access options: web and mobile streaming and offline access
Certification of completion not included
Redemption deadline: redeem your code within 30 days of purchase
34 video lessons in HD
Exclusive bonus content
Offline sync with iPhone and iPad apps
Requirements
Creative Live iOS app: iOS 10.0 or later
Terms
Unredeemed licenses can be returned for store credit within 15 days of purchase. Once your license is redeemed, all sales are final.
Lifestyle online course
More information about Lifestyle:
Lifestyle is the interests, opinions, behaviours, and behavioural orientations of an individual, group, or culture.
The term was introduced by Austrian psychologist Alfred Adler with the meaning of "a person's basic character as established early in childhood".
For example, in his 1929 book "The Case of Miss R.". The broader sense of lifestyle as a "way or style of living" has been documented since 1961.
Lifestyle is a combination of determining intangible or tangible factors.
Tangible factors relate specifically to demographic variables, i.e. an individual's demographic profile,
whereas intangible factors concern the psychological aspects of an individual such as personal values, preferences, and outlooks.
A rural environment has different lifestyles compared to an urban metropolis.
Location is important even within an urban scope.
The nature of the neighborhood in which a person resides affects the set of lifestyles available
to that person due to differences between various neighborhoods' degrees of affluence and proximity to natural and cultural environments.
For example, in areas near the sea, a surf culture or lifestyle can often be present.
Get Art Markman – The Power of Habits with Digitdl.com