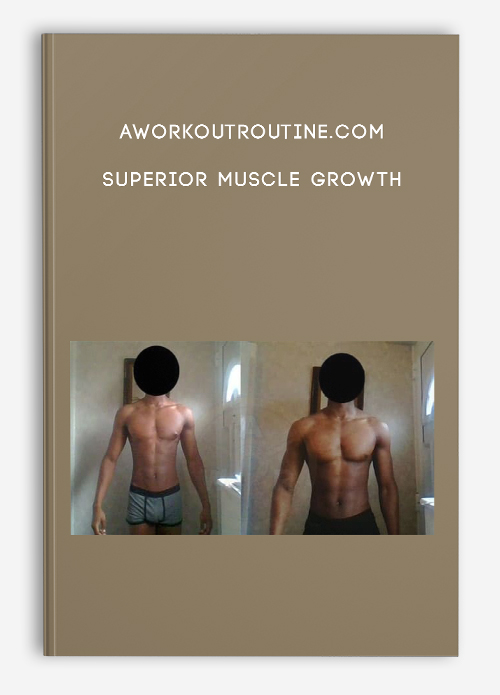 AWorkoutRoutine.com – Superior Muscle Growth
Description
Does Superior Muscle Growth Really Work?
See For Yourself…
"I bought Superior Muscle Growth to see if it could help me. I read the whole book within a week and immediately started your workouts. A few months into your program I really was able to push myself, grow stronger, and now I can almost do 10 pull-ups in a row (I couldn't even get one before this).
I also went from barely being able to bench press the bar to now hitting a PR of 115 pounds for two reps. And even though I'm a female, I haven't looked manly (haha). I've only become stronger and my physique has improved. Thank you for writing this amazing book! I know I have benefited greatly."
– Meredith H.
(SMG Customer)
"Superior Muscle Growth taught me to focus on progressive overload, the best way to train, the importance of proper form, and how effortless it is to make progress in this fitness lifestyle. Buy this book. Thank me later."
– Samuel S.
(SMG Customer)
"Just wanted to thank you again for writing such an informative no-bullshit book. I read it and it changed a lot of views I had. I followed your program and I'm very happy with my progress so far. 🙂 I went to Jamaica to celebrate my success of getting my body fat percentage to 18%. I started at 32%. Lost over 20lbs and was able to put on significant muscle while losing fat! So many people make it a lot harder and more complicated then it needs to be! Your book was very refreshing and made it an easy journey to stick to with a lot of success."
– Shayna T.
(SMG Customer)
"I wanted to share these 2 pics from fishing in Costa Rica. They are about 1.5 years apart. I have followed your directions exactly and the results speak for themselves. Thanks for sharing what you've learned! You wrote an excellent book, and if the reader actually does what you suggest, they cannot fail. It really, really works! There aren't many books you can say that about."
– John W.
(SMG Customer)
"Jay's work is some of the best I've ever come across. I used Superior Muscle Growth to gain 35lbs over an 18 month period (from 130lbs to 165lbs), and then read through and used Superior Fat Loss to easily shred 15lbs of fat away in a few months to create the physique that I've always wanted. No magic workouts or diet pills here, and no marketing BS. Just proven info backed by results."
– Aaron M.
(SMG Customer)
"I want to say thanks for sharing your knowledge in "Superior Muscle Growth." After following your straightforward advice on diet and exercise for just five weeks, I've shed serious amounts of fat, gained some muscle, and basically gotten in the best shape of my life. Your matter-of-fact, no bullshit approach is so refreshing. Thanks again for this journey!"
– Robert M.
(SMG Customer)
Susie A.
(SMG Customer)
"I've lost 65lbs and went from 27% BF to 14% while increasing strength on my lifts! This is all due to your muscle building routine. Thank you! Seriously. My genes make fat gain so easy and I've struggled with my weight my whole life. I finally look the way I've wanted to for the first time in 20 years, all thanks to you. I've told anyone who asks that they need to buy your books!"
– Michael C.
(SMG Customer)
"How much have I benefited from Superior Muscle Growth? Simply put, it's been a life-changer. In the previous years of training before I came across SMG, I made decent results. But I got to a point where I had no real direction and felt like I was just going through the motions. That's when I made the decision to purchase SMG. Everything changed. I got stronger quickly, and my muscle mass improved noticeably. I know now that I don't need to keep looking everywhere for what works best for building muscle. Because I already have it."
– Luke H.
(SMG Customer)
Jordan F.
(SMG Customer)
"I have been following your program since the day I finished reading it about 3 years ago. Your hard work & knowledge has made this possible for me and I can't thank you enough! Stop wasting time, get the book!"
– Jeremy K.
(SMG Customer)
"I just wanted to show you my progress. It's all because of the priceless knowledge I gained from Superior Muscle Growth. Thank you!"
– Vuk P.
(SMG Customer)
"Just wanted to write and tell you thank you. I found your website and bought your book about a year ago and it's changed my life. I get complements from complete strangers on my physique. I'm doing pull-ups with 15lbs on a dip belt and feel like a boss in the gym. I wanted to let you know I listened, implemented, and it worked just as you said it would."
Get immediately download AWorkoutRoutine.com – "Superior Muscle Growth"
– Ashlee M.
(SMG Customer)
"I have honestly seen better, more noticeable progress in the last couple of months using your guide than I have in the last 3 years using anything else! In my wildest dreams I never would have thought I could look the way I do and feel the way I do now! I love what I see when I look in the mirror now and I love the acceptance and peace that I have found within myself."
– Tiffany M.
(SMG Customer)
Dirk E.
(SMG Customer)
"I just wanted to say thank you. It's been a few years since I first purchased your book and I still apply everything I learned to this day. I love how easy it is to read and how easy it is to setup a training program. In the past, I would go crazy in finding that "one holy grail" workout program. Now all I do is just choose one from your book that helps me accomplish my goal."
– Filippo B.
(SMG Customer)
*Individual results may vary.
"When Superior Muscle Growth was released, I snapped it up and read it end-to-end several times. I knew Jay is as knowledgeable and transparent on the subject as one could possibly be and I put my full faith into his methods. By sticking to the knowledge gleaned from SMG (both diet and training), I was able to add 35lbs of lean mass to my frame in three years."
– Avi K.
(SMG Customer)
Here's What You Get
Weight Training Component
From which exercises to do, to how many sets/reps, to rest periods, to training splits and more, I'll show you how to adjust every aspect of your workouts for building lean muscle.
Diet Component
You'll get specific diet guidelines to follow, including exactly how many calories to eat per day and how many grams of protein, fat and carbs (and example foods for each).
Cardio Component
I'll explain the pros/cons of cardio, why it's completely optional on this program, and then provide guidelines for how much to do, when to do it, and what form of it is ideal.
Personalization Protocol
Every aspect of this program will be personalized based on your age, gender, genetics and experience level to ensure you get the best results your body is capable of.
Supplements Component
Supplements are completely optional on this program, but I'll show you exactly which have been proven to be both safe and effective for
building your ideal body.
Calorie Cycling Protocol
I'll show you a trick for strategically adjusting your calories throughout the week so nutrients go toward the muscle building process instead of just being stored as body fat.
Nutrient Timing Protocol
What you eat before and after your workout can enhance training performance and optimize recovery. I'll provide you with specific guidelines for both of these meals.
Lifestyle Component
Lifestyle factors such as sleep, stress and alcohol consumption can negatively affect your muscle building results. I'll show you how to prevent that from happening.
Customization Protocol
I'll show you how to customize every diet and workout factor to suit your personal needs, preferences, schedule and goals so it's as easy and sustainable for you as possible.
The Muscle Building Workout Routine (Expanded Edition)
The routine that changed my life and my body for the better over a decade ago. I've improved it even further over the years based on feedback from the thousands of men and women I've seen use it, and it's now more effective than ever. This new expanded edition includes 5 NEW versions of the workouts plus 2 NEW scheduling options.
Bodybuilding 2.0: The Enhanced Muscle Growth Program
One of the most popular workouts from the book, Bodybuilding 2.0 is my ultimate push/pull/legs routine. Unlike typical "body part splits" that are designed for genetic freaks using every steroid known to man (aka "Bodybuilding 1.0"), every aspect of this program is specifically designed for us natural, genetically average men and women.
Targeted Lean Muscle
Many people want to improve each part of their body equally. However, some of us would rather place more emphasize on certain body parts than others. Targeted Lean Muscle allows you to do that by providing you with different set-ups that will place more targeted emphasis on your chest, or back, or shoulders, or quads, or hamstrings.
Outstanding Arms: The Bis/Tris Specialization Program
We all want awesome looking arms, right? Well, if typical workouts aimed at improving your entire body just aren't getting the job done, this is the workout for you. Outstanding Arms is a new kind of arm specialization routine that is designed to work really well for the entire body while working extremely well for the biceps and triceps.
Upper Body Focused Training
Do you care more about improving your upper body than your lower body? Are you already satisfied with your legs? Do you just want to temporarily shift your focus towards upper body training? If so, I designed this routine for that exact purpose. You'll now be able to maintain lower body progress while placing more emphasis on your upper body.
Lower Body Focused Training
Now let's say you have the opposite goal the previous workout was designed for. Meaning, you want to put your upper body in maintenance mode so you can put an enhanced training focus on your lower body (quads, hamstrings, glutes, etc.). In that case, my Lower Body Focused Training routine is going to be perfect for you.
The 2-Day Workout Routine
One of the most common complaints I hear is "I don't have enough time to work out 4, 5 or 6 days a week. My schedule is just too busy." Well, guess what? I've taken everything that makes a 4-day routine effective and condensed it down into the most convenient and time-efficient 2-day workout routine you'll ever see. That's right, just 2 workouts per week.
Maximum Muscle Hypertrophy
3-day splits are ideal for a lot of people's schedules, but the options tend to be limited to either full body or upper/lower. That's why I decided to modify the push/pull/legs split into a variation that A) can be done with just 3 workouts per week, and B) still provides optimal amounts of training frequency (and volume) for each muscle group.
The Fat Loss + Muscle Maintenance Solution
Tested and proven effective time and time again, this is the routine to use when your goal is losing fat without losing muscle. Designed with a very specific training frequency, volume, weekly split and intensity format, this workout has allowed me and countless others to preserve lean mass while body fat is easily lost.
The Beginner Weight Training Routine (Expanded Edition)
Beginners are able to build muscle, increase strength and improve their body faster than any intermediate or advanced trainees ever could. You just need to ensure you're using a proven beginner routine that's designed to take full advantage of this fact, and my extremely popular beginner routine (which now includes a 3rd version) does exactly that.
Get immediately download AWorkoutRoutine.com – "Superior Muscle Growth"
3DM: The 3 Day Mass Gaining Routine
The problem with many upper/lower routines is that they're meant to be done over 4 days per week (2 upper days, 2 lower days). While this can often be adapted into a 3-day plan, it's simply never as perfect as it originally was. That's why I created 3DM. It's a 3-day upper/lower workout designed specifically for being done using a 3-day upper/lower split.
The Workouts
Superior Muscle Growth includes the 11 proven workouts listed above, a total of 40+ different versions, and plenty of options to suit any schedule, experience level, available equipment, personal preference and specific muscle building goal that you may have.
This isn't the usual "12 weeks of workouts" crap. This is an entire lifetime of workouts. In addition, every time I add new workouts (I currently have 3 new workouts being tested by people as we speak), you'll automatically get every single one of them for free.
ALL Of These Workouts Are Included
(And More Will Be Added)
You Also Get
Complete Instant Access
You can download Superior Muscle Growth and view it on any computer, phone or tablet. There are no restrictions on how many different devices you can put it on. You can literally start using it today.
FREE Email Support
I'm here to help. So if you have any questions about any aspect of this program, all you have to do is email me using the special email address included within, and I'll personally respond with the answers you need.
FREE Lifetime Updates
Whenever I update this program to add new workouts or adjust my recommendations to stay on the cutting edge of scientific research, you will always automatically get the updated versions for free, for life.
100% Money Back Guarantee
If you're not satisfied with Superior Muscle Growth for any reason, simply send me an email within 60 days and I'll give
you a full refund. No hassles. No questions asked. No risk.
You either get results or you get your money back.
Get Superior Muscle Growth
Today For Only…
ADD TO CART
$27
$47
Sam
(SMG Customer)
"Your book is simply amazing! This is a picture of me after gaining some mass and then using your Fat Loss + Muscle Maintenance Routine (from SMG) to cut up for my photo shoot! Thank you for all the insight!"
– Erick N.
(SMG Customer)
Neil D.
(SMG Customer)
Joshua
(SMG Customer)
"Jay, your books are what I personally consider 'THE BIBLES' of body composition. If I ever get the pleasure of meeting you in person, I would give you the biggest hug you've ever gotten (don't expect more than that, happily married… Ha!). I'm leaner and stronger in my 40's than in my 20's, and for that I'm forever grateful. Thank you!"
– Jorge C.
(SMG Customer)
Ivo
(SMG Customer)
David
(SMG Customer)
Derek
(SMG Customer)
Anton
(SMG Customer)
Start Building
Your Ideal Body Today
ADD TO CART
$27
$47
Sylvan C.
(SMG Customer)
*Individual results may vary.
More Success Stories
Frequently Asked Questions
That depends. Do you want to build your ideal body as quickly and effectively as possible? If so, the answer is YES! Simple as that. Regardless of whether you want to build a lot of muscle across your entire body, or build just the right amount in just the right places, Superior Muscle Growth is going to be absolutely perfect for you.
Is Superior Muscle Growth right for me?
Superior Muscle Growth has you covered. Regardless of what state your body is currently in, you'll find your solution inside. Yes, even if you're "skinny-fat" and need to build muscle and lose body fat. I'll explain exactly what diet and workout is going to work best for you right now, and what's going to work best going forward.
What if I'm skinny, fat or even "skinny-fat"?
No problem. Just send me an email (you'll find a special support email address included inside) and I will personally respond with the best replacements for any exercise you are unable to do.
What if I can't do certain exercises?
I'll be happy to help. Just send me an email and I'll personally reply ASAP. There is no annoying "support staff" you need to go through first. You always have direct access to me and only me.
What if I have a question about something?
It's pretty simple. You have 60 days to check out Superior Muscle Growth and start putting it into action. If you're not happy with any aspect of the program or you're not completely satisfied with your results, you get your money back. Every penny. Just send me an email and you'll get a full refund. No questions asked.
How does the money back guarantee work?
Yes, it absolutely is. In fact, most aspects of Superior Muscle Growth contain two sets of guidelines: one specifically for men, and one specifically for women. This way, everything is tailored to you based on your gender, so you're always doing what's best for your body and the type of results you want.
I'm a woman. Is this program ideal for me?
Hell no! There are no unnecessary rules or restrictions to follow here. There are no stupid lists of "foods you can't eat" or "foods you must eat" or special times you must eat or not eat and so on. Screw that. This program is all about adjusting everything to be as convenient, enjoyable and sustainable for you as possible.
Will there be a lot of annoying diet rules?
Awesome! Just click the big button below and you'll be taken through my secure checkout process where you can safely pay by credit card, debit card or PayPal. It will be a one-time payment of just $27. Immediately after, you'll be able to save Superior Muscle Growth to your computer, phone or tablet and start using it today.
Fitness
More information about Fitness:
Regular exercise and physical activity promotes strong muscles and bones. It improves respiratory, cardiovascular health, and overall health.
Staying active can also help you maintain a healthy weight, reduce your risk for type 2 diabetes, heart disease, and reduce your risk for some cancers.
Moderate aerobics exercises 3 times a week for 30 minutes can reduce cancer risk Cancer-based exercises provide relief to the patient during
cancer treatment There are many benefits to exercising. But it's even more beneficial for cancer patients. This has been proven in research published in the medical journal 'Cancer Journal for Clinicians'.
Get AWorkoutRoutine.com – Superior Muscle Growth with Digitdl.com