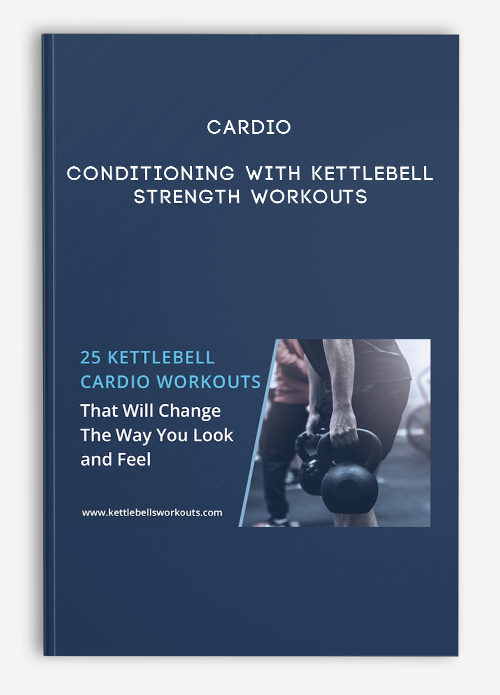 Cardio Conditioning with Kettlebell Strength Workouts
Description
What you'll learn
The student will learn how to burn more calories in less time versus aerobic exercise

The student will learn the 3×3 method and the 5×5 method working out with a ketllebell.

The student will learn how to get stronger, more conditioned and fit within shorts amount of workout time
Requirements
The student should have an understanding of kettlebell basics
The student would need access to kettlebells if they want to perform the workouts
Description
This Kettlebell program is designed for those that want to stop the ineffective long duration aerobic exercise that so many do. Instead lets focus on getting strong and building conditioning with kettlebells. The program goes through different exercises. It also focus on different ways to train with kettlebells. Studies have shown that kettlebells burn more cardio and may be more beneficial versus regular aerobic exercise. Warning this is not for a beginner. If you do not know how to lift a kettlebell I recommend that you get a local instructor if possible. Form and technique can be incorrect even with watching and practicing videos. A good coach is warranted if you are beginner.
You will get
1. Exercise demonstrations with 30lb and 70lb kettlebell
2. Workouts from a 12 year full time personal trainer and business owner
3. The 3x3x3 Workout Method, 5x5x5 Workout Method, and Heavy Light Complex Training as ways to train in under 10 minutes
4. A fun, challenging way to workout versus steady state cardio and aerobic classes
5. A way to burn more calories and get fit in less time
Finally, when applied appropriately kettlebells can be one of the best tools for your workouts. Although it is not the only tool for conditioning and overall calorie burn it is a sure fire way to get in great shape!
Who this course is for:
This is for those that want a way to do cardio without having to jog, run or take aerobic classes
This program is designed for intermediate and above students who want more out of kettlebell workouts
Finally this is for those that want to develop kettlebell abilities using circuits with kettlebells
Fitness
More information about Fitness:
Regular exercise and physical activity promotes strong muscles and bones. It improves respiratory, cardiovascular health, and overall health.
Staying active can also help you maintain a healthy weight, reduce your risk for type 2 diabetes, heart disease, and reduce your risk for some cancers.
Moderate aerobics exercises 3 times a week for 30 minutes can reduce cancer risk Cancer-based exercises provide relief to the patient during
cancer treatment There are many benefits to exercising. But it's even more beneficial for cancer patients. This has been proven in research published in the medical journal 'Cancer Journal for Clinicians'.
Get Cardio Conditioning with Kettlebell Strength Workouts with Digitdl.com