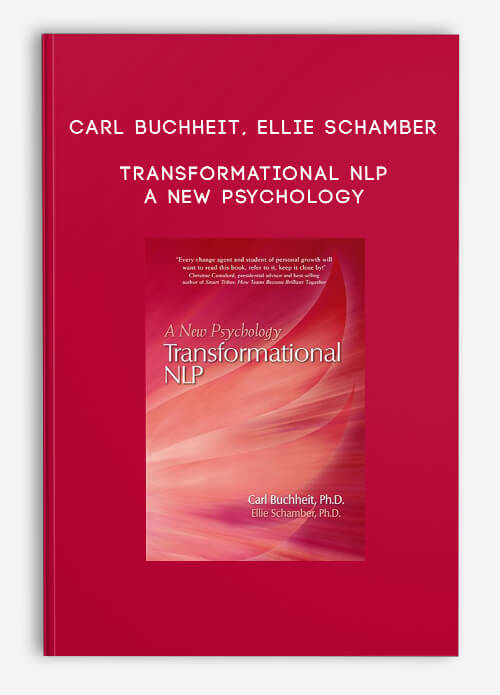 Carl Buchheit, Ellie Schamber – Transformational NLP – A New Psychology
Description
Why do people have so much difficulty achieving their goals, making big changes, and becoming the people they want to be? If we can imagine it, why can't we achieve it? Transformational NLP: A New Psychology offers a new understanding of how the brain really works and how we can use this knowledge for personal change and growth.
Transformational NLP incorporates material drawn from, or inspired by, the holographic model of the universe as explained by physicist David Bohm, the basic premises and implications of twentieth and twenty-first century quantum mechanics, Bert Hellinger's trans-generational, systemic constellation work, and the metaphysics of the perennial philosophy such as described by Aldous Huxley. It offers breakthrough insights and unique methods―neuro-linguistic and otherwise―that Buchheit has developed over the course of more than three decades, working with thousands of clients.
This book will be of great interest to all students of NLP as well as to psychologists, social workers, mental health workers, teachers, historians, and philosophers. It will especially appeal to many people who are interested in personal transformation and gaining entirely new perspectives about understanding and changing our human experience.
Carl Buchheit, Ellie Schamber – Transformational NLP – A New Psychology. Available download link here!
Review
"Buchheit and Schamber's long-awaited masterwork explains the origins, elegance, and evolution of the most effective personal transformation technology on the planet. As a former student and client of Carl, I saw a significant improvement in my personal life and my ability to help others. Every change agent and student of personal growth will want to read this book, refer to it, keep it close by!"–Christine Comaford, executive coach to peak performers, presidential advisor, and best-selling author of Smart Tribes: How Teams Become Brilliant Together
"Transformational NLP is one of the most important books to be written in our time. Carl Buchheit has synthesized the breakthrough psychology and consciousness achievements of the previous century with his own brilliant version of Neuro-Linguistic Programming. The result is a body of knowledge as well as practical tools that contribute effectively to our ongoing task to understand why and how we are the way we are. More importantly, because this new psychology is founded in NLP, Buchheit shows us how to use these tools to live more creatively, respectfully, and peacefully with ourselves and with each other." –Irving S. Katz, Ph.D., Chancellor of International University for Professional Studies
"Carl Buchheit is a remarkable person. It was my great good fortune to be one of his students and clients. I have known and been a student or a mentor of several Nobel Prize winners. Carl is certainly of their caliber or beyond them in his depth of conceptual thinking and revolutionary thought. Through his genius, I have become a happier and more fulfilled individual. This book is a wonderful introduction to his genius. It describes step by step the concepts behind his change work, which can appear to be like magic. I am convinced that Transformational NLP is a significant contribution to the field of psychology and to the world." –From the Foreword by Carl Pennypacker, Ph.D., astrophysicist at the University of California, Berkeley and Lawrence Berkeley National Laboratory
"In this groundbreaking book, Carl Buchheit has given us the pieces that have been missing from the world of spiritual and mind-body practices. His discoveries of how spirit, mind, and body can be brought into alignment open the way for us to become who we truly want to be and to work with one another with new depth and respect for the experience of being human. I believe that Buchheit's work is essential for all practitioners in the fields of consciousness and wellbeing―and for anyone who aspires to live with inner fulfillment and contribute to planetary peace." –Debra Poneman, motivational speaker, founder and president of Yes to Success! seminars, and author of Chicken Soup for the American Idol Soul
NLP online course
So what is NLP?
NLP stands for Neuro-Linguistic Programming. Neuro refers to your neurology;
Linguistic refers to language; programming refers to how that neural language functions.
In other words, learning NLP is like learning the language of your own mind!
NLP is the study of excellent communication–both with yourself, and with others.
It was developed by modeling excellent communicators and therapists who got results with their clients.
NLP is a set of tools and techniques, but it is so much more than that.
It is an attitude and a methodology of knowing how to achieve your goals and get results
Get Carl Buchheit, Ellie Schamber – Transformational NLP – A New Psychology with Digitdl.com