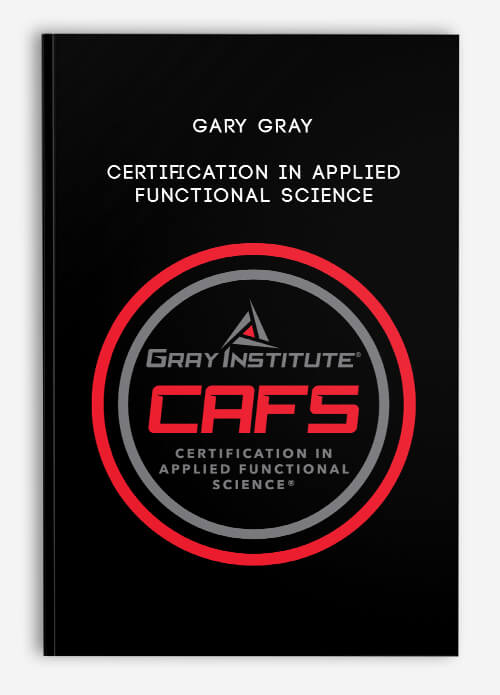 Certification in Applied Functional Science by Gary Gray
Description
START YOUR LEARNING
AUTHENTIC SOURCE OF APPLIED FUNCTIONAL SCIENCE®
3DMAPS and CAFS are the most innovative and comprehensive certifications available and empowers you to analyze the entire three-dimensional Chain Reaction® function of the human body, as well as equips you with a powerful, ongoing performance system.
TRADITIONAL LEARNING VERSUS FUNCTIONAL LEARNING
Arthur Ashe is quoted as saying, "Success is a journey, not a destination. The doing is often more important than the outcome." The same can be said about learning … it, too, is a journey and not a destination. Gray Institute® exists because our learning should never stop.
There is a drastic difference between traditional education and functional learning. Functional learning is also another way of saying Applied Functional Science® (AFS). AFS is the common thread to all that Gray Institute® delivers. AFS is based on scientific truth – not theory – that strategically links to the most effective and efficient techniques for the individual.
How can you learn more about AFS? No matter where you are in your career, Gray Institute® has various on-ramps to this learning highway. These on-ramps will enhance your learning, challenge your education, and equip you to better serve the individuals who entrust you in their prevention, performance, and rehabilitation.
WHAT IS TRULY FUNCTIONAL?
3DMAPS equips you with the "Functional Spectrum" in order to identify what is functional and what is not. Function is individualized. Function is context-dependent. This spectrum is scientifically grounded in the Physical Sciences (Environment, Gravity, Ground Reaction Force, Mass, and Momentum), Biological Sciences (Motion, Reaction, Proprioceptors, Muscles, Joints, Task, Specificity, Mobility, and Stability), and Behavioral Sciences (Success, Encouragement, Control, Empowerment, Relevance, and Significance).
ARE THE MOVEMENT RELEVANT TO GLOBAL HUMAN MOVEMENT?
3DMAPS leverages movements that are authentic to everyday life (overall global function of the human body) in both the analysis movements and the performance movements. 3DMAPS analyzes the entire body in all three planes of motion in the context of both mobility (flexibility, range of motion) and stability (strength, control of motion).
Our bodies have primary complexes, eleven (11) to be exact – right subtalar / ankle, left subtalar / ankle, right knee, left knee, right hip, left hip, lumbar spine, thoracic spine, cervical spine, right shoulder, left shoulder. Each complex moves in three (3) planes of motion, two (2) motions in each plane. Therefore, there are sixty-six (66) motions that should (and need to) be considered (for both mobility and stability). 3DMAPS accomplishes this feat in succinct, functional movement patterns.
Gray Institute 3DMAPS is the most innovative and comprehensive certification available and empowers you to analyze the entire three-dimensional Chain Reaction® function of the human body, as well as equips you with a powerful, ongoing performance system.
Gray Institute CAFS is the fist certification of its kind that will empower the movement professional to treat and train every client as a unique individual. There are no universal protocols or screens that apply to all clients. Instead, CAFS will reveal a process of observation and manipulation to identify dysfunction and create treatments and programs for the client's specific needs based on their individual abilities and goals.
Get Certification in Applied Functional Science by Gary Gray with Digitdl.com