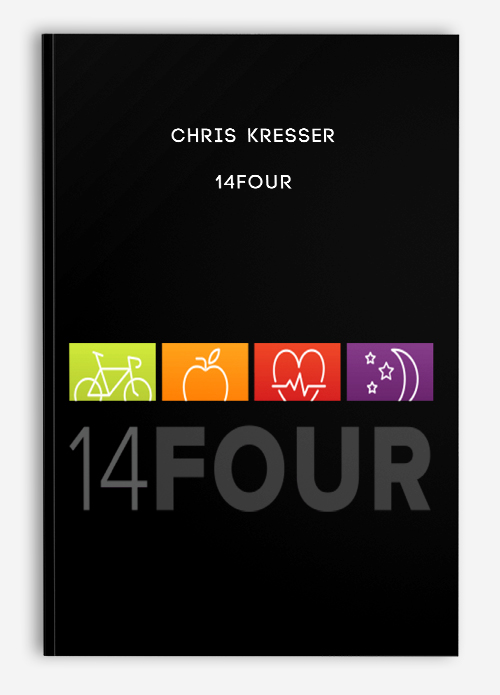 Chris Kresser – 14Four
Description
A Simple Solution
Don't Settle for Sub-Par Health
Are you putting up with symptoms that are cramping your style, zapping your vitality, snuffing out your joy? Maybe you chalk it up to being over 30, getting older, having food allergies? Maybe you're just accepting this as your new reality?
Don't settle for low energy, low libido, poor digestion and all the problems that are slowly leading you down the path to chronic illness.
Over a thousand patients in my clinic have overcome chronic illness, and countless others have found freedom from chronic "unwellness" using the 4 simple strategies you'll see below.
How would your life be different if you had lots of energy, less pain, needed no prescriptions, could stay 'in the zone' with a clear, focused mind?
It may be simpler than you think.
Chris has emerged as a leading voice on the truth about what science and traditional wisdom tell us creates health and healing from within. His approach to distilling the latest research is refreshingly balanced and logical amongst the media-hyped, industry-backed nutrition and health claims that abound.
Diane Sanfilippo, BS, NS
Diane Sanfilippo, BS, NS
The New York Times Bestselling author of Practical Paelo
This lifestyle is like drinking from the fountain of youth. I lost 36 pounds, feel better, sleep better, my intermittent headaches went away, and I enjoy what I eat! My energy levels are higher and it's easier to play with my kids, go on long bikes rides and enjoy life.
Jonathan Katzman
Jonathan Katzman
San Francisco, California
As always, Chris Kresser helps us navigate through the confusing and conflicting mess of modern health advice. With his Personal Paleo Code, he applies his years of clinical expertise, common sense and the medical evidence to guide the reader to recovery from illness and optimal human vitality.
Emily Deans, M.D.
Emily Deans, M.D.
Clinical Instructor, Harvard Medical School
Look At the Difference 20 Minutes a Day Can Make to Living a Healthier, More Energetic Life.
Regardless of where you are at on the continuum of health… whether you've been chronically sick for years or just haven't been feeling your normal self lately, imagine for a moment…
Not having to buy your jeans a size larger each year…
Feeling focused and alert without caffeine or other stimulants…
Ending your struggle with digestive problems, such as acid reflux, IBS and diarrhea…
Easily handling whatever life throws your way… without feeling anxious, stressed or depressed…
Going to bed and calmly drifting off to sleep… waking the next morning, fully rested…
Being weaned off your medications, instead of continually adding to your medicine cabinet…
Join us for 14 days that will change your life.
Get Started
The Solution is So Simple, You Might
Wonder if it Really Works.
I've seen thousands of people transform their lives with this simple 4-part formula for natural, vibrant health.
It's hiding right under our noses. So, why aren't more people doing it?
It isn't sexy, shocking, unusual, or novel.
It is practically free for anyone. It's not profitable for big business.
The drug, health, and even food industries have no incentive to recommend it.
It is not a pill, a temporary crash diet, or magical new food from the rain forest.
It requires you to change some habits—and that can seem hard at first.
It Works Because It Is Based On Our Genetic Makeup, and On Real Science
My new program is based on rebooting your body to its 'factory settings' – restoring balance in the most fundamental biological processes that allow your body to heal itself and stay healthy.
Strong Foundation
Heal your gut and create a foundation for vibrant health.
Powerful Detox
Reduce toxic burden and restore liver health.
Increased Energy
Stabilize blood sugar and boost cellular energy.
Reduced Stress
Develop stress management superpowers and improve your resilience.
Restorative Sleep
Get deep, healing sleep and boost your mood and brain power.
High Performance
Reach new levels of performance at work, at the gym and on the playing field.
Return to the basics. Reboot your health.
Take back your health in 14 days with these four simple strategies.
Introducing 14Four – my fully-guided, all-natural 14-day program for taking back your health and living the life of your dreams.
MOVE like your ancestors
Reboot Your DIET
Manage your STRESS.
Get restorative SLEEP
Embrace the simpler, healthier movement that's built right into your DNA.
Physical activity is one of the most crucial factors that determine our health. It influences our metabolism, blood sugar, mood, digestion, brain chemistry, sleep, joint health, and more.
I'm sure you know that exercise is good for you. But with the crazy, busy lives many of us lead today, how do you make sure you're getting enough? And with all of the new exercise fads an
Get Chris Kresser – 14Four with Digitdl.com