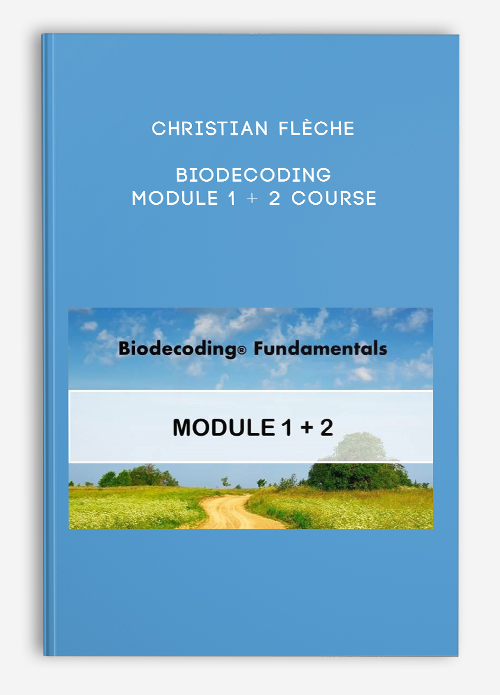 Christian Flèche – Biodecoding – Module 1 + 2 Course
Description
Learn the Language of the Cells to Quick-target Cellular Healing.
Learn the art of decoding the language of the cells with the creator of the method, Christian Flèche. Module 1 is comprised of 17 units and module 2 of 13 units. Between the two lay the core foundation of Biodecoding® and cover the content of a 6-day live seminar.
The Missing Link in Healing
As health professionals and patients, have you ever wonder why some people heal quickly and others do not despite all the treatments and therapies they undergo. Why some people have relapses and others don't?
Biodecoding® is the missing link in healing the body and the mind. Physical symptoms and emotional imbalances are both survival solutions of adaptation which respond to biological laws. Therefore biology is not psychological, symbolic or intellectual; it is… bio-logical!
In order to understand the message of our cells and be able to communicate clearly and efficiently with them, we must learn their language. Because of this linguistic deficiency many health professionals and patients miss the target; and healing longs to happen or is incomplete. Both therapists and patients get frustrated and no one wins.
A Simple, Logical and Efficient Method for Everyone
After many years of deciphering the language of biology, Christian Flèche created an integrative method (Biodecoding®) to quickly decode the message of the body and target permanent cellular healing. It is aimed at any professionals and individuals who want to help themselves and others: physicians, therapists, healers, social workers, life coach, teachers, educators, parents…
This innovative technique is compatible with most healing modalities and can be easily integrated in your current practice. You can also choose to use Biodecoding® as your sole healing approach. No medical background or any special degrees are required to learn and practice Biodecoding®.
What Biodecoding® can do
Here are a sample of the outcomes you may obtain using Biodecoding® in your professional practice and personal life.
Speed up symptom-reversal
Erase the disease-program at its root cause
Achieve permanent cellular healing
Prevent relapses and stop chronicity
Prevent future diseases to appear
Resolve past and present emotional conflicts and change the course of your life
Get out of the fear of illness and make peace with our body
Get empowered and reach health independence
Grow in consciousness of your true self
At Home At Low Cost
Most of you know how much a 6-day seminar with a world-renowned teacher costs – between $900 and $3,000. This does not include the cost of your trip and lodging, in addition to the days off you have to take from work. On average, a person spends about $1500 to attend a live seminar.
Today you can learn Biodecoding® at a very low cost, in the comfort of your home, at your own time and pace. Not to mention that you have unlimited access to the course and you can watch the videos as many times as you need. No stress about missing anything!
Course Content
Like learning a new language, the course unfolds in a logical order. Christian Flèche and Marie Boularand have put together these 2 modules, integrating all the materials available to this day to ease your learning experience and get the most out of the course.
Each unit includes
One or two videos where Christian Flèche explains specific concepts using multiple examples of real case stories.
One or more PDF documents which summarize thoroughly the topics developed in the videos
Bonus materials to deepen your knowledge
A quiz to self-evaluate your integration of the fundamental points.
IMPORTANT NOTICE: The online courses do not grant any certification.
Health and Medical course
More information about Medical:
Medicine is the science and practice of establishing the diagnosis, prognosis, treatment, and prevention of disease.
Medicine encompasses a variety of health care practices evolved to maintain and restore health by the prevention and treatment of illness.
Contemporary medicine applies biomedical sciences, biomedical research, genetics, and medical technology to diagnose, treat, and prevent injury and disease,
typically through pharmaceuticals or surgery, but also through therapies as diverse as psychotherapy, external splints and traction, medical devices, biologics, and ionizing radiation, amongst others.
Medicine has been around for thousands of years, during most of which it was an art (an area of skill and knowledge) frequently having connections to the religious and
philosophical beliefs of local culture. For example, a medicine man would apply herbs and say prayers for healing, or an ancient philosopher and physician would apply bloodletting according to the theories of humorism.
In recent centuries, since the advent of modern science, most medicine has become a combination of art and science (both basic and applied, under the umbrella of medical science).
While stitching technique for sutures is an art learned through practice, the knowledge of what happens at the cellular and molecular level in the tissues being stitched arises through science.
Get Christian Flèche – Biodecoding – Module 1 + 2 Course with Digitdl.com