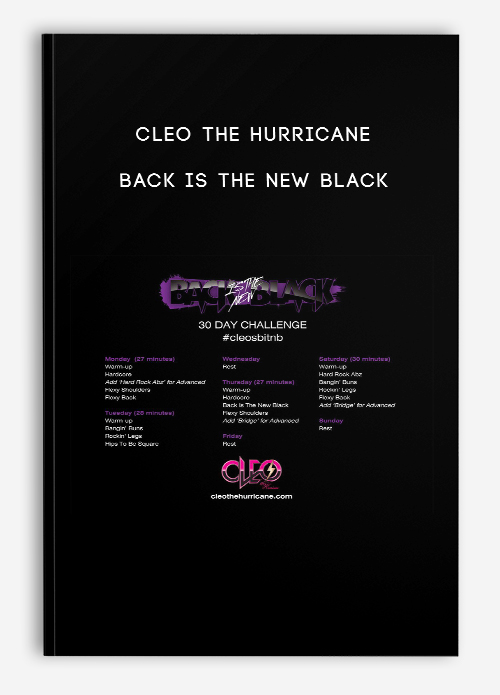 Cleo the Hurricane – Back is the New Black
Description
A challenging, safe and effective program based on conditioning through strength and flexibility. For back, shoulders, core, glutes and hips, all to a rockin' soundtrack. Starring Cleo The Hurricane and Stacey Minx.
Features:
Warm-up
Hard core workout
Glutes, legs, shoulders and back strength & conditioning
14 chapters
Effective and safe stretching techniques for back, shoulders and hips
Beginners to Advanced options
PNF Stretching Techniques
CHALLENGE! Check out our 30 day challenge to get the most out of the workout. Click on the challenge image to the left and then either click and drag or right-click to save it to your computer.
Watch the trailer!
Length: 69 minutes
Format: NTSC multizone (plays on DVD players worldwide)
This DVD is also available on Digital Download.
Customer Reviews
Based on 3 reviews
Write a review
Target Your Entire Body with This Amazing Workout
Angela on Jun 21, 2016
This workout is amazing! There is a section for every part of your body. The breakdown for each move is easy to understand and explained very well. What I loved most about it is that the sections are divided into their own parts, so if I feel like skipping over a particular part for any reason I could. I also love the way Cleo teaches you how to stretch. The technique is sure to lengthen anyone's muscles and help them to do it in the safest way with the proper form. It is very apparent that Chleo teaches with the safety of her students in mind. I am so excited to join the challenge and I know this will make a huge impact on my ability to gain flexibility in not only my back but every part of my body. If you haven't already tried Chleo's DVD's your in for a great treat. you will become hooked 🙂
Report as Inappropriate
This is THE back and shoulder program
Alanatis on Feb 27, 2016
This program is phenomenal because it focuses on strengthening and lengthening the shoulder and back muscles. The results show how awesome this DVD truly is. I think it's so important to have muscle balance in pole and all sports to help prevent injury and this video is truly the answer. The knowledge put into this program will only continue to allow you to become stronger in the upper body and more flexible if you dedicate yourself to it. This program is a part of my life like brushing my teeth is. There is nothing else out there like this. I am so thankful for it and I will continue to use this in my life.
Report as Inappropriate
Everyone needs this DVD!!!
Angela on Feb 22, 2016
As an avid Cleo fan and supporter, I was super happy when this DVD came out. And while I do absolutely love RLNA and CRNP, this DVD has become my favorite out of all of them. Not only is this an incredible workout, and you will definitely work up a sweat, but you will see improvement as you go along. I was never back bendy, and I had pretty much zero shoulder flexibility. I started out doing this program for 8 weeks with RLNA added (there is a schedule available for an RLNA+BITNB schedule) and I lost weight, and gained so much flexibility in my back, hips, and shoulders. It gets a little easier the more you do it, and the longer you go along. Certain pole moves have gotten 10x better due to the strength and flexibility taught in the DVD. Between this DVD and RLNA, I cannot recommend these programs enough for anyone looking to safely and effectively gain strength and flexibility.
Fitness online course
More information about Fitness:
Regular exercise and physical activity promotes strong muscles and bones. It improves respiratory, cardiovascular health, and overall health.
Staying active can also help you maintain a healthy weight, reduce your risk for type 2 diabetes, heart disease, and reduce your risk for some cancers.
Moderate aerobics exercises 3 times a week for 30 minutes can reduce cancer risk Cancer-based exercises provide relief to the patient during
cancer treatment There are many benefits to exercising. But it's even more beneficial for cancer patients. This has been proven in research published in the medical journal 'Cancer Journal for Clinicians'.
Get Cleo the Hurricane – Back is the New Black with Digitdl.com