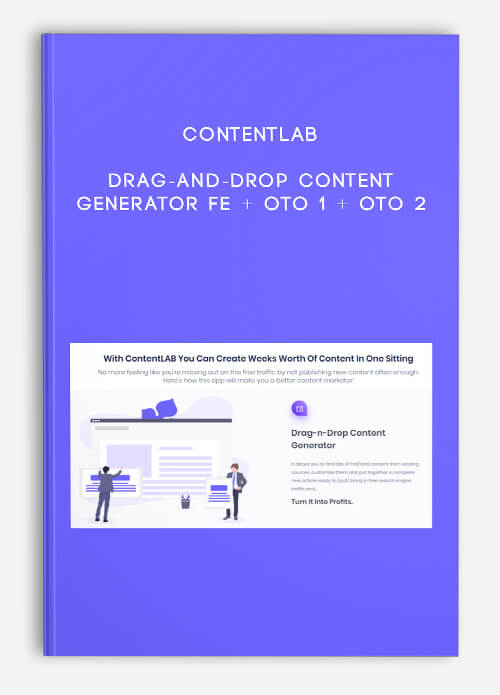 ContentLab – Drag-and-Drop Content Generator – FE + OTO 1 + OTO 2
What Can ContentLAB Do?
ContentLAB makes it easy to find, customize and publish relevant, high-impact content to multiple blogs, websites, and social media simultaneously… without the typical hassles of writing content from scratch or paying a writer to do it.
ContentLAB is also Equipped with ability to MONETIZE content on complete autopilot with monetization module and get traffic to content with ease!
ContentLAB Resolved all above problems by providing A drag & drop curation app with dual functionality of posting to your blogs & your social media SIMULTANEOUSLY …. You can curate just about anything from articles, memes, and EVEN Amazon products
Features in Brief
Article Extraction – ContentLAB allows user to add their own link into editor area, once submitted ContentLAB fetch all content of added external url within fraction of seconds and makes available to users for add into their posts and articles.
Article MetaData – When anyone use any article from any external resources ContentLAB automatically fetch Metadata and makes it available for integration with websites with synonyms suggestions which helps list out articles as a unique inside all search engines.
Article Sources – ContentLAB comes with 500+ RSS feed integration, this content user can capture modify and spun using integrated functions to create new posts for their blogs
Auto Sync Platform – ContentLAB can be integrated with 5 blogging platforms which include, WordPress, WordPress.com, Blogger, Tumblr,Twitter
Auto Update – All Posts created using ContentLAB are configured as auto update so whenever user edit any post or article its automatically reflected to all selected Blogging platforms so user don't need to perform multiple edits on multiple blogging platforms, also this function remove any human errors while editing added posts.
Text Translate – ContentLAB includes Any Language to Any Language Translator, so no worry if you have blog content in Spanish and need it converted to English or Japanese, Article Language Currently supports 106 Languages Out of Box
Grammar and Word Suggestions – Grammar Check and Synonyms suggestion support for 20 most popular Languages
Bookmarklets – Bookmarklets for chrome and Firefox which will allow user to bookmark article and save reference in ContentLAB, later on user can convert these bookmarks into blog posts as ContentLAB has its own translation service users will be able to translate these bookmarks in any desired blog language.
Text Spinner – By using the latest cutting edge Statistical Replacement Technology, Artificial Intelligence, Part-Of-Speech analysis and Emulated Natural Language methods, ContentLAB can automatically create content that is close to human quality. Currently Supporting 7 Popular Languages
Content Planner – Streamline content work process by teaming up and arranging efforts from an intuitive date-book. Plan, audit, plan and execute from a solitary place and be responsible for your substance and social networking system.
Content Automation – targeted content posting to your channels without any human intervention. Advanced rules help in filtering content according to your own needs. Set & forget scheduling options make your social pages grow on autopilot.
Images Integration – Integration of 500k+ ready to use Images and 200k+ videos for adding into blogs and posts.
Content Integration – Capture content from Youtube, DailyMotion, Vimeo, Facebook, Twitter, Pocket, Pinterest, Medium, disqus etc.
RSS Reader – A Full-Scale Blog Reader with all of content synced from all popular blogs, use synced articles to create your own blog posts.
Analytics – In-depth analytics of all posts created using ContentLAB
Monetization – Functionality to replace matching word in whole page with hyperlink with any third party website.
Monetization [Product Affiliate URLs] – Amazon, Ebay Integration to fetch, list and add products in blog posts with affiliate urls
Get ContentLab – Drag-and-Drop Content Generator – FE + OTO 1 + OTO 2 with Digitdl.com