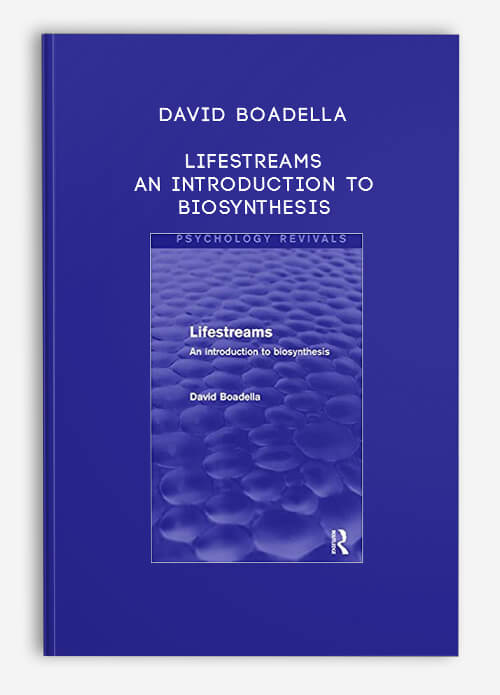 David Boadella – Lifestreams – An Introduction to Biosynthesis
Description
Biosynthesis means "integration of life". It is a holistic form of body psychotherapy, which was founded over forty-five years ago. The concept of life-streams is one of its major foundations, which has since been supported by research in neurobiology.
How can we integrate the three most important domains of being human: our bodily existence, our psychological experience and our spiritual essence? Biosynthesis Therapy has developed a broad spectrum of reliable methods to make this possible and to free our life energy. It is resource-oriented and is practised worldwide. David Boadella brings his many years of experience to provide in this book a trend-setting model for the understanding both of the origin of illness and of therapy.
This book has appeared in ten languages. It provides numerous case examples and is fascinating and enriching for the normal reader as well as for therapists from many different schools.
In this book, the word "bioenergetic" is used to refer to the study of life energy, which is a major foundation of the therapy method "Biosynthesis". This is not to be confused with the term "Bioenergetic Analysis", an other and different form of body psychotherapy.
Since 1985, together with David Boadella, Biosynthesis has been developed further by Dr. Silvia Specht Boadella, particularly in its philosophical and transpersonal aspects.
In 1990, Biosynthesis was the first form of body psychotherapy to be scientifically accredited by the European Association of Psychotherapy. Biosynthesis therapists can therefore receive the European Certificate of Psychotherapy ECP.
In 2001, the International Foundation of Biosynthesis IFB was formed, to coordinate trainings and research in twenty countries in Europe, Asia, North and South America.
The newest information about Biosynthesis, including our actual course programme, you will find on our website.
David Boadella
International Institute for Biosynthesis IIBS, Benzenrüti 6, CH-9410 Heiden, Switzerland
E-mail: [email protected]
www.biosynthesis.org
The Author
David Boadella, born 1931 in London, pioneer of body psychotherapy and founder of Biosynthesis. He studied education, psychology and literature and wrote numerous articles and several books. Since 1985, he is the Director of the International Institute for Biosynthesis in Switzerland. In 1989, he was elected as the first President of the European Association for Body Psychotherapy EABP. In 1995, he was awarded an honorary doctorate from the "Open International University of Complementary Medicine".
Author of "Wilhelm Reich: The evolution of his work" (Arkana).
Disclaimer
Basically this book contains neither exercises or advices. Nevertheless, if statements from the book should be used for self-treatment or for treatment of others, every form of liability of the author or the publisher for personal, material, or financial damage is excluded.
Table of Contents
Introduction. 1. Emotional Expression and the Body 2. Centring, Grounding and Facing 3. Embodiment Before Birth 4. Transitions to Establishment 5. Head, Heart and Hara 6. Waves of Breath 7. Grounding as Communication 8. Facing and Sounding 9. Borderline Patients and Boundaries 10. Inner Ground 11. The Womb, the Tomb and the Spirit. Appendix 1: The Early Insights of Joseph Breuer. Appendix 2: References. Appendix 3: A Selection of books and Articles by David Boadella. Index.
Health and Medical course
More information about Medical:
Medicine is the science and practice of establishing the diagnosis, prognosis, treatment, and prevention of disease.
Medicine encompasses a variety of health care practices evolved to maintain and restore health by the prevention and treatment of illness.
Contemporary medicine applies biomedical sciences, biomedical research, genetics, and medical technology to diagnose, treat, and prevent injury and disease,
typically through pharmaceuticals or surgery, but also through therapies as diverse as psychotherapy, external splints and traction, medical devices, biologics, and ionizing radiation, amongst others.
Medicine has been around for thousands of years, during most of which it was an art (an area of skill and knowledge) frequently having connections to the religious and
philosophical beliefs of local culture. For example, a medicine man would apply herbs and say prayers for healing, or an ancient philosopher and physician would apply bloodletting according to the theories of humorism.
In recent centuries, since the advent of modern science, most medicine has become a combination of art and science (both basic and applied, under the umbrella of medical science).
While stitching technique for sutures is an art learned through practice, the knowledge of what happens at the cellular and molecular level in the tissues being stitched arises through science.
Get David Boadella – Lifestreams – An Introduction to Biosynthesis with Digitdl.com