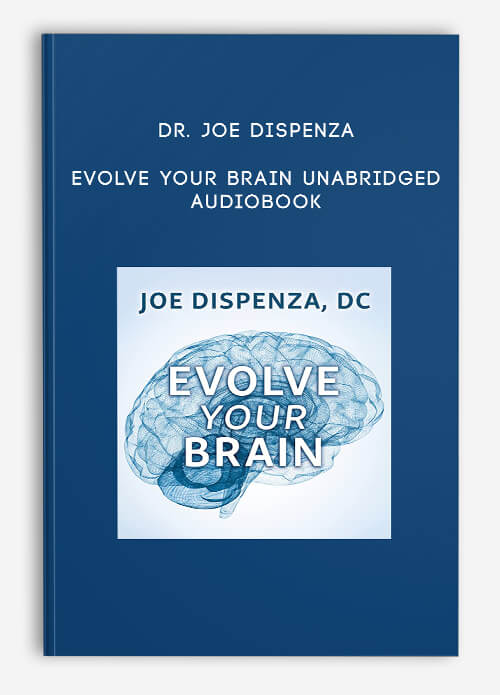 Dr. Joe Dispenza – Evolve Your Brain Unabridged Audiobook
Description
Joe Dispenza, DC, has spent decades studying the human mind – how it works, how it stores information, and why it perpetuates the same behavioral patterns over and over. In the acclaimed film What the Bleep Do We Know!?, he began to explain how the brain evolves – by learning new skills, developing the ability to concentrate in the midst of chaos, and even healing the body and the psyche. Evolve Your Brain presents this information in depth, while helping you take control of your mind, explaining how thoughts can create chemical reactions that keep you addicted to patterns and feelings – including ones that make you unhappy. And when you know how these bad habits are created, it's possible to not only break these patterns, but also reprogram and evolve your brain, so that new, positive, and beneficial habits can take over.
PLEASE NOTE: When you purchase this title, the accompanying reference material will be available in your Library section along with the audio.
©2007 Joe Dispenza, DC (P)2017 Tantor
Critic Reviews
"Dr. Joe Dispenza's book, Evolve Your Brain, will help you use your power to choose and to change. Read this book, use its ideas in your life, and realize your potential." (Amit Goswami, Ph.D.)
NLP online course
So what is NLP?
NLP stands for Neuro-Linguistic Programming. Neuro refers to your neurology;
Linguistic refers to language; programming refers to how that neural language functions.
In other words, learning NLP is like learning the language of your own mind!
NLP is the study of excellent communication–both with yourself, and with others.
It was developed by modeling excellent communicators and therapists who got results with their clients.
NLP is a set of tools and techniques, but it is so much more than that.
It is an attitude and a methodology of knowing how to achieve your goals and get results
Get Dr. Joe Dispenza – Evolve Your Brain Unabridged Audiobook with Digitdl.com