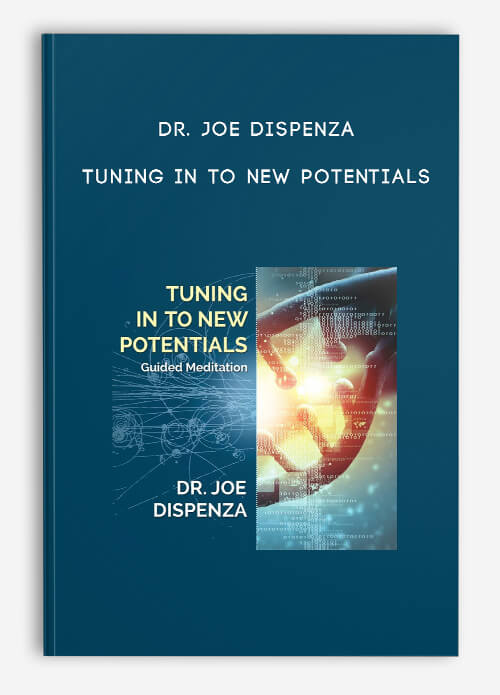 Dr. Joe Dispenza – Tuning in to New Potentials
Description
The purpose and explanation of this meditation can be found in Dr. Joe's Progressive Workshop, or his new book, Becoming Supernatural. Therefore, this meditation is recommended for those that have this knowledge and understand the mechanics behind it, and how it may help you. An additional beneficial review before playing this meditation can be found in Chapters 1, 4 & 6 in Breaking the Habit of Being Yourself.
Thoughts are the language of the brain and feelings are the language of the body, and just as the waves in a signal are much more powerful when they are coherent, the same is true of you when your thoughts and your feelings are aligned. Therefore, when you hold clear, focused thoughts about your purpose, accompanied by your passionate, emotional engagement, you broadcast a stronger electromagnetic signal that pulls you toward a potential reality that matches what you want.
All potentials that exist in the quantum field exist in the present moment electromagnetically. There's a potential for you to be healthy, wealthy, happy, at peace, magical, and more. This meditation is to help you create coherent brain wave patterns, change your state of being, and change your energy to match the potentials you desire!
Tracks:
1. Introduction (6:15)
2. Breath (6:54)
3. Meditation (45:31)
Run Time: 59 minutes
Breath Music "Augusto" from the Album Ignite the Heart and Meditation Music "Cosmic Consciousness" by Barry Goldstein. BarryGoldsteinMusic.com
Also Available in CD Format.
DOWNLOADS
*Android Devices – Download files directly to devices.
*iOS Devices – Apple users who have upgraded their mobile devices to iOS 13/iPadOS can download directly to their device. Please choose to "download" not "view."
For those that have not upgraded to iOS 13 or iPadOS, due to Apple Software Restrictions on mobile devices (not computers), you must first download your files to a Mac or PC and then transfer to your device using iTunes.
Upon completion of the purchase, you will receive TWO emails:
Your Purchase Receipt.
Link to Your Download Page.
You'll receive one download per product purchased.
The link sent in your second email will deactivate after two download attempts, or 90 days – whichever comes first.
Be aware of which devices you utilize! We also highly recommend you backup item(s) after download.
Larger sized downloads (like audio books) come in zip folders. You will need to unzip these files after downloading, to access the MP3 or MP4 files.
Not all internet connections/cellular data plans have the ability to download multiple files at once. Please download only one track/folder at a time to avoid any issues.
All download products are non-refundable.
Do not listen to any meditation recording while driving or operating equipment/machinery.
If you wish to listen to this audio file on your smart device, you may first need to save the file on to your computer. Next, right-click on the file you have just saved, select "Open With" and choose your preferred application (usually iTunes or Windows Media Player). From here you can sync to your iPod/iPad/iPhone with your iTunes program, or your android phone/tablet with your Windows Media program.
Please Note: Due to the many variables associated with individual computer systems, versions, and software, we are unable to coach you directly on how to set up any download on your personal computers or devices.
Get Dr. Joe Dispenza – Tuning in to New Potentials with Digitdl.com