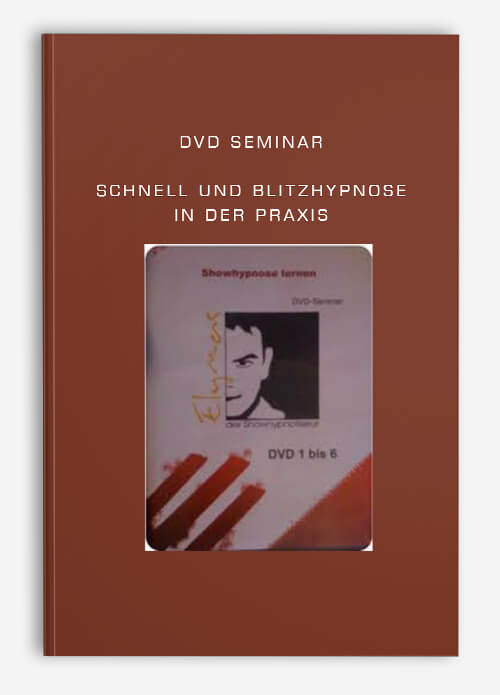 DVD Seminar – Schnell und Blitzhypnose In der Praxis
Description
With this DVD you now have the opportunity to participate virtually in our lightning hypnosis seminar. Maybe you never had the opportunity to visit us before. Maybe we were too far away or our appointment did not fit your schedule. Now you can take part in our popular and successful seminar "Rapid and Flash Hypnosis in Practice" at home.
On this DVD there is a complete recording of one of our successful lightning hypnosis seminars. With this DVD you will learn how you can create deep hypnotic states in your clients within minutes. Some techniques on this DVD only take seconds to do this. Not only that, you will also learn a lot of valuable tips on how you can determine how deep your client is or whether he is under hypnosis at all, and how you can increase your success rate in hypnosis. The DVD set consists of two DVDs with approx. 5 hours of material. You will of course receive all of the seminar documents handed out with your order.
WITH THIS DVD WE PROVIDE YOU WITH THE FOLLOWING CONTENT:
Seminar content:
Preparation of the client for the rapid hypnosis through a preliminary talk
Definition of the terms fast and lightning hypnosis
Modern and safe rapid hypnosis induction (deep hypnosis in two to four minutes)
Blast Down Hypnosis Induction (deep hypnosis in 30 seconds)
Eye-closing-immediate hypnosis technique (deep hypnosis in 15 seconds)
The "Eight Words Hypnosis Induction" (deep hypnosis in 4 seconds)
Post-hypnotic instant hypnosis (deep hypnosis in 2 seconds)
Lightning hypnosis techniques from show hypnosis
What Hypnosis Really Is!
What is important in the preliminary talk
How can I test the depth of the client without being noticed
Professional hypnosis training that works!
Services of this DVD seminar:
Optimizing your technology
Better understanding
new state-of-the-art techniques based on the latest research
Tips and Tricks
Documents (new inductions, scripts)
Supervision (we are happy to answer your questions)
Recommended reading on the DVD
Lightning hypnosis
Rapid hypnosis
After this DVD seminar you will also be able to: B to show exciting demonstrations through instant hypnosis during lectures. Thereby you underline your competence enormously and are counted among the best. Since 95% of all hypnotherapists only master progressive inductions, users of these techniques are very rare. It works! The techniques have an astonishingly high rate of success.
Hypnosis coures
Hypnosis is a human condition involving focused attention, reduced peripheral awareness, and an enhanced capacity to respond to suggestiom.
There are competing theories explaining hypnosis and related phenomena.
Altered state theories see hypnosis as an altered state of mind or trance, marked by a level of awareness different from the ordinary state of consciousness.
In contrast, nonstate theories see hypnosis as, variously, a type of placebo effect, a redefinition of an interaction with a therapist or form of imaginative role enactment.
During hypnosis, a person is said to have heightened focus and concentration.
Hypnotized subjects are said to show an increased response to suggestions.
Hypnosis usually begins with a hypnotic induction involving a series of preliminary instructions and suggestion.
The use of hypnotism for therapeutic purposes is referred to as "hypnotherapy", while its use as a form of entertainment for an audience is known as "stage hypnosis".
Stage hypnosis is often performed by mentalists practicing the art form of mentalism.
Get DVD Seminar – Schnell und Blitzhypnose In der Praxis with Digitdl.com