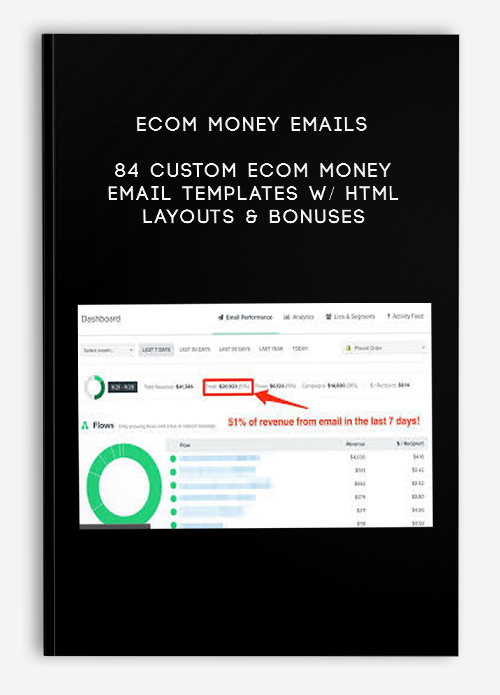 eCom Money Emails – 84 Custom eCom Money Email Templates w/ HTML Layouts & Bonuses
Specially for eCom Store Owners
Never Write Another Email For Your eCom Store Again!
Which is cheaper to get… existing customers or new customers?
If you're an eCom store owner, chances are you're forgetting your existing customers and only focus on spending money to get new customers.
Am I right?
Ever heard of the term "the money is in the list"?
To be precise, it should be "the money is in the relationship with your list"!
TRUTH:
The ROI in email marketing is one of the highest in the industry.
If you have cultivated your email list smartly, it's like having an ATM… press send and rake in cash
Here are some interesting facts:
Emails have the highest conversion rate of any other marketing channel
There's usually an increase of 10-30% revenue by using email marketing
Studies have revealed that more than 80% of online shoppers are more likely to make another purchase from email
After viewing an email once, 25% of your customers will view the email again, increasing the chance of making a sale
Email marketing messages are 5X more likely to be viewed than ANY of your social media posts
In 2016, one quarter of ALL sales in ecommerce came from email marketing on Black Friday
"A majority of ecommerce store owners never do email marketing because it takes tremendous copywriting skill and effort to write high converting emails…"
Here's a big secret…
It can be easy to write high converting emails for your ecommerce store.
Just follow these steps…
Subscribe to 100s of successful ecommerce store's email lists
Reverse engineer what makes their email open and conversion rates so effective
Become great at copywriting so that you can instantly attract more sales
Know which words to avoid so that your emails are not marked as spam
Test and optimize all the email subject lines, copywriting and calls to action
If you don't want to go through all this tedious work and just want something "plug & play" to increase your store's sales by 10-30%, then we have something for you…
Introducing…
84 Custom eCom Money Email Templates
You may wonder why 84 highly converting email templates?
It turns out that through our testing and optimization, we've found that sending an email every 4 days is ideal.
You will also have space to send your own email broadcasts for any promo or sale.
We wanted you to not have to worry about writing a single email for a whole year and 84 email templates will give you enough to last an entire year!
Better yet, you can reuse these templates for many more years to come.
Here's what you get:
84 Customizable & Highly Converting Emails
Never write another email for your eCom store again! We've already done all the hard work for you.
Easy "Plug & Play" Email Templates
We provide you the high converting copywriting, headlines, subject lines, call to action buttons and layouts.
Optimized Email Template For Mobile Viewing
Our email templates have a clean format that is ideal for mobile email viewing. Many emails are now opened on mobile devices and our layouts are optimized for form and function.
Pro Level Copywriting
Increase your sales with proven winning sales copy right in your customer's inbox.
Categorized Email Templates
We've sorted them according to different events for ease of use whenever you need them.
Email Calendar & Strategy Guide
Don't get caught scrambling two days before an important holiday and lose sales. We've got you covered with a comprehensive event & strategy guide.
Universal Template Integration
We give you flexibility in choice. Our templates can either be uploaded or built natively in any email marketing provider.
Internet Marketing Course
Digital marketing is the component of marketing that utilizes internet and online based digital technologies such as desktop computers,
mobile phones and other digital media and platforms to promote products and services. Its development during the 1990s and 2000s,
changed the way brands and businesses use technology for marketing. As digital platforms became increasingly incorporated into marketing plans and everyday life,
and as people increasingly use digital devices instead of visiting physical shops, digital marketing campaigns have become prevalent,
employing combinations of search engine optimization (SEO), search engine marketing (SEM), content marketing, influencer marketing, content automation,
campaign marketing, data-driven marketing, e-commerce marketing, social media marketing, social media optimization, e-mail direct marketing, display advertising,
e–books, and optical disks and games have become commonplace. Digital marketing extends to non-Internet channels that provide digital media, such as television,
mobile phones (SMS and MMS), callback, and on-hold mobile ring tones. The extension to non-Internet channels differentiates digital marketing from online marketing.
Get eCom Money Emails – 84 Custom eCom Money Email Templates w/ HTML Layouts & Bonuses with Digitdl.com