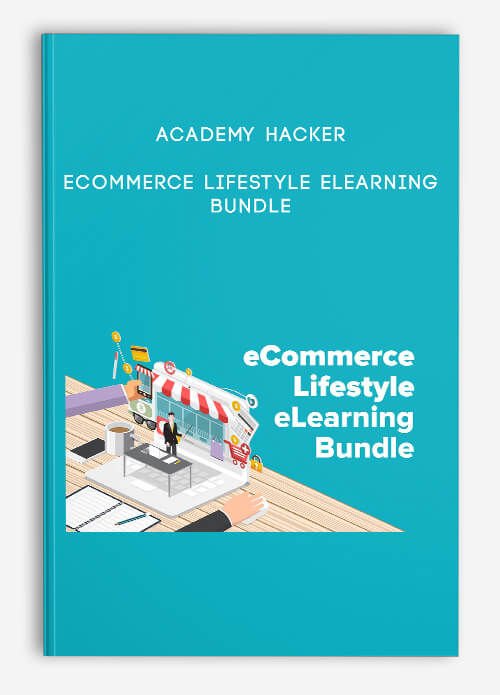 eCommerce Lifestyle eLearning Bundle by Academy Hacker
Description
About
Shop Hacker is celebrating the launch of its' Shopify app with this exclusive 22 course elearning bundle.
eCommerce is one of the "easiest" online businesses to start. Platforms like Shopify have made it simple to create, design, and launch your store. That being said finding products to sell is still a challenge. You can use apps like Oberlo which help you resell Alibaba products direct from China. The issue here tends to be lower quality products with long ship times. You could set up direct vendor deals with local dropshippers. This approach is solid but it takes time, requires you to do a lot of selling, and increases the complexity of your business because now you have to manage each individual vendor.
The Shop Hacker Shopify app looks to help ecommerce entrepreneurs with the supply issue. The app offers Shopify merchants instant access to a portfolio of 1000s of elearning courses.
If you do solve the product supply challenge then the next hurdle to jump is marketing. Facebook advertising tends to be the main focus of many dropshipping ecommerce sites. If you cannot master Facebook paid social then you need to find affiliates to market your products. Once you get some baseline of traffic coming in you can start to build your email list. Ideally your shop will leverage Facebook, search engine marketing (SEM), affiliate, and email for your marketing mix.
Another major challenge for ecommerce entrepreneurs is margin. If you are making 10-30% on each product sold you need to sell a lot for this business to provide enough cash flow. Assuming a 20% margin you need to sell $100K in product to make $20K in gross profit. Many new ecommerce operators don't understand this. Then if we start thinking about conversion rate as well we get a really clear picture of the marketing efforts needed to make this shop truly successful. If your average sales price (ASP) is $20 that means you need to sell 5,000 units to hit your $100K. Assuming a 2% conversion rate we are looking at getting 250,000 visitors to your site in order to even generate $20K in profit. Shop Hacker can help improve one of these inputs, margin. With the Shop Hacker Shopify app you can set your own margins. Higher margins means less traffic is needed to generate your target profits.
This bundle is designed to train Shopify and ecommerce entrepreneurs on sales and marketing as these are the main issues facing most early stage ecommerce companies. How do I find great products to sell? How do I market these products? Of course, this bundle will also educate you on how Shop Hacker can help you on the supply side of your business.
The courses in this bundle are:
#1 way to rank in Google SEO: Link building
5 unique strategies to sell with video via YouTube marketing
Affiliate sales funnels, landing pages & Facebook ads
Business model canvas
Business to business (B2B) sales masterclass program
An easier way to write a marketing plan (template & example)
High conversion YouTube advertising: YouTube ads with video
How to build an Etsy ecommerce home business in record time
How To Start A Business: Business Ideas To Success
How to write a business plan today! Innovative way to plan
HTML/CSS Boot Camp
Introduction to Facebook Ads with Video and Retargeting
Lessons in Entrepreneurship: Walt Disney
Marketing strategy to reach 1,000,000! SEO & social media
Reddit marketing: get traffic and sell products
SEO Strategies – Beginner to advanced tactics
Shop Hacker Merchant Mastery Course
Shop Hacker Shopify Merchant Training Course
Shop Hacker Vendor Starter Course
The Predictable Revenue Pipedrive Mastery Course
Time management: tips, strategies & skills to manage time
Ultimate Email Marketing And Autoresponders Guide
What You Get
LIFETIME access to all courses and content
22 course bundle
Business online course
Information about business:
Business is the activity of making one's living or making money by producing or buying and selling products (such as goods and services).[need quotation to verify] Simply put, it is "any activity or enterprise entered into for profit.
It does not mean it is a company, a corporation, partnership, or have any such formal organization, but it can range from a street peddler to General Motors."
Having a business name does not separate the business entity from the owner, which means that the owner of the business is responsible and liable for debts incurred by the business.
If the business acquires debts, the creditors can go after the owner's personal possessions.
A business structure does not allow for corporate tax rates. The proprietor is personally taxed on all income from the business.
Get eCommerce Lifestyle eLearning Bundle by Academy Hacker with Digitdl.com