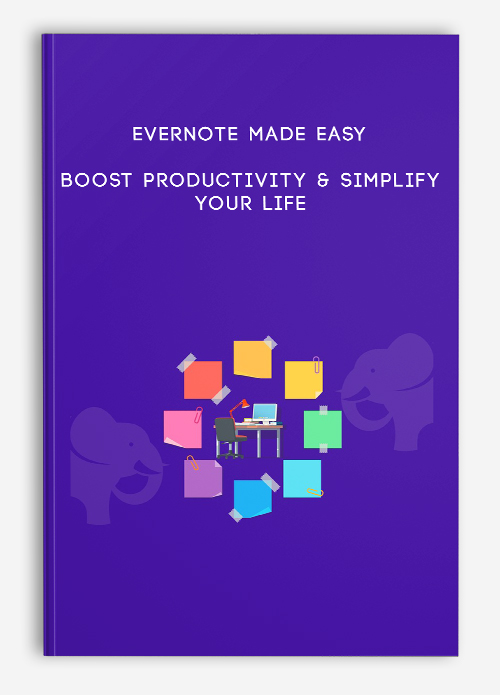 Evernote Made Easy – Boost Productivity & Simplify Your Life
Description
Filesize : 177.10 MB
What you'll learn
Evolve from Evernote novice user to Evernote productivity ninja.

Free up your mind and time for the things that matter to you the most.

Manage your business and personal life and become more productive.

Use Evernote effectively and keep track of your daily schedule, to-do lists and goals.

Organize your data the most efficient way possible.
Requirements
Students must have access to a computer or any kind of mobile device connected to the internet.
Readiness to learn new things, take action and apply everything learned in the course.
Description
*****CURRENT AS OF NOVEMBER 2019*****
5000+ Udemy Students Can't Be Wrong!
________________________________________________________________________________________________
==> Join 5000+ Students Who Have Enrolled In My Udemy Courses!
==> 19+ Lectures and 1+ hour of HD Video Content
________________________________________________________________________________________________
Evernote Made Easy: Increase Productivity And Simplify Your Life is a complete step by step system that will help you to organize you business and personal life using one simple app – Evernote.
In this course you are going to learn Evernote basics, building up productivity foundation and slowly but surely understand and implement its advanced features, tips, and tricks for enhanced organization.
Here is just a small part of things you will learn throughout the course:
Collect all your tasks, to-do's, goals and documents into Evernote;

Organize your data the most efficient way possible;

Reduce your daily stress, free up your mind and time, for the things that matter to you the most.
This class is designed to help you organize, plan and track your own time, whether you are an entrepreneur, small business owner, stay at home mom or you have a 9 to 5 corporate job.
You Have Nothing To Risk
If at any point of your learning experience you feel like this system is not the right fit for you then you just keep your money.
This course is backed up by 30 days no questions ask, money back guarantee.
Enroll by clicking "Take this course" button!
I look forward to seeing you inside.
Ivan Yordanov
Who this course is for:
Lifestyle entrepreneurs, solo-preneurs, small business owners, stay at home moms or anyone who wants to excel and get more productive.
Business people managing a lot of information they need to pull up and access really quickly.
Anyone who feels overwhelmed from his/her daily routine and wants to simplify things.
Anyone who needs to be organized.
Lifestyle online course
More information about Lifestyle:
Lifestyle is the interests, opinions, behaviours, and behavioural orientations of an individual, group, or culture.
The term was introduced by Austrian psychologist Alfred Adler with the meaning of "a person's basic character as established early in childhood".
For example, in his 1929 book "The Case of Miss R.". The broader sense of lifestyle as a "way or style of living" has been documented since 1961.
Lifestyle is a combination of determining intangible or tangible factors.
Tangible factors relate specifically to demographic variables, i.e. an individual's demographic profile,
whereas intangible factors concern the psychological aspects of an individual such as personal values, preferences, and outlooks.
A rural environment has different lifestyles compared to an urban metropolis.
Location is important even within an urban scope.
The nature of the neighborhood in which a person resides affects the set of lifestyles available
to that person due to differences between various neighborhoods' degrees of affluence and proximity to natural and cultural environments.
For example, in areas near the sea, a surf culture or lifestyle can often be present.
Get Evernote Made Easy – Boost Productivity & Simplify Your Life with Digitdl.com