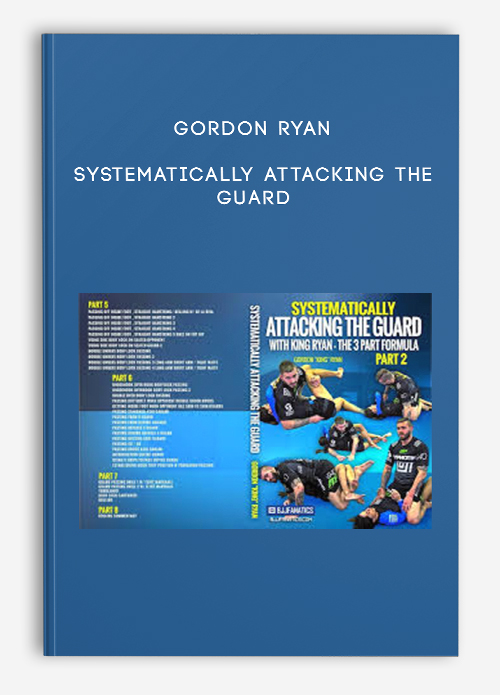 Gordon Ryan – Systematically Attacking The Guard
Description
Filesize : 4.964 GB
First Time Ever Revealed: The Three Part Passing System That No One Can Stop. Whether You Are Big Or Small, Old Or Young – Gordon Ryan's Passing System Is A Cheat Code To Passing Any Style Of Guard
In Just 7 Years Of Training Gordon Has Become ADCC World Champion & IBJJF No Gi Double Gold Black Belt World Champion. His Secret: The Guy With The Most Knowledge Wins
If You're Serious About Grappling – Don't Miss This Once In A Lifetime Chance To Improve Faster Than You Ever Thought Possible
With over 10 hours of video, dive inside the mind of Gordon Ryan and see how he systematically picks apart the guard and passes the elite of the elite, including him breaking down actual footage of live sparring
Gordon Ryan has blazed a trail to the top, and after an ADCC championship and double gold at IBJJF No-Gi Worlds
Gordon approaches passing with the same laser-focused intensity and study as every other system in his game
First Time Ever Revealed: The Three Part Passing System That No One Can Stop. Whether You Are Big Or Small, Old Or Young – Gordon Ryan's Passing System Is A Cheat Code To Passing Any Style Of Guard
In Just 7 Years Of Training Gordon Has Become ADCC World Champion & IBJJF No Gi Double Gold Black Belt World Champion. His Secret: The Guy With The Most Knowledge Wins. If You're Serious About Grappling – Don't Miss This Once In A Lifetime Chance To Improve Faster Than You Ever Thouht Possible
With over 10 hours of video, dive inside the mind of Gordon Ryan and see how he systematically picks apart the guard and passes the elite of the elite, including him breaking down actual footage of live sparring
Gordon Ryan has blazed a trail to the top, and after an ADCC championship and double gold at IBJJF No-Gi Worlds, it has become clear that the King is the best no-gi grappler on the planet.
When he first burst on the scene, he dominated his way through EBI, never losing a match and catching seemingly everyone in the now-famous DDS leg lock system and back attack system. At ADCC, he closed the show with a signature guillotine choke from the front headlock. But as he has matured and developed into a next-level grappler, he has had to focus on something that so many of us struggle with: passing the guard systematically and consistently.
Gordon approaches passing with the same laser-focused intensity and study as every other system in his game. He and his coach and mentor John Danaher have broken down each position on a physical, tactical, and technical level and come up with a gameplan that has turned Gordon into a guard passing machine. Now that he has mastered his passing series, Gordon breaks down every detail across 8 volumes in the new release the world has been waiting for, Systematically Attacking The Guard With King Ryan – The 3 Part Formula.
Passing the guard in no-gi can feel a little chaotic and unstable sometimes, but by slowing everything down and attacking with a plan ahead of time, you can turn the tables back in your favor.
Tired of getting caught up in leg locks? This plan teaches you how to avoid ashi garami all together. Want to start scoring more points in competition? Gordon has literally put up dozens of points in a single match with these combinations! Even when he has bumped up in size and weight, Gordon's passing has been a reliable weapon for him as the smaller guy. This is one of the most comprehensive and detailed instructional series ever, from one of the most unique athletes in the sport.
Body Lock Pass With Gordon Ryan
Gordon has been fostered and brought up by modern BJJ genius John Danaher, who is an amazing coach. Danaher is so full of detail and explanation that you can't help but absorb his instruction, and Gordon is a valuable reflection of that.
Every position is broken down in exact terms, explaining the fundamentals and positioning battles that will determine failure or success in every exchange. You'd swear listening to Gordon that he is channeling his coach sometimes, the similarity is that striking!
The system, at its heart, is simple: take positions where the top fighter has an advantage, and chain them together so you are always driving the fight to one of these positions. For Gordon, staying safe means controlling the inside position with his legs, so he has built his game around dominating from the split squat (like an HQ position), the half butterfly, and the half guard.
Even though he has a ton of attacks from other positions, he is able to create reliable reactions and always counter, according to his system. Once you have learned the movements and the plan, the actual passing becomes way more simple. Over these eight volumes, Gordon lays out the answer to every problem he faces, and how he has found the key to unlocking even the most stubborn guard.
Another key principle under all these volumes is that if you force exchanges that limit your partner's counters, you can predict what's next and have an answer ready! It seems like a simple idea, but it has been taken to its gold medal best under Gordon and John Danaher, who have left no stone unturned in the system shown here.
There is an incredible amount of information here, but there might not be a better example here than the butterfly guard (an important guard for any leg locker) that is broken down with a mix of tight and loose passing.
With an entry into a bodylock pass, see how Gordon controls their hips and limits their movements while keeping his mobility alive for the hip heists, knee slides, and even jumping passes that he has drilled to perfection. Go one step further and see the single leg x, x, and reverse x passes that the world's best leg locker relies on when the heat is on (including the cross ashi escape that might save your knee one day!).
X Guard Pass With Gordon Ryan
Knee shield is one of the most stubborn and frustrating guards to pass, especially when you don't have a gi to hold onto. The strong lever of the leg, and the framing arms, can make getting your leg out and around or through a huge pain.
See the chain of attacks that you can employ today, attacking both sides of the body, or dropping into an ashi garami for a fight ending submission threat. By dominating the knee shield with knee slides, long steps, and always pummeling his arms and legs for dominant grips (along with many other attacks), you can give yourself a sustained advantage over even experienced guard players.
So What's On This Series?
Gordon Ryan Created This Passing System Training For ADCC Where He Dominated His Way To Gold
Enter into the guard passing system that gives you an A to B to C roadmap that gets you past the guard and in full control of the fight. You aren't relying on strength, speed, or athleticism, just technique and strategy that gives you an "if they do this, then do that" mentality that guides you through the guard. By understanding your best positions like the split squat, half butterfly, and knee shield, you can always be driving the fight to your favor, and then connecting those positions when you need to increase your advantage even more. That connective tissue is the real secret behind why Gordon hits his passes on even the elite of the elite (including world champions like Yuri Simoes, Jackson Sousa, Kaynan Duarte, and Craig Jones) BUT it is a secret no longer! Every answer is here, from the champ himself, broken down to a science.
It's easy to look good if nothing ever goes wrong, but sadly in BJJ, that just isn't realistic. With that in mind, see what the best no-gi grappler in the world does even in his worst positions from top. Even though he is always working to get to his best positions (where the pass is imminent) sometimes you lose underhooks, or your balance gets messed up, or you just get caught up in something that makes progressing a nightmare! Gordon's goes over every solution for even the most problematic guards he runs into, including deep half, lockdown, and even the rubber guard!
This system is so connected and dynamic that to really appreciate it, you have to see it in action. We have you covered! Watch first as we have Gordon spar a bunch of tough jiu-jitsu fighters in a row, then see Gordon watch his own training back, narrating exactly what was going through his head as he was attacking each guard! See it early to get a general idea of the system, or once you have seen the full instructional series, you can go back and watch to see how much more you notice the little battles that Gordon is always fighting, like the ways he balances his body when people drop into his legs, or the grips he uses to control an opponent when they sit versus when they lay down. With the man himself giving you his mindset, you can better understand and appreciate the timing, connections, and hidden details behind the movements he breaks down during the instructional series.
Opening Rubber Guard With Gordon Ryan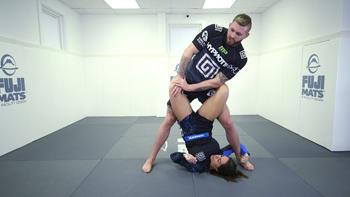 #4
To open the guard Gordon will apply both of his arms to one leg to push down. He utilizes the 2 on 1 concept that Danaher teaches so often.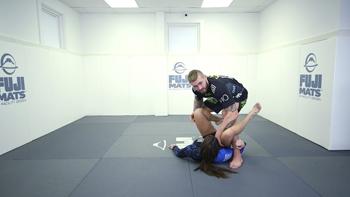 #5
With guard broken Gordon will get in a low squatted posture to preemptively evade attacks from his opponent.
So What Does It All Cost?
Well, that depends, what would a private cost with the King? That is if he even has time….
Get Gordon Ryan – Systematically Attacking The Guard with Digitdl.com