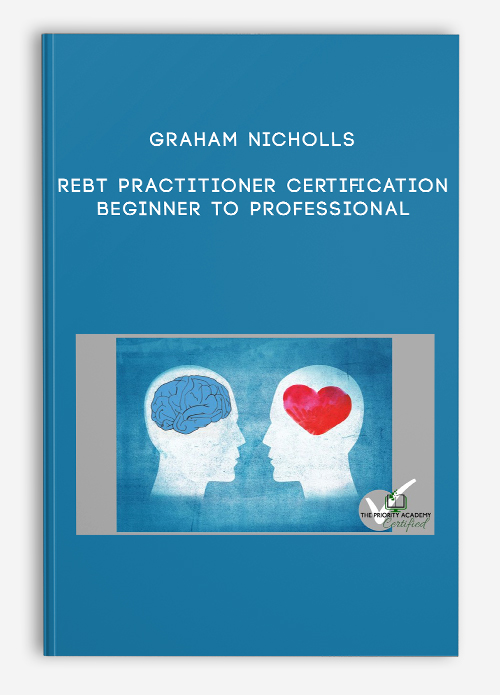 Graham Nicholls – REBT Practitioner Certification – Beginner to Professional
Description
Filesize : 18.192 GB
What you'll learn
Get in-depth knowledge of REBT and how to use it to help yourself and others

Discover the power that the REBT framework holds for transforming lives

Uncover the framework that makes REBT (Rational Emotive Behaviour Therapy) so powerful

PLUS – download a fully loaded workbook to work alongside this REBT Practitioner course

PLUS – get a fully downloadable audio version of this REBT course

BONUS Section – there is a full bonus section to help you and your clients even further
Requirements
No previous experience of REBT is required as all aspects are explained in full
There is a full REBT Practitioner Certification workbook available so access to a printer would be useful but not essential
Description
This REBT (Rational Emotive Behaviour Therapy) Practitioner Certification – Beginner to Professional course is a fully comprehensive course that will get you to the heart of REBT psychotherapy and the power that is has to help both you and your clients.
Developed by Albert Ellis, REBT is one of the founding fathers of modern CBT psychotherapy (Cognitive Behavioural Therapy) and yet despite it's inclusion within the CBT framework, REBT has it's own fully useable and very effective framework for change and helping others.
His work with REBT lead to Albert Ellis being rated as one of the top three most important influencers of modern psychotherapy and the move away from psychoanalytical therapy – the other two members of that top three are Carl Rogers and Sigmund Freud!
** Please Note: This REBT Practitioner Course is FULLY ACCREDITED with the Complimentary Therapists Accredited Association (CTAA) and The Priority Academy is Fully Accredited as a Quality Distance Learning Provider, also with the CTAA – Membership Number: 10662322. On completion of this course you will be able to claim your REBT Certificate of Accreditation from The Priority Academy and a Practitioner Accreditation Membership from the CTAA (details contained within the course).
"The best years of your life are the ones in which you decide your problems are your own. You do not blame them on your mother, the ecology or the president. You realise that you control your own destiny" – Albert Ellis
In this REBT Practitioner Certification course you will learn everything you need to know to be able to help yourself and to go on into a life as a Helping Psychotherapy Practitioner and truly help others improve their lives. You'll learn why REBT is so effective as you work alongside me during this process so that you can truly experience the tools, strategies and techniques that REBT includes.
There is a fully downloadable workbook for you to use alongside the videos so that your REBT learning experience is enhanced and that you get the most out of the course. Plus, I've also added a fully downloadable audio version of the course so that you can learn on the go, anywhere that you are!
"Rational Beliefs bring us closer to getting good results in the real world" – Albert Ellis
Be under no illusion, if you want to change yourself or you want to be part of the Helping Psychotherapy Profession and help others you need to know about REBT! The tools and techniques that Albert Ellis developed through REBT are some of the most powerful in the psychotherapy world for personal change. Plus I've added in some key tools and techniques from other disciplines to enhance this course even further!
4 Key Differences Between REBT & CBT Psychotherapy
REBT works from a philosophical basis of emotional disturbance as well as the clients cognitive distortions (which is the focus of CBT) which many claim makes it more powerful.

REBT places an emphasis on secondary disturbances – where we disturb ourselves about our issues – which is something that CBT largely ignores.

REBT presents Unconditional Self Acceptance as a resolution to low self-esteem instead of just focussing on reinforcing positive qualities which is the CBT approach.

REBT is unique among CBT approaches in the fact that it recognises Helpful Negative Emotions alongside Unhealthy Negative Emotions. Other CBT approaches focus on Unhealthy Negative Emotions only.
I would love to be your guide, your coach, your mentor into this absolutely fascinating world of REBT (Rational Emotive Behaviour Therapy) and show you the framework that makes REBT so effective. Let me take you from beginner to professional level and open your mind and heart to this incredible subject.
Click the button to sign-up now and let's get started! Remember, you get lifetime access to the REBT Practitioner Certification Course and you are covered by Udemy's 30 Day Money Back Guarantee!
I look forward to seeing you inside the course.
My Best Regards
Graham
REBT | Rational Emotive Behaviour Therapy | Certification | CBT | Cognitive Behaviour Therapy
Who this course is for:
Are you interested in REBT, CBT and other areas of the Helping Industry?
If you want to help yourself and / or help others this REBT course is for you
Fitness
More information about Fitness:
Regular exercise and physical activity promotes strong muscles and bones. It improves respiratory, cardiovascular health, and overall health.
Staying active can also help you maintain a healthy weight, reduce your risk for type 2 diabetes, heart disease, and reduce your risk for some cancers.
Moderate aerobics exercises 3 times a week for 30 minutes can reduce cancer risk Cancer-based exercises provide relief to the patient during
cancer treatment There are many benefits to exercising. But it's even more beneficial for cancer patients. This has been proven in research published in the medical journal 'Cancer Journal for Clinicians'.
Get Graham Nicholls – REBT Practitioner Certification – Beginner to Professional with Digitdl.com