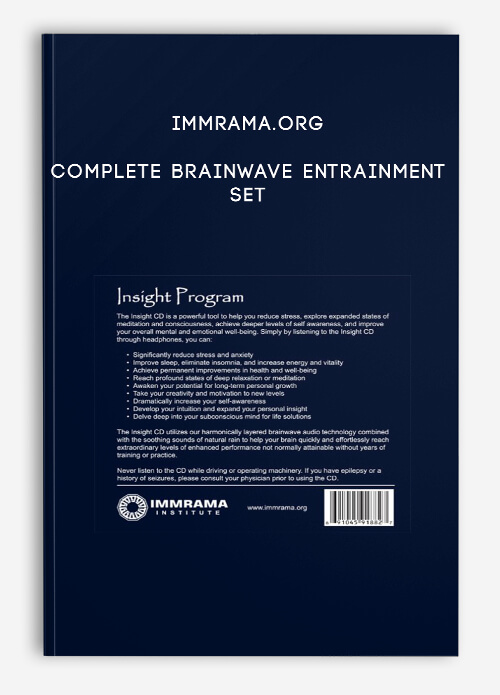 IMMRAMA.org – Complete Brainwave Entrainment Set
Description
These are all the brainwave entrainment tracks from IMMRAMA.org + Holiday Bonuses + Booklets.Probably the best brainwave program in the world. The IMMRAMA company decided to shut down so these are no longer obtainable anywhere – very rare.
1. 10 min light relaxation track
2. Dreamwalk Program (For lucid dreaming entrainment)
3. Focus Program (ADHD, ADD, Focus, Work, Study)
4. Immrama Institute Holiday 2013 Bonus Tracks
5. Immrama Institute Holiday Bonus (Other)
6. Infinity Program with Ocean Waves (Creativity, Intuition)
7. Insight Program with Gentle Rain (Insights, Clarity, Manifestation)
8. Serenity Sleep System (Program For Better Sleep)
NLP online course
So what is NLP?
NLP stands for Neuro-Linguistic Programming. Neuro refers to your neurology;
Linguistic refers to language; programming refers to how that neural language functions.
In other words, learning NLP is like learning the language of your own mind!
NLP is the study of excellent communication–both with yourself, and with others.
It was developed by modeling excellent communicators and therapists who got results with their clients.
NLP is a set of tools and techniques, but it is so much more than that.
It is an attitude and a methodology of knowing how to achieve your goals and get results
Get IMMRAMA.org – Complete Brainwave Entrainment Set with Digitdl.com