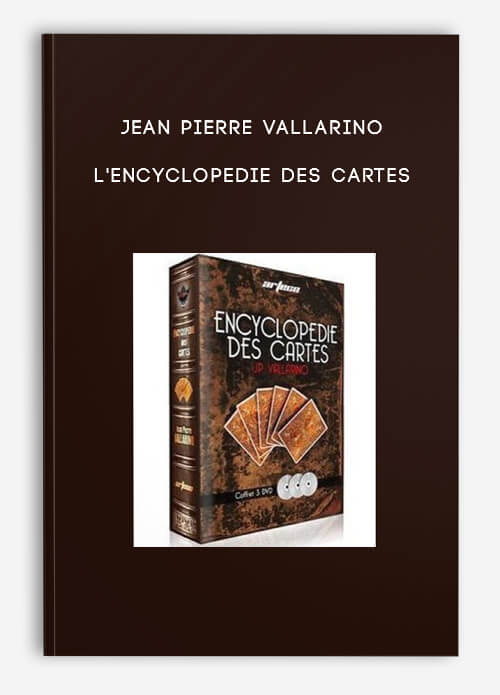 Jean Pierre Vallarino – L'Encyclopedie Des Cartes
Description
JP Vallarino, French reference cartomaniac, offers you an exceptional box on the magic of cards.
Conceived as a real educational encyclopedia, this box of 3 DVDs will present and reveal to you in the smallest details all the essential techniques of cartomagie.
Organized around intuitive menus and chapters, you will have instant access to the technique you want to work on.
This program would not be complete without offering a selection of routines taking full advantage of the techniques learned.
Prestige Box 3 DVD
Duration of the Program: 4h20mn approximately
Attention: The part on the double lifting is to be watched on youtube, following an assembly error. The link is provided to you on the DVD.
On the program:
DVD 1
THE BASES
Holds of the deal
Biddle Grip
Drible
Ribbon
One-hand
fan Two- hand fan
Waterfall
Index cut
Charlier cut French
American mixture Faro mix BASIC 2 False index cut
False cut on the table
False French mixture
False Zarrow mixture
False Charlier mixture
Break with the little finger
Break with the thumb
Break Erdnase
LES CONTROLES
Control with the French mixture
Control with the cut
Control in diagonal
Tilts
Double cut
Triple cut
Control in bevel
The secret addition of Vernon
LES forcing
Hindu Forcing
Cup cross
Forcing to dribble
forcing the stripping
COUNTS
Elmsley
Hamman,
Rumba count
Ascanio
Optics
DOUBLE LIFTING
Double lifting in two stages
Double leaf
lifting Vallarino double lifting Turning over
in hand
DVD 2
THE SPINNING
Classic
spinning Marlo
spinning THE PADDING
Positions
Erdnase from below
Bottom with one hand
The Load
ADVANCED TECHNIQUES
Pop Out move
Add move
Atfus move
Biddle move
Le Bonneteau
Vall's out move
DISAPPEARANCES
Tent vanish
Rub vanish
JUMPS OF CUT
Half cutting
jump Classic cutting jump
CHANGES
Change with brush
Change in side steal
Change on flipping
Change of several cards
Change in the air
Change on table
LAPPING
THE DATA
Gives in second
Gives from below
THE CARD TO THE EYE
Card to the classic eye
Card to the eye of Jennings
DVD 3
THE CARDS TRUCKED
THE KEY CARDS
THE TOURS
The Square of 4
Mixtures of the World
The Card to the Number
The Tour du Biddle
Les Rois en As
Sandwich
Twisting The Aces
First Name Readmore Card
Get Jean Pierre Vallarino – L'Encyclopedie Des Cartes with Digitdl.com