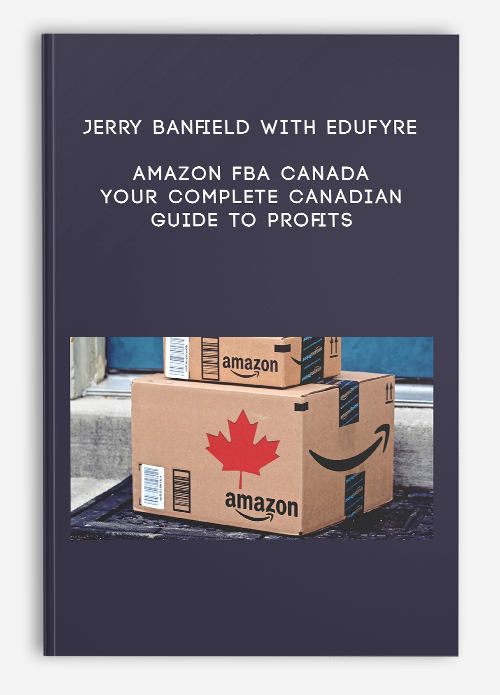 Jerry Banfield with EDUfyre – Amazon FBA Canada: Your Complete Canadian Guide To Profits
Description
Amazon FBA Canada: Your Complete Canadian Guide To Profits
How to sell on Amazon FBA for Canadians: Because it's not the same as FBA selling in the USA. No experience required.
FINALLY! A COURSE FOR CANADIANS ON HOW TO MAKE MONEY THROUGH RETAIL ARBITRAGE. THIS IS YOUR COMPLETE GUIDE ON HOW TO SELL ON AMAZON FBA IN CANADA. **Last Updated: April 23, 2016***
Things work differently when you're selling on Amazon FBA in Canada – you need to consider different product prices, shipping costs, methods, and processes for preparing your Amazon FBA Canada shipments.
When I was first selling on Amazon FBA, I had trouble finding any useful resources for Canadians on how to make money with this. I would spend hours watching videos on YouTube only to find out that some of the material did not apply because I was in Canada.
I specifically created this course to provide you with a complete and comprehensive step-by-step guide for how to sell on Amazon FBA in Canada. Learn from my experience to make more profits and keep more money in your pockets.
Master Retail Arbitrage In Under 3 Hours Using these Detailed Video Lessons and Tips Taught in This Course.
Create your own Amazon Seller Account and connect it to your bank account so you can get PAID!
Master the use of the Amazon Seller App for scanning products at the store

Identify which items will make you more profits when selling on Amazon FBA in Canada

Ship your items for FBA selling using Canada Post with the proper sticker labels

Avoid losing money with these saving hacks that specifically apply to Canadians (cuz things are more expensive here!)

Properly package and prepare your Amazon FBA Canada shipment so it does not get damaged on the way to the fulfillment centers
I am so grateful I get to be your guide through all of this. We will go through every step together: we'll make sure you have the right tools to get started, we'll go scanning for products together at Walmart, we'll print the labels together and stick them on properly, we'll go to Canada Post together and ship your package….
And of course, we'll make sales together!
This Amazon FBA Canada course is also complete with check-in points so you can easily digest this information and take action on it.
I will also be adding an entire section on ninja strategies for making more money – I have a few tips up my sleeves and have already planned more videos that will be coming down the pipeline soon! 🙂
Let's do this my fellow Canadians!
Click on the "Take This Course" button and I look forward to meeting you inside.
– Jewel Tolentino
Your Instructor(s)

In 2005 while I was in college at the University of South Carolina, I tried to start working online. I signed up for an MLM program and a survey website. A month later, I had refunds from both and figured working online was not possible because everything was a scam. The truth was I was afraid to fail again.
In 2011, I moved in with my wife and launched an online business focusing on video game addiction in an attempt to avoid dealing with any of my other problems. In a few months, I changed my business to selling shirts because I realized there was no money in video game addiction. A year after starting my business, I dropped out of my criminology PHD program at the University of South Florida to run my business full time which by then had changed to helping clients with Facebook and Google ads based on my experience failing to do them successfully for myself.
In 2013, I starting sharing everything I knew for free on YouTube because I hoped it would help me get more clients. By April 2014, I was nearly bankrupt after failing at 15+ different business models. I was also nearly dead from trying to drink the pain away and fortunately the fear of death motivated me to get into recovery. Being in recovery motivated me to focus more on being of true service to others and less on what I would get out of it. I started making courses online with Udemy which soon turned into my first real business. I partnered with as many talented instructors as I could and learned from top instructors how to get my courses the most sales.
In 2015, I tried making some inspirational videos sharing what I learned in recovery and got an amazing response on YouTube. To make the background on my videos more interesting, I started making the inspirational videos while playing video games. To make a more helpful website, I hired a freelancer to convert the videos into blog posts including this about page originally.
Course Curriculum
Hi + Welcome! What do you get out of this course?
Preview

The lack of resources for how to sell on Amazon FBA for Canadians + my story (4:07)

Preview

Amazon FBA Canada Course Breakdown: What you are going to get out of this course (1:28)

Preview

What you'll need to successfully complete this course (3:36)
What is Amazon FBA?
Start

What is Amazon FBA? (5:08)
How to Create an Amazon Seller Account: Setting up Online & on Mobile
Start

How to create an Amazon Seller Account: Follow these steps to avoid any issues (5:24)

Start

Connecting your bank account to your Amazon Seller Account (2:35)

Start

Amazon Seller Support: Why to contact them and why they exist (3:12)

Start

Amazon Seller App: How to install + how to link it to your Amazon Seller Account (2:54)

Start

Amazon Seller App in action: How to use it to scan items for FBA selling (5:26)

Start

Amazon FBA Canada Check-In Point #1 (0:52)
Get Jerry Banfield with EDUfyre – Amazon FBA Canada: Your Complete Canadian Guide To Profits with Digitdl.com