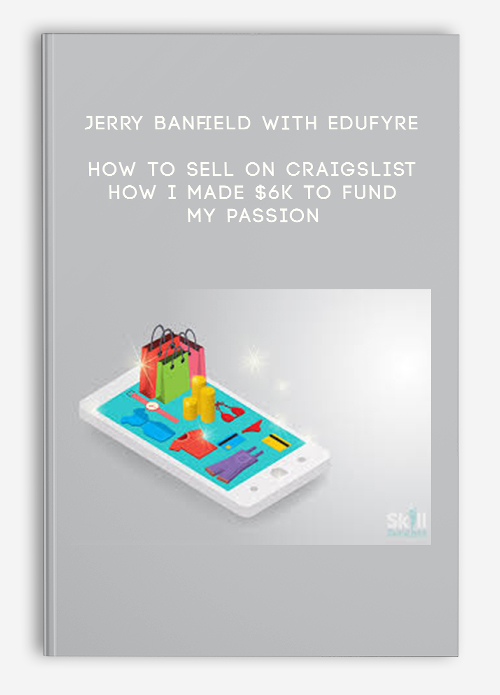 Jerry Banfield with EDUfyre – How To Sell On Craigslist: How I Made $6K To Fund My Passion
Description
How To Sell On Craigslist: How I Made $6K To Fund My Passion
The simple, safe and effective way for how to sell on Craigslist: Attract real buyers. No experience needed.
START MAKING MONEY SELLING ON CRAIGSLIST, WITH NO EXPERIENCE WHATSOEVER! Here's what our students are saying…
"I went from not know anything about selling on Craigslist to selling my very 1st item the very next day! I couldn't believe it. I was able to unload my couch, today, for $140.00 and I owe this to achievement to Jewell and this course. " – TR
"The envelope idea is extremely POWERFUL and it starts to effect your mental state just taking action and writing amount down Thanks Jewel!" – MA
About This Course:
– Full, free lifetime access
– All future extra lectures and upgrades are always included for free
– Monthly income reports so you can see my real earnings on a regular basis
– Full, free access to my time if you need additional guidance
I created this course because I believe that money should NEVER stand in between you and what you want to achieve.
Selling on Craigslist is one way for you to make extra money while getting rid of stuff that doesn't serve you anymore.
And it's easy, with no skill required.
The only thing required is a positive mindset and a take-action attitude.
In this course, I let you look over my shoulder as I teach the exact same strategies used to make $6000 (and growing) selling on Craigslist.
You Will Learn How To:
1. Round up your items and decide what to sell
2. Prep your items for sale
3. Take sexy photos of your items
4. Keep track of your items
5. Create a post on Craigslist that sells
6. Create an attention grabbing title
7. Price your items
8. Communicate quickly and effectively with interested potential buyers
9. Stay safe while making the deal
10. Never run out of items to sell
…and much more.
What will get you one step closer to your goal? A new laptop, a marketing budget, the latest software, more supplies? Whatever it is, find out how much it costs, click on the TAKE THIS COURSE button and let's get you selling on Craigslist quickly so that you can make the money you need.
See you inside the course!
– Jewel
Your Instructor(s)

In 2005 while I was in college at the University of South Carolina, I tried to start working online. I signed up for an MLM program and a survey website. A month later, I had refunds from both and figured working online was not possible because everything was a scam. The truth was I was afraid to fail again.
In 2011, I moved in with my wife and launched an online business focusing on video game addiction in an attempt to avoid dealing with any of my other problems. In a few months, I changed my business to selling shirts because I realized there was no money in video game addiction. A year after starting my business, I dropped out of my criminology PHD program at the University of South Florida to run my business full time which by then had changed to helping clients with Facebook and Google ads based on my experience failing to do them successfully for myself.
In 2013, I starting sharing everything I knew for free on YouTube because I hoped it would help me get more clients. By April 2014, I was nearly bankrupt after failing at 15+ different business models. I was also nearly dead from trying to drink the pain away and fortunately the fear of death motivated me to get into recovery. Being in recovery motivated me to focus more on being of true service to others and less on what I would get out of it. I started making courses online with Udemy which soon turned into my first real business. I partnered with as many talented instructors as I could and learned from top instructors how to get my courses the most sales.
In 2015, I tried making some inspirational videos sharing what I learned in recovery and got an amazing response on YouTube. To make the background on my videos more interesting, I started making the inspirational videos while playing video games. To make a more helpful website, I hired a freelancer to convert the videos into blog posts including this about page originally.
Course Curriculum
Hello, I'm Jewel! Please START HERE and Follow the Course in Order
Preview

What have I sold on Craigslist and how much I've made (10:17)

Preview

What you will get from this course (6:21)

Start

Who am I? The story that inspired others to sell on Craigslist (8:16)

Start

How to make the best use of this course (5:47)
Important Stuff Before We Get Started
Preview

Two golden secrets to selling on Craigslist again and again and again… (6:05)

Preview

Why sell on Craigslist (3:56)
LET'S GET STARTED! 4 Preliminary Steps to Selling on Craigslist
Start

STEP 1: The Round Up – How do you know what to sell? (5:20)

Start

STEP 2: The Clean Up – Prepping your items to be listed (4:08)

Start

STEP 3: The Photoshoot – Do NOT skip this video! (11:39)

Start

STEP 4: The Master List – How to track the sale of your items (4:27)

Start

Live example / summary of the 4 step process (4:54)
Get Jerry Banfield with EDUfyre – How To Sell On Craigslist: How I Made $6K To Fund My Passion with Digitdl.com