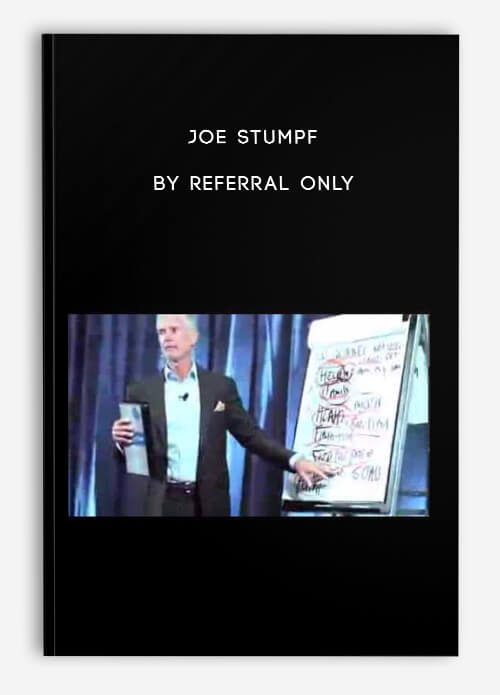 Joe Stumpf – By Referral Only
Description
What the Top Producers Use To Make More Money…
Have More Time…
and Create A Better Lifestyle
Isn't it time you achieve a high 6-figure income, work 40 hours a week or less and have plenty of time to spend with family and friends?
JOIN TODAY
1. TRAINING (CONTENT)
Interactive, virtual courses and hundreds of hours of on-demand trainings bring you what's working in Real Estate and Lending TODAY. It's all at your fingertips.
2. TOOLS (DONE-FOR-YOU SYSTEMS)
Scripts, Dialogues, Referral Networks, Letters, Emails, Social Posts, Postcards, Newsletters, Texts, Referral Platforms, CRM and so much more. All exclusive and unlimited to BRO members.
3. ACCESS (COMMUNITY)
Ask Joe, the BRO Team and your fellow agents & lenders anything via the private members-only Facebook Group.
4. ACCOUNTABILITY (COACHING)
Members have all-access to our Fast-Pass Coaching and Accountability courses which will work to keep you focused and motivated to achieve your goals.
What Do You Actually Get?
7+ ESSENTIAL COMMUNICATIONS
These 7+ Essential Communications have the power to bring you a steady flow of referral business, every month, for the rest of your career. Every month, we design and produce 7 brand new Referral Communications… and we'll even send them to your clients and contacts for you! Your Referral System will run on autopilot so you can focus 100% on serving clients and closing sales. Learn more about the 7+ Essentials here.
MY CLIENTS REFERRAL MANAGEMENT SYSTEM
Mail, email, track to-dos, manage your lists, know which relationships are creating referrals for you and calculate lifetime value, all fully integrated to work with all your strategies and programs; plus it syncs with popular mobile devices. This CRM does it all! A CRM of this level would cost you at least $150/month per user elsewhere, we make it part of our By Referral Only System so that you can run all of your communications, stats and reports seamlessly from one place.
FASTPASS COACHING & ACCOUNTABILITY COURSES
With your By Referral Only Membership you get access to several of our best training & accountability programs FREE with your membership. Courses like Referral Ignite, Six Significant Daily Habits & 5 Star Referral Center. These 8 week courses are offered throughout the year and give you the exact training, support, coaching and accountability you need to ensure that you not only master the art of referral strategy, but they also help you to become a better, more well-rounded agent or lender. With these courses you get LIVE training, private Facebook Group Access, valuable quick-start assignments and support, as well as workbooks and tools you need to participate. Many of our members take these each and every year as they move their business from survival, to stability, to success and significance. Now normally these FastPass courses sell for $199 each, and it was just this year we decided to make these free to members so, this really is a great opportunity for you. To put that into perspective, we do about 12 of these a year. That's a savings of $2388.00 right from the start! Even if you choose to do only 4, one each quarter, you still save $796 with membership!
5 STAR REFERRAL CENTER
Want a system that will send you a consistent flow of quality referrals each and every week? Our all new 5 Star Referral Center helps you achieve just that! It's a state of the art website where all the businesses in your community that are worthy of being referred can quickly and easily be found on one elegant platform. Local businesses and service providers will LOVE sending you new referrals because you are in turn promoting them, and clients and leads will love that they can come to your personalized 5 Star Referral Center website and find trusted businesses and service providers to help them and their friends and family. You can collect new leads right from your 5 Star site and the system can generate email communication to clients, leads and your referral partners. You get your own website and custom URL, all of the training, help with setup, marketing materials, support and guidance. If you want to be the most referred agent or lender in your area…THIS will get you there. This program alone is worth $1597. It's all included with your membership! You pay nothing extra except for the cost of hosting the site… and that's minimal.
Click here
Want to Know What Membership Is Like?
Join us
MORNING JOE CAFE
This is by far one of our members' favorite new features. The Morning Joe Cafe is like caffeine for your fresh thinking. You pick your blend of message and each morning you'll get a text with that day's motivational message of the day. These are topics and areas that will expand, support and improve your life and your business. Members get unlimited free access to all existing seasons and any new seasons as they're released..
SMART GUIDANCE FUNNEL
Imagine meeting a prospect, you open the landing page on your computer, tablet or phone and ask them to submit their name and email so you can stay in touch. Now, a series of Smart Guidance emails are automatically sent to them providing expert tips designed to provide helpful notes and information to a prospect looking to buy, sell, or finance. They position you as an expert in your field, and keep you on top of mind with a weekly email. The strategic CTAs will encourage your prospect to reach out to you for advice. This is perfect to use at open houses or when someone sends you a referral, and it's all ready, waiting and done-for-you with your By Referral Only membership.
WISDOM WEDNESDAY
LIVE coaching every week from Joe Stumpf, plus LIVE coaching from our Inner Circle of the top Real Estate Agents and top Lenders in North America. Every week, you'll see exactly what the most successful agents and lenders are doing to succeed in today's market… Our highest paid agents and lenders say the Wisdom Wednesday Webinars are the #1 strategy that helped them BREAKTHROUGH to earning a high six-figure income, working less than 40 hours per week.
ONGOING TRAINING
Magic Words Dojo (amazing scripts & dialogues), blogs, private Facebook group posts and live online classes every month – all recorded and downloadable, so you can take your audio trainings and interviews with you everywhere you go.
CERTIFIED BY REFERRAL ONLY CONSULTANT COURSEWORK (CBROC)
Your path to becoming a Certified By Referral Only Consultant consists of Ten Courses, taught live by Joe and his amazing coach team. These 10 courses bring 30 years of experience to you in an easy-to-learn class environment. The By Referral Only System has been the #1 Referral System in Real Estate for 30
years. This is the exact system that our top agents use to turn every client into 1-3 additional clients. Succeeding in Real Estate is MUCH easier when you have the ability to turn every transaction into 1-3 additional transactions! Learn more about CBROC here.
PROFESSIONALLY WRITTEN MONTHLY MAILINGS
Personalized referral-generating postcards, letters and Client Newsletters to keep you top-of-mind with all your clients and sphere of influence.
PRIVATE COMMUNITY FACEBOOK GROUPS
Where you'll get expert advice from Joe, Business Advisors and other By Referral Only members, and where no question goes unanswered.
MYVOICE
Your own local or toll-free number, with unlimited extensions and prepaid minutes included. Features like call forwarding, text-to-join marketing and recorded messages to attract new clients quickly and track your results automatically.—All integrated into your MyClients CRM!
MY WEB PAGES
Unlimited Lead-generating Web pages with opt-in forms and automatic drip campaigns all preloaded for you.
TECHNICAL ASSISTANCE/HELP DESK
Friendly experts to help you whenever you need assistance.
Get Joe Stumpf – By Referral Only with Digitdl.com