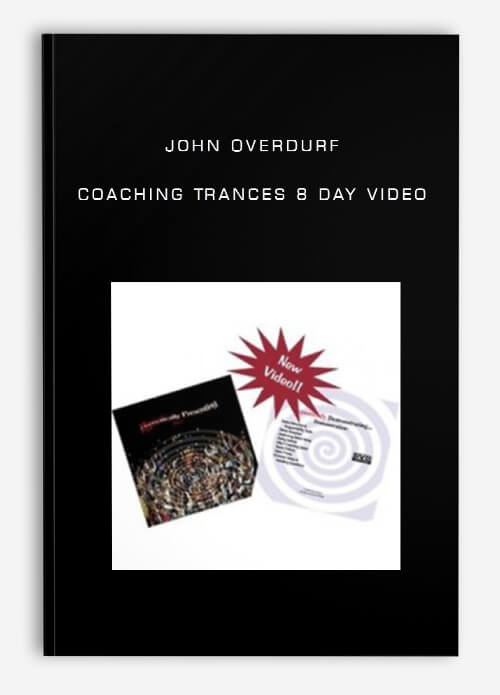 John Overdurf – Coaching Trances 8 Day Video
Description
The structure of conversational hypnosis. This comprehensive video program documents an 8 day Hypnosis training recorded live in Portland, Oregon. It is a must have if you want top-notch video training in hypnotherapy. If you liked the book, Training Trances, this is as close as you can get to a video version of the book, just updated.

This was an extraordinary training because we had an extremely varied audience- from folks new to hypnosis to experienced trainers. This meant I had to teach on many levels simultaneously to address the diverse needs of the students. The good news is this presented me with many more situations where I had to rely on the power of the hypnotic processes I was teaching and applying them directly to teaching itself, which is also unique from a content standpoint. Provocative and spontaneous, with lots of twists and turns, you'll enjoy all of the multi-level communication.
While the training covers the classic Ericksonian Hypnosis material, I wanted to expand the work beyond the Training Trances Era and integrate the coaching model that I've been using more recently.
Here's a sampling of some of the content and processes covered:
Review of basic Ericksonian skills required to do more sophisticated, advanced techniques
Classic Ericksonian Induction Structures:
Revivification
Pacing current experience
Conscious-unconscious dissociation
What to do after you've induced trance
How to easily elicit traditional hypnotic phenomena, such as:
Catalepsy
Analgesia/anesthesia
Amnesia
Deep trance identification
How to use Erickson's basic protocol for posthypnotic suggestions
How to conversationally elicit present states and outcome states to create unconscious change
The Hypnotic Interview: A template for effective Hypnotherapy
How to seamlessly transition in and out of … that's right!
How to use dreams and naturally occurring dream-like states hypnotically
Post hypnotic suggestion
How to install a very effective protocol for self-hypnosis
Hypnosis DVD Tracks
Day 1
1. Intro and Milling Exercise
2. Conscious/Unconscious, Quantum Zeno Effect, What is Trance?
3. What is Trance, Cont. Erickson Induction
4. Keys to being an Ericksonian, That's Right Exercise, Utilization, Driect VS. Indirect
5. Direct Vs. Indirect Suggestion, Demo with Patti, Erickson's Induction Structure
Day 2
6. Revivification, Blinding Flash of Color Induction
7. Revivification Demo with Patti, Revivification Set Up Exercise
8. Pacing Current Experience, Set up of Pleasantly Surprised Exercise
9. Analgesia demo with Patti, Debrief of Exercise, End of Day 2
Day 3
10. Mind Power for Life Conscious/Unconscious Dissociation
11. Catalepsy, Handshake Induction Demo (there is a 10 minute video loss at the end of this
track)
12. Handshake Induction to elicit Catalepsy, Catalepsy Demo, set up of Day 4
Day 4
13. Open Frame, Hypnotic Interview Overview, Hypnotic Phenomenia
14. Exercise Debrief, Dissociation, Anagesia
15. DTI Script, Demo with Gina
16. Demo with Gina Cont…Demo Debrief and Exercise Discussion
Day 5
17. Hypnotic Interview Components, Present State/Outcome State
18. Present State/Outcome State cont… Hidden abilities
19. Hidden Abilities, Post Hypnotic Suggestion Protocol
Day 6
20. The video John is referring to is the Hypnotic Interview, and he reviewed that with the class
in a morning session. Building Response Potential – That's right, not yet,
21. Exercise Debrief, Post Hypnotic Suggestion Protocol
22. Exercise Debrief, Day 7 Starts at 34:38, Pendulum
Day 7
23. Pendulum, Unconscious Clearing
24. Unconscious Clearing cont…Demo with Gail
25. Demo with Gail cont…Unconscious Clearing Exercise Set Up and debrief
Day 8
26. Dreaming 101
27. Dream Incubation
28. Dream Induction and Discussion
29. Self Hypnosis
30. Self Hypnosis, End of Training
Hypnosis coures
Hypnosis is a human condition involving focused attention, reduced peripheral awareness, and an enhanced capacity to respond to suggestiom.
There are competing theories explaining hypnosis and related phenomena.
Altered state theories see hypnosis as an altered state of mind or trance, marked by a level of awareness different from the ordinary state of consciousness.
In contrast, nonstate theories see hypnosis as, variously, a type of placebo effect, a redefinition of an interaction with a therapist or form of imaginative role enactment.
During hypnosis, a person is said to have heightened focus and concentration.
Hypnotized subjects are said to show an increased response to suggestions.
Hypnosis usually begins with a hypnotic induction involving a series of preliminary instructions and suggestion.
The use of hypnotism for therapeutic purposes is referred to as "hypnotherapy", while its use as a form of entertainment for an audience is known as "stage hypnosis".
Stage hypnosis is often performed by mentalists practicing the art form of mentalism.
Get John Overdurf – Coaching Trances 8 Day Video with Digitdl.com