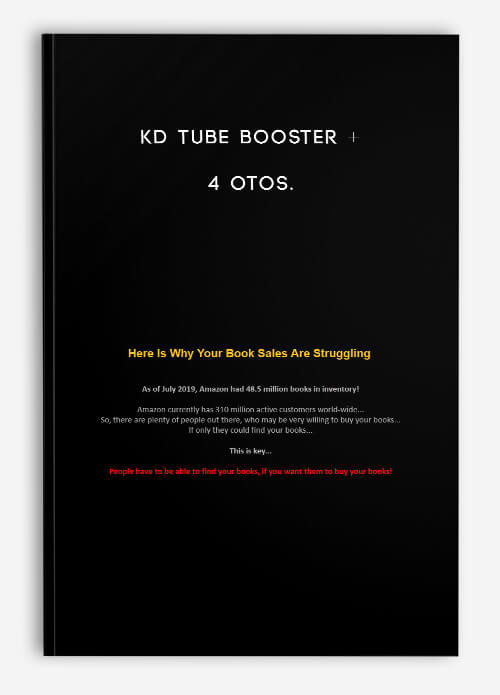 KD Tube Booster + 4 OTOs.
Attention Self Published Authors…
Thousands of Book Authors Are
Using This SECRET WEAPON to
EXPLODE Their Book Sales
On Amazon & Other Platforms
Using a Very Powerful Promotion Technique
That Most Book Authors Would Never Consider
If you have ever been disappointed with your book sales, then you should absolutely keep reading…
It doesn't matter whether you are writing fiction or nonfiction books, or creating coloring books, puzzle books or journals…
If you are like most self-published authors, you are frequently frustrated when you log into your Amazon Sales Reports and see that no one is actually buying your books…
Or, if they are buying your books, they are not buying them in the numbers you would like to see…
Why is that?
Are your poor book sales really because people don't like your books?
TIP: Unless your book has dozens of 1-Star Reviews,
then your book isn't the real problem!
If we are honest with ourselves, people are not rejecting your books based on what is inside your books.
More likely, people are not buying your books, BECAUSE they are not finding your books…
Here Is Why Your Book Sales Are Struggling
As of July 2019, Amazon had 48.5 million books in inventory!
Amazon currently has 310 million active customers world-wide…
So, there are plenty of people out there, who may be very willing to buy your books…
If only they could find your books…
This is key…
People have to be able to find your books, if you want them to buy your books!
There Is a Very Powerful, FREE Resource
That Ordinary Book Authors Are Using
To Help People Discover & Buy Their Books
If you are willing to just think outside the box, you could do this too…
It is FREE to use…
It is EASY to do…
And, you don't need a lot of skills to make it work for you too…
But, you do need to be willing to try things that you probably have never done before…
The sampled books (shown above) cover a wide-variety of genres…
Very literally, this Free Book Promotion Strategy is being used to promote books in pretty much any genre you can imagine…
And, it is reaping Huge Rewards for many of the book authors who choose to employ it…
Inside this training, we are going to show you ten (10) examples of actual promotions, the actual books they are promoting, and we are going to show you the approaches that are producing the best results…
Don't Let Your Fears Stop You
From Doing What We Can Prove Works
So, what is the catch?
To be honest with you, we almost didn't produce this training…
Because we know that this is a strategy that — although effective — it will intimidate a lot of people…
Don't be intimidated!
Seriously… Do keep an open mind…
You are going to be amazed at HOW EASY IT REALLY IS to do…
I was chatting with a buddy of mine…
I explained to him what we had discovered…
Then, I shared with him many of the examples that we are going to be sharing with you…
He told me, "If those other people can do well using this SECRET WEAPON, imagine how well YOUR CUSTOMERS would do using it."
He makes a good point…
IMAGINE How Well Your Books Could Do,
If Only More People Could Discover Your Books
Inside this training, I am going to ask you to step outside your comfort-zone…
I am going to advise you to use this Free Book Promotion Strategy that a lot of other book authors are using successfully to promote their books…
A method that ordinary book authors are using to get future buyers to look at their books on Amazon and elsewhere…
A PROVEN SYSTEM that 1000's of book authors are using to catapult their book sales to the top of Amazon's Best Seller lists…
A process that can be completed in just a few minutes each day (usually less than ten minutes a day)…
A method that anyone with an Internet connection can do…
A PROVEN STRATEGY that has the very real potential to deliver THOUSANDS OF REAL BUYERS to your books for many years to come…
There Are Only 4 THINGS You Need
To Make This Work For You Too
You just need four things…
10 minutes a day;
FREE software we recommend;
The Willingness to try something that IS WORKING FOR OTHERS; and
A Commitment to make this work for you too…
You can stick to what you have always done in the past, and you can hope that it will produce better results for you than it has previously…
Or, you can invest in this training and start employing THE PROVEN STRATEGY we recommend…
I Have Never Been a Fan of Blind Copy,
So Here Is What You Need to Know…
If you haven't figured it out yet, the FREE Book Promotion Resource is YouTube…
If you're not one of the 90% of people who ran away screaming after reading the word "YouTube," you might assume you already know what you need to do to promote your books on YouTube…
If you think that you know exactly what you should do next, you might be wrong…
There are right ways to promote your books on YouTube, and there are wrong ways to do it…
Inside this training:
We are going to walk you through the right ways to use YouTube to promote your books…
We are going to provide you plenty of examples on how to make YouTube your SECRET WEAPON for growing your book sales…
You won't need to put your face on the video screen, unless you just want to do it…
If you can speak into a microphone, you got this…
You won't need to have an awesome voice or a polished presentation…
You could even do this in a foreign language if you would prefer…
If you are like most people who have gone through this training, you will absolutely love what you find inside…
If you have the guts to try what we are teaching, you will have all the information you need to make sure your book sales don't continue to suck.
Once You Have Gone Through This Training
You Will Know Exactly What To Do
To Promote Your Books Using YouTube
Within this training, we are going to show you how many book authors are successfully using videos on YouTube to promote their books.
Making the videos is SIMPLE…
Uploading the videos is EASY…
Setting up the video title, tags, description, and thumbnails correctly is ESSENTIAL…
The only difficult part of the process is DECIDING THAT YOU WILL BE ACTUALLY WILLING to step outside your comfort zone to do it…
I admit it… I wrestled with the same issues myself…
During my first decade online, I had to supplement my writing income by doing services also…
I honestly felt the books I wrote offered enough value that people should want to buy them, without me doing extra things to get attention for my books…
I was wrong…
My first half-dozen books only sold about twenty copies in total…
Because I fervently resisted promoting my books…
With my seventh book, I decided to do a little bit of advertising…
This decision actually changed my life in a very positive way…
I spent just twenty dollars to get my book in front of a larger audience of potential buyers…
That twenty dollar bill ended up helping me to sell over 350 copies of my book!
In that moment… I realized… THE REAL VALUE of stepping outside my comfort zone to promote my books in a way that I had never done before…
Then in July of 2014, I took another bold step…
As I said before, I have a face made for radio and a voice made for print…
Despite my shortcomings, I decided to shoot some video and put it on YouTube…
The video production quality was horrible…
The audio track was painful, with lots of "um's" and "ah's" inside the video…
But, I started making money with my videos, almost from the start…
We are five years down the road now, and I currently have 178 videos on YouTube…
After five years, my video production quality is barely improved and my presentation delivery is still less than perfect…
But, it really doesn't matter at all…
Over the course of these five years, my videos on YouTube have generated thousands of dollars in new sales…
The hard part is not creating the videos… The hardest part is deciding that we are willing to step outside our comfort zones to try new things…
We Just Want More People
To Buy Our Books, Right?
I am living proof that your videos don't have to have high production quality, in order to be effective…
You just have to have content out there, where people can find it…
Content that is designed to introduce people to your books…
And to show them how they can buy your books…
You simply need to provide people plenty of different ways to discover your books…
Inside "KD Tube Booster", we give you the information you need to succeed with using videos on YouTube to promote your books…
We have documented and linked videos on eight (8) YouTube channels, so you can study what others have done, which will enable you to Gain Real Insight into how you can use YouTube to promote your own books.
With direct links to actual book promotion videos, you will be able to See How Simple These Videos Really Are, to give you confidence in your ability to create these super-simple videos.
Example videos link to books in the following genres: children's books, literary fiction, romance, fantasy, suspense, thriller, crime, mystery, humor, business, and history. Seeing the list of genres covered will Erase All Self-Doubt about the genres of your books.
We will walk you through the basics of setting up your YouTube Channel and videos, to Erase Your Concerns About Overlooking Something Important.
We recommend the ideal length of videos, and why it matters. This information will ensure that Your Videos/Books Will Have The Best Possible Chance of Success.
Once you have watched the sample videos, you will Never Again Overthink What Is Necessary to be successful with your book promotions.
When you have noted the many different genres of books this FREE Book Promotion Strategy has been used to promote, you will realize this Can Be Used To Promote All Of Your Books.
We describe eight (8) types of videos that are proving useful for book promotion, so that you can Choose The Approach Most Comfortable For You.
We advise the one type of video to avoid, so you Don't Have To Waste Your Efforts.
This FREE Book Promotion Strategy is also being used with foreign-language books, which gives you the Ability To Promote Books Outside The U.S.
Once you have wrapped your head around the two (2) goals that all videos should try to accomplish, you will find it is actually Very Easy to Get People to Click Links to Your Books.
When you fully-comprehend the two (2) proven methods to get people to trust your book recommendations, Even More People Will Click Your Book Links.
We provide links to several FREE SOFTWARE applications we recommend, which ensures that You Will Not Need to Spend Money on Software.
After you have gone through the video creation part of the training, You Will Never Again Be Overwhelmed by the thought of creating videos.
The role of Title, Description, Tags, and Thumbnails is to Get Your Videos Found. This part is actually pretty easy, when you know what to do. We will show you how to make your videos stand-apart from the crowd.
The system we are describing is being used to Promote Books on Many Platforms, not just Amazon.
YouTube gives certain videos Greater Visibility. We will show you how to make sure your videos can get more visibility within the YouTube website, which will ensure that more people will be watching your videos.
This is a NUMBERS GAME…
The more people there are finding and watching your videos, the more people who will be buying your books…
The thing is, you want more people to buy more of your books, right?
Low book sales are rarely the result of the book itself…
More often, it is a matter of discovery…
If people are not finding your books, they are not going to have the opportunity to buy your books…
By putting YouTube to work to introduce your books to new people, the likelihood of you selling more books goes up dramatically…
You just have to be willing to dip your toe into the YouTube community to see the results you desire…
Scroll down to the bottom of this page and click the Buy Button… After going through this training, you will be very excited to get started using YouTube in your book promotions…
It Is Time For You To Make a Decision…
You have a very clear choice…
You can ignore everything you have read on this page so far, and you can go back to your comfort zone where life is easy and your book sales continue to suffer…
You can choose to assume you already know everything there is to know about YouTube, and you can try to do it all on your own, without studying what others have done before you…
OR, you can step into the exciting world of using YouTube to promote your books, and help more people discover the books you are publishing…
The definition of insanity is doing the same thing
over and over and expecting different results.
If you have read this far into this sales page, I am reasonably confident that you are not happy with your current book sales…
My first half-dozen books only sold about twenty copies in total…
Because I lacked self-confidence, and I was intimidated by the idea of promoting my books…
New things scare me…
However, I will eventually work up the courage to try new things, and when I do, I often realize that my fear was overblown and unnecessary…
This is probably where you are right now… Worried and concerned that you won't be able to do this either…
You have a choice…
You can continue to do things the way you have always done them, and you can pray for people to find and buy your books…
OR, you can step outside your comfort zone and try something new…
And, if this new thing works for you, your excitement will be palpable every time you open up your Amazon Sales Reports and see how many people have purchased your books today, this week, and this year…
Imagine, if you can, how giddy you will be when your book royalty checks start hitting your bank account…
Imagine how awesome your life will be, when you finally start earning from your books that amount of money needed to change your life in a very positive way…
It is time to make a decision…
Invest in your future, by investing in this training…
OR, go take a nap and forget what you have read on this page…
Get KD Tube Booster + 4 OTOs. with Digitdl.com