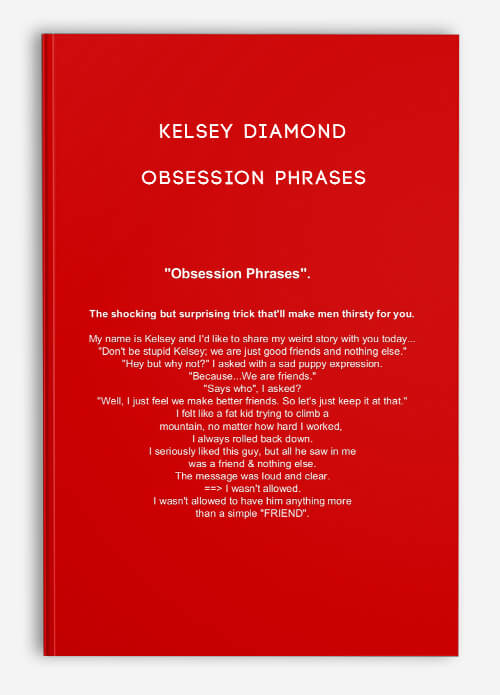 Kelsey Diamond – Obsession Phrases
Description
Obsession Phrases™ is backed with a 60 Day No Questions Asked Money Back Guarantee. If within the first 60 days of receipt you are not satisfied with Obsession Phrases™, you can request a refund by sending an email to the address given inside the product and we will immediately refund your entire purchase price, with no questions asked.
Are you attracted to a guy but you don't know that to tell him to make him attracted to you? Have you lost a guy before simply because you don't know how to express yourself well? If yes then you are not alone. The good news is that the Obsession Phrases Complete Course will help you uncover secret phrases that you can use on a man that you desire to make him fall completely in love with you. So what exactly is Obsession Phrases Complete Course, what does it contain and what are its benefits? Below is a comprehensive review of this program.
What is Obsession Phrases Complete Course?
The Obsession Phrases Complete Course is a program that was created to help women know what to say when taking to a guy to make him fall completely in love with you. Men are not only attracted by the physical look of a woman, they are also attracted by how a woman is able to express her love towards him. If you are able to make him think about you all the time, then he will do anything within his power to be with you. The main aim of this program is to give women proper word to use when talking to their men or any other man that they desire to capture their heart. In fact, the first time you have a conversation with the man that you are interested with, the guy will beg for your love and will do everything within his power to prove to you that he want you and you alone.
The phrases that have been outlined in this program will start working the moment you whisper those words to the man. The guy will start seeing you different and something in his heart will tell him that this is the lady that I want to be with. The author has given different phrases and has explained how to use them in different context. For instance, there are some phrases that can help spark the romance between you and your man while there are some that will strengthen your bond. This program was created to be used by all kinds of ladies including those who are single, married, divorced, in a relationship as well as those who want to get together with their exes.
About the author
Obsession Phrases Complete Course was created by Kelsey Diamond, a dating consultant and a relationship expert. She has conducted a lot of research on emotional trigger phrase and that is why this program is very successful. She
spent many years conducting extensive research in order to create this program. Kelsey has also worked with many hypnotherapists where she managed to learn a lot of powerful secrets.
What Obsession Phrases Complete Course includes
This is the core of this program that will give you a step by step guide on emotional trigger that you need use and how to properly use them to get the attention of the man that you desire. It will also teach you how to correctly use your body language to bring out your confident image. In addition to that, it will also give you insightful tips on how to use various flirtation tips like coy smile and sensual look.
The man dictionary that the author has included in this program is extremely helpful to ladies. This dictionary will help you know what your guy is trying to say sub consciously and consciously. This dictionary will help you understand your man better, a factor that will help you establish a strong bond.
This outstanding checklist will help you know how to comprehend how man thinks as well as help you know what your man want even without him saying a word to you. This manual is very important especially when the guy does not want to open up to you and tell you what exactly is going on in his life.
Advantages of Obsession Phrases Complete Course
Any lady can use it
This program has not been created to be used only by specific types of ladies, it can be used by ladies including those who are already in a relationship, those who are married, those who want to get back to their exes as well as those who are divorced and are ready to mingle. The tips given are very effective and any woman can take advantage of them to get the man that she desires.
Easy to use and understand
You don't have to be highly knowledgeable to understand what the author is saying in this program. Any lady can read and understand what the author is talking about in this program. This is because the author has used very simple language that is easy to understand. This program is also very interesting and fun to read.
Immediate access
You will have instance access the moment you purchase Obsession Phrases Complete Course. You will get the manual immediately when you pay for it. This means that you don't have to worry about delays as it is usually the case with other programs that are delivered physically to the client. You will start enjoying the benefits of this book as soon as you download it.
It boosts your self-esteem and confidence
If you have been damped by all men that you have dated before, then your self-confidence and esteem must be low. This program will not only help you get the man that you desire, it will also help to raise yourself esteem and confidence. This way, you will be able to express yourself better when talking
to your man.
It covers many aspect of a relationship
Wide range of phrases that this program covers can be used in almost all situation to make your relationship better. Therefore, if your intention to make the man commit to you, get back together with your ex or strengthen your relationship, this program will come in handy.
60 days money back guarantee
If you are not happy with this program, you can return it within 60 days and get full refund.
Get Kelsey Diamond – Obsession Phrases with Digitdl.com