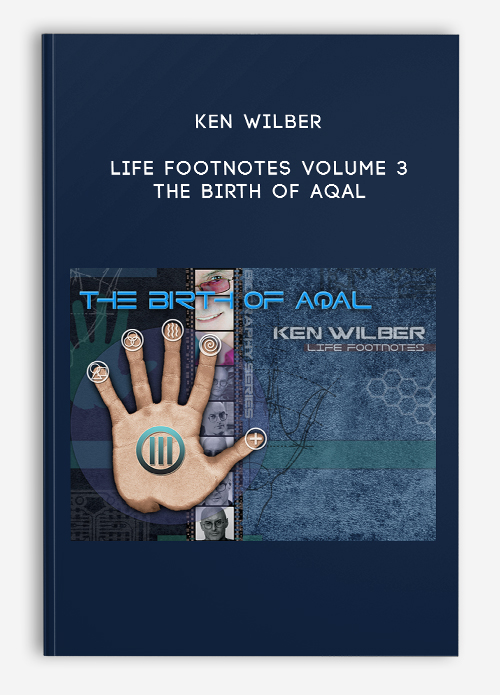 Ken Wilber – Life Footnotes Volume 3 The Birth of AQAL
Description
In 1995, following the tragic and untimely death of his wife Treya Killam Wilber, Ken Wilber published his first theoretical book in over 10 years—a massive 850-page tome titled Sex, Ecology, Spirituality: The Spirit of Evolution. This landmark book is considered by many to be his magnum opus, offering the fullest and most comprehensive expression of integral thought he had yet produced.
Sex, Ecology, Spirituality marked a major new phase in Ken's thinking, and was the origin of his current integral model: a framework known as AQAL (shorthand for "all quadrants, all levels, all lines, all states, all types").
In this third volume of the autobiographical Ken Wilber Life Footnotes Collection, Ken offers his own personal reflections on the writing of Sex, Ecology, Spirituality and its major theoretical contributions. He also discusses two other important books from this era: A Brief History of Everything, the ever-popular companion to SES, as well as The Eye of Spirit, where Ken explores the AQAL territory in even more detail.
This extraordinary volume of the Ken Wilber Life Footnotes Collection is available as a digital download. You can also get a collector's edition DVD or Blu-Ray (limited supplies available).
Chapter summary:
Magnum Opus: Sex, Ecology, Spirituality
The Four Quadrants
Holons: Turtles All The Way Up, Turtles All The Way Down
The Twenty Tenets of Integral Theory
Individual and Social Holons
The Five Elements of AQAL
A Brief History of Everything
The Eye of Spirit
The Three Strands of Knowledge
Do Cultures Evolve?
Eye to Eye
Integral Art and Literary Theory
Total running time: 3 hours 24 minutes
Purchase Ken Wilber Life Footnotes Volume III: The Birth of AQAL today!
NLP online course
So what is NLP?
NLP stands for Neuro-Linguistic Programming. Neuro refers to your neurology;
Linguistic refers to language; programming refers to how that neural language functions.
In other words, learning NLP is like learning the language of your own mind!
NLP is the study of excellent communication–both with yourself, and with others.
It was developed by modeling excellent communicators and therapists who got results with their clients.
NLP is a set of tools and techniques, but it is so much more than that.
It is an attitude and a methodology of knowing how to achieve your goals and get results
Get Ken Wilber – Life Footnotes Volume 3 The Birth of AQAL with Digitdl.com