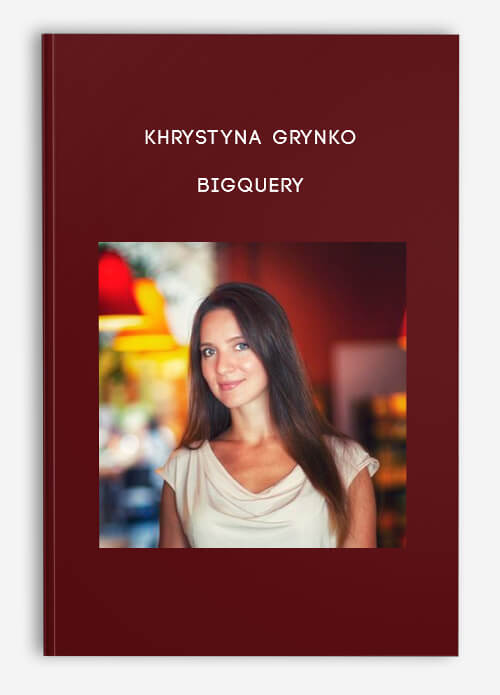 Khrystyna Grynko – BigQuery
Description
Learn to automate insightful reports with Google's lightning-fast analytics data warehouse.
Online course:
Google BigQuery for Marketers
By Khrystyna Grynko, Head of Data @ Better&Stronger
Course length: 2h 9min
Some of the companies that train their teams at CXL Institute:
In a world that increasingly rewards marketers who can turn data into insight…
…learning BigQuery opens a world of possibilities for you and your team.
Pouring hours into painstaking manual reports? Trying to analyze data that lives in different places?
After taking this course, you'll be able to automate your reports and reclaim hours of your time.
And since BigQuery makes it easy to get all your data in one place you'll be able to deliver fascinating insights and ideal solutions that will impress your stakeholders.
Affordable, approachable and lightening-fast, BigQuery is the ideal tool for non-technical and technical marketers alike.
We'll start with the very basics, so don't worry if you've never typed a line of SQL, the language you'll use with BigQuery.
By the end, you'll be able to connect and analyze huge datasets quickly. So you can produce valuable insights for your stakeholders on demand.
Introduction video (2 minutes)
This video file cannot be played.(Error Code: 102630)
After taking this course, you'll…
Understand the possibilities and limitations of Google BigQuery — so you know the exact benefits you and your team should expect
Define and build your data structure schema and create your BigQuery datasets, tables, views and queries
Know the best ways to import your data into BigQuery for every situation
Uncover unique insights from Google Analytics by analyzing your data with BigQuery
Be able to build powerful dashboards in Google Data Studio and detailed reports in Google Sheets
Participants at any level of digital marketing expertise will get value out of this class.
Emily S
Very insightful course. the classes are well explained with a lot of resources and useful examples.
Cansu O
Make your analysis easier, faster and more impactful
It's tough to analyze datasets that live in different places.
BigQuery helps you organize your marketing analytics by connecting all your data sources, such as your CRM, Google Analytics and spreadsheets. Which makes it dramatically easier to perform a comprehensive analysis.
Working with huge datasets?
Short on time?
No problem.
BigQuery works fast — even if you're working with terabytes of data and millions of rows. So you can work in nearly real time, get work done quicker and keep pace with your market.
In this course, you'll also learn how to build powerful dashboards that give you and your stakeholders valuable insights.
By the end of the course, you'll know exactly how to use BigQuery to make your work easier, faster and more impactful.
Develop your BigQuery skills in just 6 lessons
Get your data into BigQuery with the ideal import options for every situation
Work with your data in BigQuery and learn basic SQL language
Query and analyze your Google Analytics data with BigQuery
Build automated reports and dashboards using your BigQuery data
This course starts with the very basics: how to explore BigQuery without entering your credit card.
But by the end, you'll be ready to start your first BigQuery project — from importing data to building powerful automated reports and dashboards.
This course is essential for you if …
You want to analyze all your data in one place.
You're tired of spending time manually creating your marketing reports and would like to automate them.
You're a marketer or an analyst who wants to empower your company to make data-driven decisions.
This course is NOT for you if…
You don't have time to analyze your data. This course is not for you if you won't be able to use BigQuery to at least 50% of its possibilities.
You already have several data consolidation and visualisation tools at your company. Try to use what you already have to its full potential before trying new tools.
You don't have access to a developer to automate file-sending to Google Storage and a Data Protection Officer to accept to send and store the data in Google Cloud.
Skills you should have before taking this course
This course will teach the basics of the Google Cloud Platform and Google BigQuery, and prepare you to start your first project.
You don't need to know any SQL to take this course. If you want to go even further with BigQuery, you'll want to expand your SQL knowledge so you can retrieve very specific data through more advanced queries.
About
Khrystyna Grynko
Khrystyna is a Head of Data at Better&Stronger and Instructor at Jean Moulin University Lyon 3. She has been helping clients to better use their digital data since 2015.
Khrystyna has spoken at numerous MeasureCamp 'unconferences'. She is a DataCamp Lyon and MeasureCamp Lyon organizer and also serves as vice president at AADF, a French-speaking Digital Analysts Association (aadf.fr).
Your full course curriculum
BigQuery
1
Introduction to the Google Cloud Platform and Google BigQuery
Start exploring Google BigQuery (without entering your credit card), using SandBox and public datasets. And learn how to build your data schema to prepare your own BigQuery data structure.
Topics covered:
Examine the free BigQuery trainings available through Google Cloud
Learn to use free BigQuery features for your SQL and data management skills
Build your own data structure for your future BigQuery data warehouse
2
Get your data into BigQuery
3
Work with data in BigQuery
4
Query and analyze your Google Analytics data with BigQuery
5
Build automated reports and dashboards using your BigQuery data
6
Parting thoughts
Show off your new skills: Get a certificate of completion
Once you have completed the course, pass a test to earn a CXL certification.
Add it to your resume, your LinkedIn profile, or just get that well-earned raise.
Internet Marketing Course
Digital marketing is the component of marketing that utilizes internet and online based digital technologies such as desktop computers,
mobile phones and other digital media and platforms to promote products and services. Its development during the 1990s and 2000s,
changed the way brands and businesses use technology for marketing. As digital platforms became increasingly incorporated into marketing plans and everyday life,
and as people increasingly use digital devices instead of visiting physical shops, digital marketing campaigns have become prevalent,
employing combinations of search engine optimization (SEO), search engine marketing (SEM), content marketing, influencer marketing, content automation,
campaign marketing, data-driven marketing, e-commerce marketing, social media marketing, social media optimization, e-mail direct marketing, display advertising,
e–books, and optical disks and games have become commonplace. Digital marketing extends to non-Internet channels that provide digital media, such as television,
mobile phones (SMS and MMS), callback, and on-hold mobile ring tones. The extension to non-Internet channels differentiates digital marketing from online marketing.
Get Khrystyna Grynko – BigQuery with Digitdl.com