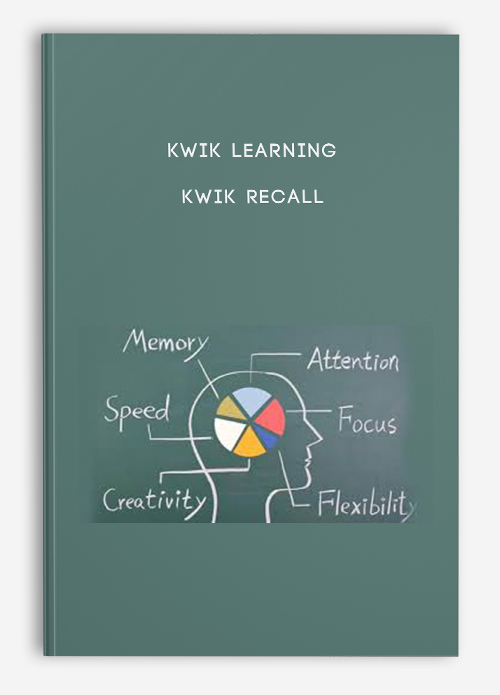 Kwik Learning – Kwik Recall
Kwik Recall
Are Memory Lapses Impeding Your Success?
The concept of good or bad memory is a myth. Everyone has the ability to train their memory in order to retain even the smallest detail.
Remember playing the game Memory when you were a kid? It was always a lot of fun. Kwik Recall is just as engaging, but with more successful results. This course provides you with the tools and strategies you need to reach optimal memory proficiency.
Make an impression at your next meeting when you remember everyone's name and pluck sales figures seemingly from thin air. Almost like a magician, but not quite…
A trained memory not only impresses clients and coworkers, it endears you to your acquaintances. The simple act of remembering someone's name makes them feel good. How wonderful is that?
Kwik Recall helps you remember names, client information, speeches, numbers, business vocabulary, facts, figures, and even foreign languages. As business becomes more and more global, proficiency at other languages quickly separates you from the pack.
Kwik Recall will enable you to:
Reprogram your brain to stop forgetting the things that matter most.
Learn anything at least 2-3 times faster.
Remember names and important facts.
Unleash lightning-fast recall in any situation.
Take your memory skills to the next level.
What Will You Learn?
The program is divided into 7 weekly online sessions, with one online lesson per week. For your convenience, you can attend and repeat any of the sessions as your schedule allows.
Introduction to Kwik Recall and the Five Learning Levels.
How to remember all to-dos and lists using the hook method and chain linking.
Deep dive into remembering names and faces.
Discover the secrets to confidently giving speeches, toasts, and presentations without notes.
Learn advanced memory techniques and ancient secrets for remembering numbers.
Keys to remembering foreign languages and facts.
Kwik Recall review and bonus tips about memorizing a deck of cards.
Get Internet Marketing Course
Digital marketing is the component of marketing that utilizes internet and online based digital technologies such as desktop computers,
mobile phones and other digital media and platforms to promote products and services. Its development during the 1990s and 2000s,
changed the way brands and businesses use technology for marketing. As digital platforms became increasingly incorporated into marketing plans and everyday life,
and as people increasingly use digital devices instead of visiting physical shops, digital marketing campaigns have become prevalent,
employing combinations of search engine optimization (SEO), search engine marketing (SEM), content marketing, influencer marketing, content automation,
campaign marketing, data-driven marketing, e-commerce marketing, social media marketing, social media optimization, e-mail direct marketing, display advertising,
e–books, and optical disks and games have become commonplace. Digital marketing extends to non-Internet channels that provide digital media, such as television,
mobile phones (SMS and MMS), callback, and on-hold mobile ring tones. The extension to non-Internet channels differentiates digital marketing from online marketing.
Get Kwik Learning – Kwik Recall with Digitdl.com