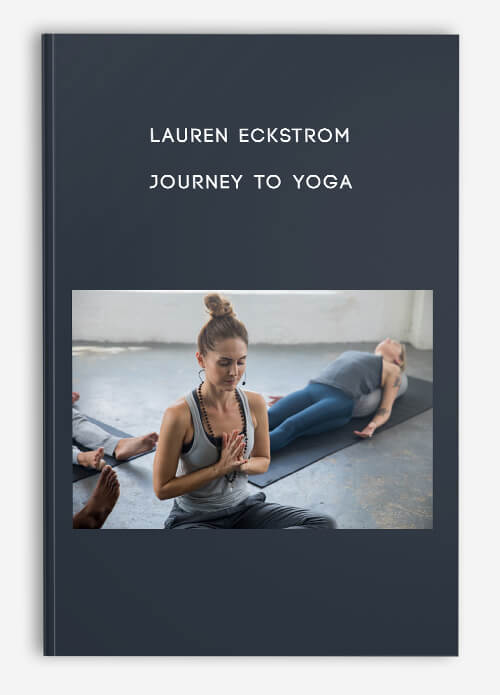 Lauren Eckstrom – Journey to Yoga
Description
What's included?
Included in Journey to Yoga: 10 Days of Connection are 10 unique yoga practices which run 45minutes in length and are accompanied by music: Day 1 Intention, Day 2 Growth, Day 3 Devotion, Day 4 Self-Care (Gentle/Yin Yoga), Day 5 Stability, Day 6 Integrity, Day 7 Creativity, Day 8 Compassion, Day 9 Gratitude (Restorative Yoga), and Day 10 Connection.
Also included with your purchase is a PDF Journey to Yoga: 10 Days of Connection downloadable workbook. Print this workbook and use it daily as you move through the program. The workbook is a key, daily component to your 10 day journey.
Detailed overview
Journey to Yoga: 10 Days of Connection with Lauren Eckstrom is a program of 45 minute yoga and meditation practices that focus on life-enhancing Core Values. Core Values are guiding principles that shape your behavior and actions to align you with your highest purpose and deepest experience of connection. Each practice builds upon the previous to help guide your life in a supported, connected, holistic way. Journey to Yoga includes 8 vinyasa flow practices, a Restorative Yoga practice, and a Gentle Yoga practice. Additionally, to maximize your experience of connection, when you purchase the program you'll receive access to a downloadable workbook with daily exercises to dynamically bring each Core Value off your mat and into your life. For yoga to truly uplift, transform and elevate your life, it must move with you through everything you're thinking, saying and doing. Join Lauren for this 10 day pilgrimage through the body and straight to the heart for 10 days of connection. Your journey begins within…
Fitness online course
More information about Fitness:
Regular exercise and physical activity promotes strong muscles and bones. It improves respiratory, cardiovascular health, and overall health.
Staying active can also help you maintain a healthy weight, reduce your risk for type 2 diabetes, heart disease, and reduce your risk for some cancers.
Moderate aerobics exercises 3 times a week for 30 minutes can reduce cancer risk Cancer-based exercises provide relief to the patient during
cancer treatment There are many benefits to exercising. But it's even more beneficial for cancer patients. This has been proven in research published in the medical journal 'Cancer Journal for Clinicians'.
Get Lauren Eckstrom – Journey to Yoga with Digitdl.com