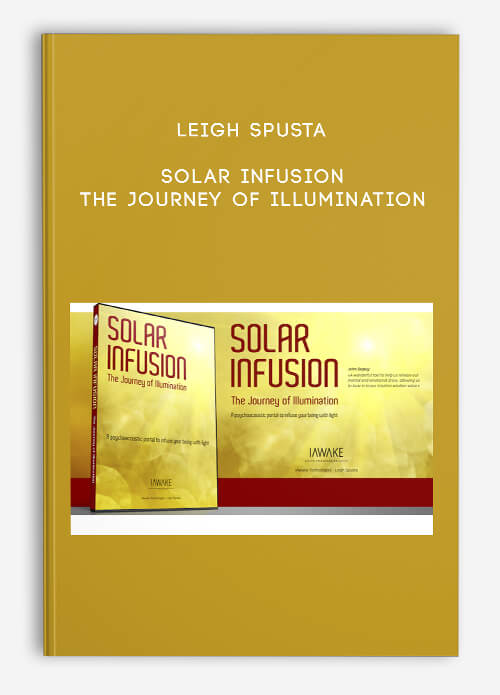 Leigh Spusta – Solar Infusion – The Journey of Illumination
Description
Solar Infusion
A psychoacoustic portal to infuse your being with light
Solar Infusion is a 40-minute psychoacoustic composition specially designed to foster the experience of moving into coherence with the essence of life-force energy, allowing you to relax deeply and attune to the highest expression of your being.
Its a very relaxing track. Feels spacious and has a dream-like quality. I am entrained to the alpha, and do feel the peaceful components! ~ Scott Marshall
Listen to the 5-Minute Sample Now
Use of headphones will provide the most optimal experience.
To fully experience the potential of this program, please get comfortable, close your eyes and relax for the next 5 minutes. Allow the ambient music soundtrack to immerse you in a deep sense of relaxation and peace.
Don't be fooled – this is not just beautiful music – it is the design and technology infused in the soundtrack that evokes the deep relaxation response.
icon-product-category-orange
Solar Infusion can help you:
Move through depression and sadness
Lighten your negative thoughts and perspectives
Set the stage for even deeper meditation and healing
Help release mental & emotional dross, so you can hear your intuitive wisdom voice
Feel a powerful pick-me-up when you are tired, drained, and lacking in inspiration
Stay centered and happy during the winter if you live in a cold clime
Journey to a place of centeredness, compassion, and higher understanding
Open your heart and increase feelings of joy and gratitude
Additional Info
About
How to Use
Technology
Creator
Solar Infusion is really different from the other iAwake tracks I've used! I find I am drawn into it and tend to be sort of captivated just listening to it (instead of doing my usual meditation routine with the track playing in the background). There are so many unique sounds that totally hold my interest and I love the progression of it. I don't know when I've heard a track that silences my monkey mind so successfully. When it's done, I am in such a wonderful deep state, I often play HeartWave Meditation or one of the iAwake Mini Meditations afterwards, just to relish staying in the zone it puts me in and prolong the state. ~Heidi Mitchell
NLP online course
So what is NLP?
NLP stands for Neuro-Linguistic Programming. Neuro refers to your neurology;
Linguistic refers to language; programming refers to how that neural language functions.
In other words, learning NLP is like learning the language of your own mind!
NLP is the study of excellent communication–both with yourself, and with others.
It was developed by modeling excellent communicators and therapists who got results with their clients.
NLP is a set of tools and techniques, but it is so much more than that.
It is an attitude and a methodology of knowing how to achieve your goals and get results
Get Leigh Spusta – Solar Infusion – The Journey of Illumination with Digitdl.com