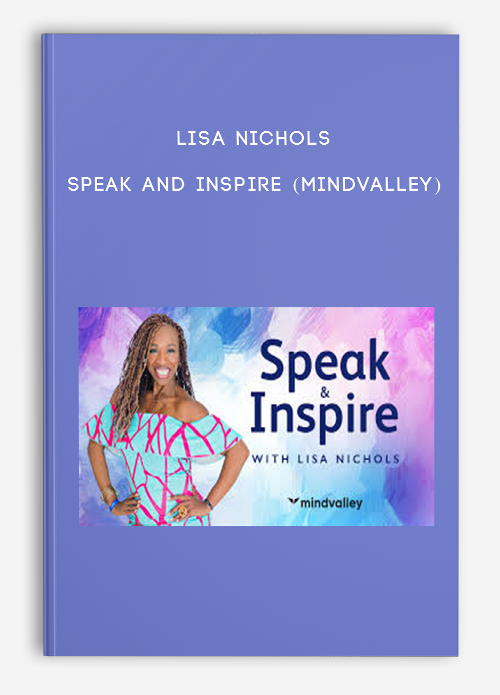 Lisa Nichols – Speak and Inspire (Mindvalley)
How To Communicate With Delicious Authenticity, Confidence & Charisma (Even If You've Never Been A "Natural")
When You Follow Lisa's Remarkable Powerful Communicator Process, You Too Will Be Speaking Your Truth, Inspiring With Your Ideas & Persuading Like A Pro — All In Just 30 Days.
Why We Struggle To Find Our Voice
Fear of judgement, self-doubt, crippling nerves, disconnection from our truth: these are just some of the reasons many of us never get to share what's really in our hearts.
It's a painful reality. Especially because as social creatures, we each have an innate yearning to communicate and connect with others. And to translate into words what our souls want to express.
But if you've ever found yourself holding your tongue, getting into an avoidable argument, or missing out on an amazing opportunity, just because you couldn't express yourself clearly or effectively – then remember it's not your fault, because…
Society Has Trained You From Childhood To "Keep Your Thoughts To Yourself" And "Not Rock The Boat"
And so even though you were born to be a Powerful Communicator, you may find that ability diminished as you grow up. And eventually completely silenced.
In this state, it becomes easier to believe that you're just not a strong communicator. Or that your own voice doesn't really matter.
But it does! And not just for your own personal or professional gain – but for your spouse or partner, your children, your friends, your co-workers and clients. They deserve to receive all of your truth. And be uplifted by it.
As Lisa says…
"The Only Distance Between You And Everything You Desire Is Your Communication."
The Speak & Inspire Quest with Lisa Nichols is an eye-opening adventure that awakens the Powerful Communicator in you.
In just 30 short days, Lisa empowers you to find and confidently speak your truth, captivate any person or audience with your natural charisma, and channel your deepest emotions to inspire, persuade, and motivate the people around you.
Lisa has dedicated over two decades of her life to helping tens of thousands of people find and hone their true voice. This is how she knows for a fact that anyone has the potential to transform their lives, and even the planet, through the power of communication.
Even if you're nerve-wracked or introverted. Even if you're completely inexperienced. Even if you think communication isn't your strong point – just let Lisa guide you through the process. And you'll emerge with the breathtaking ability to Speak & Inspire.
---
What Is A Powerful Communicator?
It's A Person Who…
1. Connects With The Deep Truths Within
Simply knowing who you really are and what you really stand for allows you to speak with far greater authenticity and magnetism – and even shine as a beacon of inspiration for others.
2. Channels Confidence & Charisma Through Self-Awareness
True confidence and charisma aren't gifts only some lucky people have – they are simply side effects of knowing how to own and project the essence of what makes you, you.
3. Harnesses Emotional Life Experiences To Bend Reality
Whether it's a personal tragedy or an ecstatic high point – knowing how to weave your personal emotional landmarks into your communication can make your every word irresistible.
4. Understands The Sheer Power Of Story
People make decisions based on emotions, not logic – which is why learning the art of captivating storytelling is an incredibly important tool of persuasion and influence.
5. Taps Into The Hearts Of Others
When you know how to go beyond the superficial and connect with others on a deeper level, they'll return the favor by trusting and confiding in you.
The Speak & Inspire Quest Empowers You To…
Uncover And Own Your Voice:
Unearth the unique and powerful message you were born to fearlessly share with the world.
Hone Your Natural Magnetism:
Discover how to be a more charismatic communicator and watch people around you hang on to your every word.
Develop Unshakeable Confidence:
Dust off the nervousness and anxiety, and wow anyone with your cool sense of confidence and authenticity.
Become A Star Performer At Work:
Gain the confidence to share your ideas and impress others in any situation, from client negotiations to team meetings.
Strengthen Your Relationships:
Channel greater love, compassion, and empathy into your conversations with the people you care about most.
Expand Your Social & Professional Networks:
Learn how to show up as a magnetic person that others find interesting, trustworthy, and reliable.
Become A Master Storyteller:
Watch people fall madly in love with you as you share emotion-driven stories that captivate your listeners from start to finish.
Engage Any Audience (As Small As 1 Or As Big As 1,000):
Whether it's on stage or in front of an intimate group, you'll have the power to command any crowd.
Meet Lisa Nichols, Your Communication Coach
Lisa Nichols is widely regarded as one of the top speaking coaches in the world. Her mastery of communication and motivation has placed her among the very best orators in history – alongside legends like Martin Luther King Jr., John F. Kennedy, Nelson Mandela and more.
But before any of this recognition, her life was filled with unimaginable scarcity and struggle.
In 1994, Lisa was a single mom in South Central L.A., barely surviving on government assistance. With only $11.42 to her name, she couldn't even buy diapers for her young child – and had to use a towel as a desperate substitution.
This was the lowest point in Lisa's life, and the only thing she really had was… her voice.
In A Moment Of Utter Desperation, Lisa Stood In Front Of Her Bathroom Mirror…
She imagined herself in front of thousands of people delivering a speech. She didn't leave out any detail. The laughter. The tears. The moments of deep connection.
For the first time ever, Lisa discovered the Powerful Communicator in her. And today, 20+ years later, Lisa has made it her mission to help others do the same.
Lisa is one of just two African American women to take her company, Motivating the Masses Inc., public. She is also the author of six best-selling books, including the New York Times bestseller, No Matter What.
In addition to her numerous media appearances on prime time TV – like Oprah, The Today Show, The Steve Harvey Show, and Extra – Lisa's outreach program for teens has touched the lives of 211,650 young men and women, prevented over 3,800 teen suicides, and supported 2,500 dropouts in returning to school.
Through the Speak & Inspire Quest, Mindvalley is thrilled to bring Lisa's extraordinary energy and coaching method to even more aspiring Powerful Communicators worldwide.
What You'll Learn
Explore The Quest
The Speak & Inspire Quest gives you everything you need to motivate, educate, persuade, and deeply connect with any individual or group.
You'll enjoy Lisa's loving guidance on each day of the Quest, as she takes you through a series of carefully designed realizations, tools, and techniques designed to awaken the Powerful Communicator in you.
As you absorb these lessons into your daily interactions, you'll quickly find your communication skills growing in spades – until in just 30 days, you're finally speaking your truth powerfully, naturally, and effortlessly.
Part 1: The Power Of Your Voice And Message
(6 Days)
You'll begin your Speak & Inspire journey by first taking a look inwards, connecting with your unique communication gifts, and harnessing them to own the power of your voice.
Highlights include:
Why language is one of the most powerful connectors on the planet (as well as one of the quickest disconnectors), and how your voice is the doorway to your greatest needs and desires.
Discover a simple tool to measure the power your voice so you can quickly tell just how much of an impact you're having on the people you engage with.
Master the art of enrollment and understand how to carefully formulate your words to create value in the lives of everyone that comes in contact with you.
Use the Mirror Exercise to help you uncover your authentic voice, allowing you to connect with others on a much deeper level than ever before.
Understand the essence of a truly heart-thumping, soul-stirring story, and how to craft a mesmerizing story (even if you don't think you have a story share) that will touch the heart of any listener, leaving them more inspired and motivated.
Experience a powerful, life-shifting visualization that will help you discover what your life mission truly really is, and give you the fuel to accelerate you on your journey on crafting your legacy.
And so much more…
---
Part 2: Defining Your Listener's Experience
(7 Days)
How well are your words landing with your listeners? In this part, Lisa will give you a framework that will help you identify every aspect of the people you want to touch so you know how to connect with your audience at a heart-level and inspire them to take action.
Highlights include:
A simple technique that liberates you from fear, anxiety, brain fog, and other 'inner blocks' holding you back from communicating with effortless clarity and confidence.
How to define the impact you want to leave on people. Doing this automatically unlocks a new level of passion and conviction for the causes that matter to you.
Discover the crucial difference between being confrontational and being "care-frontational", and how a minor shift in intention can diffuse and heal any communication tension you may have with the people you care most about.
Experience a powerful exercise that quickly pinpoints the kind of communication you want to impart – whether it's informational, motivational, or transformational.
Learn how to go far beyond just educating, towards inspiring and captivating your listeners (this is how you get people to pay more attention to you).
And so much more…
---
Part 3: Muscle Developed Through Action
(12 Days)
In this third part, Lisa trains you in a wide range of her most powerful communication techniques for becoming a more persuasive, charismatic, and engaging communicator.
Highlights include:
Learn how to get your listener to trust and open up to you by creating a "safe environment" free of judgment or repercussion.
Three techniques that transform your listener from passive to active, allowing you to immerse them even deeper into your words and perspectives.
Start using your body language to strengthen your message and amplify the impact of your words. Often, it's the smallest of gestures that can make the biggest difference in how well your message is received.
Use the "Echo, Repeat, Respond" technique to instantly create a space where your listener feels they are an active part of your conversation. This is the key to building trust and loyalty.
Master the art of "Verbal Highlights" to create emphasis on vital elements of your message, grabbing your listener's attention, and keeping them hooked from start to finish. (You'll also be busting important myths about what many people think is needed to hold people's attention.)
Get trained in "The Pregnant Pause" technique, and learn why sometimes silence can be more impactful than a stream of well-crafted words. (This may be one of the most risky techniques you'll learn – but when you nail it, you can amplify the impact of your words by at least 10x).
And so much more…
---
Part 4: Speaking to 1 to 100
(5 Days)
In the final stretch of this Quest, you'll learn how to tie all the techniques you've learned together and how to incorporate it into any talk, speech, or presentation you give for massive impact. This applies for both public speaking and non-public speaking environments.
Highlights include:
How to engage and persuade your listener to take any action you want (use this power responsibly!).
Discover 6 simple ways to strengthen your bonds with your loved ones through the power of communication.
How to stay true to your uniqueness and authenticity while also influencing people from all walks of life.
How to dramatically elevate the impact and stick factor of your communication through music and other sensory stimulations (great for presentations and speeches).
And so much more…
Program Information
An Investment In Your Communication Skills Is An Investment In Your Life
Imagine engaging in fulfilling heart-to-heart conversations with your spouse, partner, or child – and learning things about each other you never knew.
Imagine having the power to impress and inspire your boss, clients, or co-workers with consistently brilliant ideas and perspectives.
Imagine finally being able to get through to difficult friends or family members – and helping them see things your way.
Or, imagine sharing your ideas or story on stage – and motivating hundreds or even thousands of people to take action on something important to you.
That's just a tiny example of how upgrading your communication skills also upgrades your career, wealth, relationships, and happiness – all at once. It's one of the most time and energy-efficient ways to grow yourself and discover what you're really capable of.
Which is why we dare say the Speak & Inspire Quest is one of the best investments you'll ever make.
---
Our Commitment To Affordability
Our goal at Mindvalley is to evolve the global education system. And open up transformational lifelong education to every person on every corner of the planet.
That's why we've worked with Lisa to make the Speak & Inspire Quest as affordable as possible, for as many people as possible.
Typical tuition fees for a speaking coach of Lisa's caliber can easily cost you hundreds of dollars an hour (and possibly tens of thousands of dollars for the total scope of training you get in Speak & Inspire).
But this Quest happens online. And, it's powered by immersive community and learning technology that brings you as close as possible to Lisa and your fellow students.
This makes it the next best thing to having Lisa as your personal coach. And with its enrollment fee of just $399, it's a tiny fraction of what you'd pay for this level of training anywhere else.
Self Help – Self Help online course
More information about Self Help:
Self-help or self-improvement is a self-guided improvement—economically, intellectually, or emotionally—often with a substantial psychological basis.
Many different self-help group programs exist, each with its own focus, techniques, associated beliefs, proponents and in some cases, leaders.
Concepts and terms originating in self-help culture and Twelve-Step culture, such as recovery, dysfunctional families, and codependency have become firmly integrated in mainstream language.
Self-help often utilizes publicly available information or support groups, on the Internet as well as in person, where people in similar situations join together.
From early examples in self-driven legal practice and home-spun advice, the connotations of the word have spread and often apply particularly to education, business,
psychology and psychotherapy, commonly distributed through the popular genre of self-help books.
According to the APA Dictionary of Psychology, potential benefits of self-help groups that professionals may not be able to provide include friendship,
emotional support, experiential knowledge, identity, meaningful roles, and a sense of belonging.
Get Lisa Nichols – Speak and Inspire (Mindvalley) with Digitdl.com