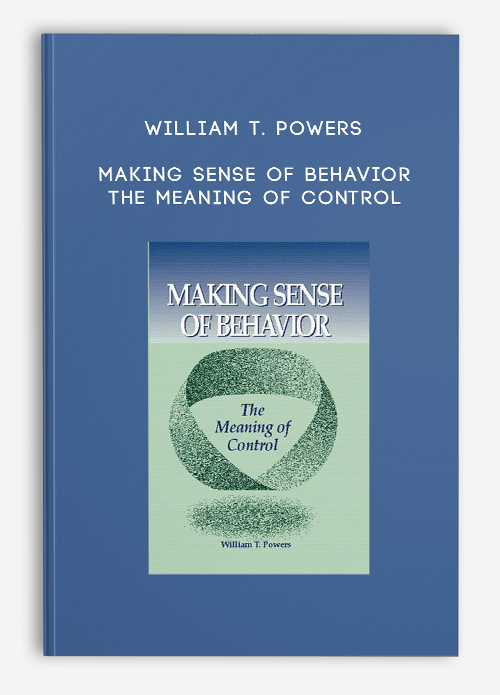 Making Sense of Behavior – The Meaning of Control by William T. Powers
Description
| | |
| --- | --- |
| Product Type | Ebook |
| Format Type | [ 1 PDF, 1 JPEG |
| Author | Wllllam T. Powers |
| Publisher | Benchmark Pubns Inc |
| File Size | 76.09 MB |
| ISBN-10 | 0964712156 |
| ISBN-13 | 978-0964712157 |
| Pages | 180 |
" Everyone who has read this book and takes these ideas to heart has been strongly influenced by it." — Ray Jackson, Director of LeadershipEducation, Unisys University Leadership School
"Here, finally, is a conceptual model of a human that acts like a human." — Sociology Professor Kent McClelland, Ph.D., Grinnell College
"The great thing a researcher can do with Perceptual Control Theory…is to return to the fundamental faith of science." — Philip J. Runkel, Professor Emeritus, Education and Psychology, University of Oregon
About the Author
Mr. Powers' interest in control theory began when he was a junior medical physicist at the Argonne Cancer Research Hospital in Chicago during the early 1950s. Since then he has carried on dual careers; an official one as a designer of electronic systems for science, medicine, and commerce, and an unofficial one as an explorer of the organization of living systems.
Now retired with his wife Mary in Durango, Colorado, he continues his work on living systems through a busy discussion group on the internet, through designing computer models of living control systems, and through meetings and conferences on his favorite subject.
He has published numerous articles in scientific and technical journals as well as authoring four books currently in print. With Richard J. Robertson, Professor of Psychology, Northeastern Illinois University, Chicago, an "early adopter" of PCT, he co-edited the first introductory college text* on Perceptual Control Theory, which is being adopted by increasing number of universities in the USA and abroad.
Lifestyle online course
More information about Lifestyle:
Lifestyle is the interests, opinions, behaviours, and behavioural orientations of an individual, group, or culture.
The term was introduced by Austrian psychologist Alfred Adler with the meaning of "a person's basic character as established early in childhood".
For example, in his 1929 book "The Case of Miss R.". The broader sense of lifestyle as a "way or style of living" has been documented since 1961.
Lifestyle is a combination of determining intangible or tangible factors.
Tangible factors relate specifically to demographic variables, i.e. an individual's demographic profile,
whereas intangible factors concern the psychological aspects of an individual such as personal values, preferences, and outlooks.
A rural environment has different lifestyles compared to an urban metropolis.
Location is important even within an urban scope.
The nature of the neighborhood in which a person resides affects the set of lifestyles available
to that person due to differences between various neighborhoods' degrees of affluence and proximity to natural and cultural environments.
For example, in areas near the sea, a surf culture or lifestyle can often be present.
Get Making Sense of Behavior – The Meaning of Control by William T. Powers with Digitdl.com