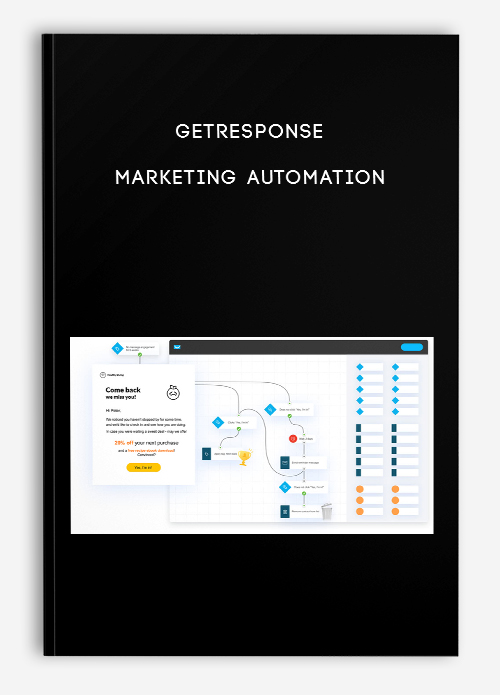 Marketing Automation by Getresponse
Description
Why join this course?
Online consumers now expect more from brands. They want content tailored to their needs – and to only get it when it suits them best. The answer? Marketing automation. In this comprehensive course, you'll learn:
Why and how to automate your campaigns.
How to set up automation workflows.
When to use automation to get the best ROI.
And much more!
1 Industry-recognized certificate
Meet your teachers
What's inside?
In this course, you'll discover how to create a winning marketing automation strategy. Our experts will show you case studies and best practices for segmentation, tagging and scoring, ecommerce integrations, and more.
MODULE 1: INTRODUCTION TO MARKETING AUTOMATION
Marketing Automation: What It Is and What It's Used For

5:41

Getting Started with Marketing Automation: Project Planning

10:04

Types of Automated Workflows

12:27

Consumer Momentum Curve: Raising Anticipation

12:25

You will be able to identify ways to increase anticipation using marketing automation.

Consumer Momentum Curve: Maximizing The Honeymoon Period

5:54

Consumer Momentum Curve: Maintaining Inspiration

5:56

Revision
MODULE 2: MARKETING AUTOMATION STRATEGY
Launching Your First Marketing Automation Project

16:51

You will learn how to start planning out your marketing automation strategy.

Defining Your Marketing Automation KPIs

3:48

Measuring and Tracking Your Marketing Automation Success

3:41

Setting Up Your Tagging and Scoring Strategy

11:04

Segmenting Your List with Marketing Automation

9:25

Revision
MODULE 3: USE CASES
Making a Good First Impression with Welcome Emails

9:50

Building Customer Loyalty Through Personalized Experiences

7:06

You will learn how you can help foster loyalty and continued engagement with your content and brand through marketing automation.

Re-engagement Campaigns: Retrieving Lost Sales with Marketing Automation

19:40

Automating Event Promotion

8:14

Running an Online Course with Emails

7:43

Revision
MODULE 4: ECOMMERCE
How Companies Use Marketing Automation for Ecommerce

8:26

Abandoned Cart Emails

2:37

You will learn how to use email to win back customers who abandoned their cart in your online store.

Post-purchase Communication

4:46

How to Track Customer Behavior on Your Website – and Act on It

8:28

Revision
MODULE 5: ADVANCED TOPICS
Integrating Automation Into Your Marketing Strategy

5:28

You will be able to use marketing automation across different marketing channels: email marketing, webinars, and landing pages.

Linking Marketing and Sales with Marketing Automation

8:33

Revision
Get Marketing Automation by Getresponse with Digitdl.com