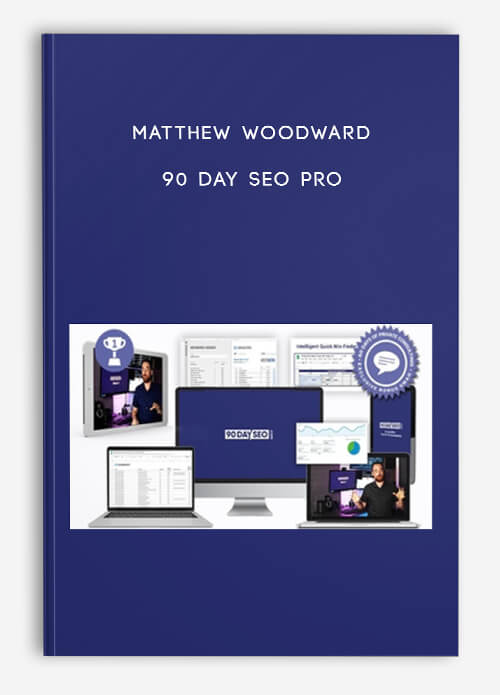 Matthew Woodward – 90 Day SEO Pro
My program will take you by the hand and show you how to transform any website into a targeted organic search traffic magnet.
You'll get access to all of the processes, templates, tools and strategies that we use to increase search traffic.
Whether you just launched your site last week or you're currently facing a decline in search traffic, the 90 Day SEO program will show you exactly what to do and when to do it.
Inside you'll find a series of repeatable processes that you can use to increase search traffic and sales for any website.
How The 90 Day SEO Program Works
All you have to do is follow the process once.
Each week's lessons are made up of a combination of text, video, worksheets, spreadsheets and printable resources to guide you through the process as easily as possible.
PROCESS #1
Research Topics Not Keywords
If you are still focused on keyword research it's likely you are leaving a lot of search traffic on the table.
Instead you should be focused on building out topics that directly align to your business goals.
Learn how to find topics and keywords that will deliver return on investment for your business
Work through my checklist to make sure you pick winners every time
Create a comprehensive topic and keyword strategy that increases your chances of ranking
Get instant access to our incredible Google sheet, it cost thousands of dollars to develop and guides our entire strategy.
PROCESS #2
Building Concrete Foundations
It's important that you build your castle on a foundation of rock, because if you build it on sand – it won't survive the storm.
It's amazing how many people are in a rush to build traffic and links despite building their castle on sand.
This is one of the most common problems I see and this process takes care of that once and for all.
Learn how to build your website on a foundation of rock
Build a website that both humans and search engines love
I'll show you all the things you need to setup to support your sites overall SEO strategy
PROCESS #3
Complete On Page SEO Optimization
I can't tell you how many clients have sworn to me that their on page SEO is perfect but then we find tons of duplicate content, broken links and structural problems.
In fact, I don't think we have ever had a client that didn't have on page SEO problems and unless you've done an audit in the last 3 months, experience tells me that you have on page SEO problems as well.
But what I love about on page SEO is that you are in full control of everything which means I can show you things like:
How to fix the 4 most common issues that have the biggest impact on search traffic and rankings
Testing for opportunities to integrate the latest on page SEO techniques
Leveraging internal linking & site structure to drive relevance, authority and ranking
How find and fix all of the on page SEO problems that you don't know you have
PROCESS #4
Content Planning For Profit
Planning your attack with content is tricky. You need to align business goals, search volume, keyword difficulty, intent, risk and cost which is no simple task.
Taking time to properly plan your content will not only make it easier to rank, but it will also make sure that you are focusing on the topics that bring ROI rather than the keywords that bring traffic.
I'll show you how to find your focus topics that align perfectly with your business goals
You'll learn how to build a complete content strategy that supports your overall SEO strategy
I will show you how to calculate exactly how many words you need to write to help plan and budget accordingly
And I'll also show you how to generate content ideas that will leave humans and search engines hungry for more!
PROCESS #5
Creating Excellent Content (at scale)
Creating excellent content that is optimised for both Google and humans is no easy task, especially at scale. But if you can make them both love your content, you will be rewarded with traffic, backlinks and revenue!
The problem is that content creation is a bottleneck for many businesses so this process takes the hard work out of creating excellent content, whether you need to produce 1,000 words or 100,000 words.
You'll learn how to create excellent content that both Google loves and humans love
Download the 9 content frameworks that translate into easy sales and link building opportunities
I'll show you the right way to outsource content creation while maintaining excellent standards
You'll get access to everything you need to hire and manage writers stress free
Plus… I'll give you live URL's of content we have produced to show you exactly what we are talking about.
PROCESS #6
Instant Traffic Strategies
SEO doesn't happen overnight so having the ability to push targeted traffic when you need it whilst you're growing search visibility is a valuable skill to have.
So I'm going to teach you a repeatable system to drive targeted traffic. One that can be used for any piece of content, in any niche with zero spend.
Not only does this start sending important signals to Google but it will also allow you to reach new audiences and open doors of opportunity.
Learn the 10 things that we do to start sending targeted traffic to our content
How to get your first 100, 200 or 500 unique visitors
The specific thing we do that opens doors to endless link building opportunities
Establish vital human and social signals to your content at will
PROCESS #7
Link Building Strategies That Work
Many new and experienced SEO's struggle with link building for a couple of reasons.
Firstly the content that they are trying to build links to usually sucks. Trying to build links to poor content is like trying to push a boulder up a hill.
But you are not going to suffer from this problem because you'll know how to create excellent content. Instead I'm going to teach you all of the link building strategies you need to snowball your success.
10 link building strategies that you can use with any piece of content
How to automate the discovery of new link building opportunities in your niche
The simple outreach trick we use to break the ice and get people to reply
And most importantly, the 2 link building strategies that deliver 80% of our results. Master these and you have won!
PROCESS #8
Establishing Topical Authority
If you've been focused on keyword research and not topic research then its likely you have some holes in your topical authority.
Building topical authority not only gives Google the signals it's looking for, but it also creates other opportunities for rank boosting signals, like social shares and backlinks.
I'll show you the complete process to increase topical authority and relevance
Learn how to optimise existing content to increase your topical authority
Open doors to other opportunities like link building and social shares
How to double down on your results
PROCESS #9
The Quick Win Finder
If your site is getting any level of search traffic at the moment, it's likely you are sitting on a handful of quick win opportunities.
This process will teach you how to find all of the current available opportunities and how to deal with them.
I will also show you how to prioritise these opportunities because if you are working on a larger site, it's easy to be overwhelmed with this process.
How to identify quick win SEO opportunities across your site
The specific strategies and techniques you need to implement depending on what you find
How and when you should repeat this process for maximum effectiveness
Download a copy my intelligent quick win finding Google sheet which creates the strategy for you
There is nothing but actionable strategies from start to finish.
And it doesn't stop there because you are also going to learn things like-
What is working right now- no fluff.
The most common SEO problems that most people deal with
The quick win on page SEO tricks that you can use to leapfrog the competition
The many many benefits that topic research holds over keyword research
How to find limitless relevant link building opportunities
How we train writers to create perfectly optimized content every time
The trello board we use to manage our writers and scale content production
What to do if you need targeted traffic right now with no budget
How to deal with technical problems like site speed, architecture and structured data
Calculating visitor and revenue loss from poor SEO
How to compete with big brands on the page level
All of the important metrics you should be tracking and reporting on
How to make your content "pop" and stand out from the crowd
Using Natural Language Processing (NLP) to get the competitive edge
How to get influencers to link to and share your content
How to take advantage of internal linking to give your pages boosts in the SERPS
How to build and execute a complete SEO strategy start to finish
The 2 link building strategies that deliver 80% of our results
Get Matthew Woodward – 90 Day SEO Pro with Digitdl.com