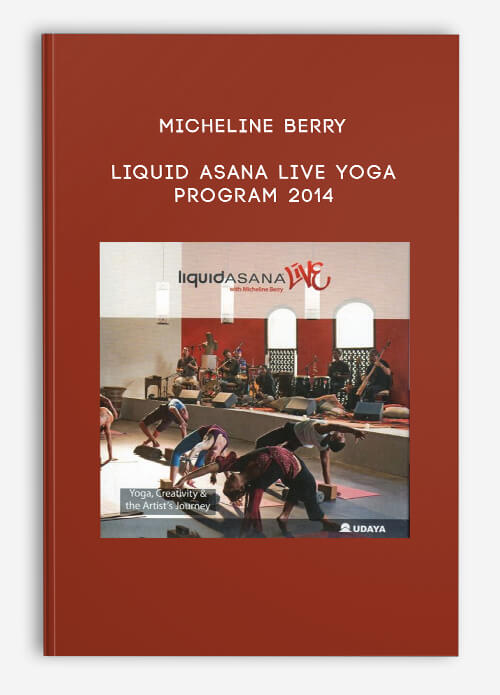 Micheline Berry – Liquid ASANA Live Yoga Program 2014
Description
Instructor's name: Micheline Berry
Type of Workout: Yoga
Fitness Level: Intermediate
Equipment Needed: None
Total Running Time: See Description
Release Date: 2014
Region: 0 (Worldwide)
Discs:
Introduction, Music Videos, Art & Extras
Sankalpa – 53 Minutes
Beginner's Mind – 64 minutes
Roots, Rock and Flow – 74 Minutes
Rock the Shakti 1 – 51 Minutes
Fire in the Belly, Honey in the Heart – 71 minutes
The Middle Way – 70 Minutes
The Power of Staying – 62 minutes
Dancing with the Unknown – 70 Minutes
Heart Bloom – 90 Minutes
Rock the Shakti 2 – 58 Minutes
Yoga Chill Lounge – 46 Minutes
In November 2013, 12 Musicians, 3 Artists and 30 Yogis flew into Nu Boyana studios in Sofia, Bulgaria. They came from around the world to join internationally acclaimed yoga teacher, Micheline Berry in creating Liquid Asana LIVE: Yoga, Creativity & The Artist's Journey,a 12-DVD full spectrum vinyasa yoga program consisting of 12 different sequences.
Join DJ Drez, Craig Kohland/Shaman's Dream, Joey Lugassy, Dave Stringer, Spring Goove, Deepak Ramapriyan, Anita Coats, Moose Ali Kahn, Domonic Dean Breaux, and the rest of the musicians as they musically guide the fluid dance of your vinyasa yoga practice.
Included in this Liquid Asana LIVE box set is Micheline's 40day Yoga, Mindfulness and Creativity Program "The Artist's Journey" as well as music videos, interviews, and an inspirational Robert Sturman yoga+art poster and calendar all designed to ignite your creative expression. One year in the making, we're excited to be finally sharing this extraordinary experience of yoga, tribe, music, art and culture with you all
Fitness online course
More information about Fitness:
Regular exercise and physical activity promotes strong muscles and bones. It improves respiratory, cardiovascular health, and overall health.
Staying active can also help you maintain a healthy weight, reduce your risk for type 2 diabetes, heart disease, and reduce your risk for some cancers.
Moderate aerobics exercises 3 times a week for 30 minutes can reduce cancer risk Cancer-based exercises provide relief to the patient during
cancer treatment There are many benefits to exercising. But it's even more beneficial for cancer patients. This has been proven in research published in the medical journal 'Cancer Journal for Clinicians'.
Get Micheline Berry – Liquid ASANA Live Yoga Program 2014 with Digitdl.com