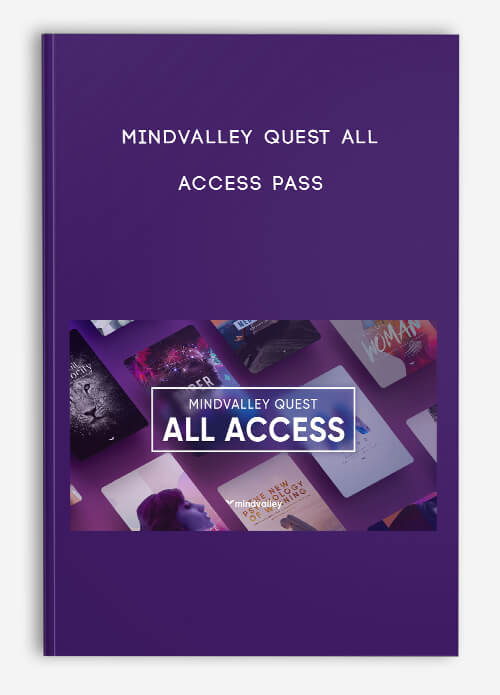 Mindvalley Quest All Access Pass
The Best of Mindvalley, for the Best You.
The Mindvalley Quest All Access subscription gives you access to almost every single Quest Mindvalley has ever produced – and that we ever will produce – at a surprisingly low annual fee.
You'll save big on your lifelong education. You'll discover transformational wisdom and ideas not yet covered in mainstream learning. And you'll connect with the world's best teachers and community.
All on one revolutionary online learning platform.
Unlock a New Superpower Every Month with Mindvalley Quest All Access
What is Mindvalley Quest All Access
Gain new skills and abilities, every single day…
Wisdom, inspiration, and deep connections right at your fingertips…
Lasting personal transformation is your default state.
Mindvalley Quest All Access grants you unlimited access to almost every Quest ever made, plus first-access to all NEW upcoming Quests that Mindvalley creates.
Think of this as your personalized blueprint for transformation — Mindvalley's vault of personal growth wisdom, from the world's best teachers.
All our Quests. Now yours to experience without restriction…
And at a tiny fraction of the price – or less than $2 a day, it's the best deal we've ever offered.
It's never been easier to make transformational learning your daily way of life. No more start-stop personal growth. No more feeling stuck, frustrated, or even lonely.
Instead, Mindvalley Quest All Access empowers you to design your personalized, all-year-round transformation plan to get better everyday, with the most passionate teachers and community on the planet.
Breakthroughs For Every Area Of Life
Craving financial freedom?
How about the fittest, healthiest body of your life?
Perhaps you're searching for spiritual clarity and transcendence?
Or maybe you just want to find your unique purpose and mission?
Whatever you're looking to solve, change, or achieve – and no matter what stage of personal growth you're at – the Mindvalley Quest All Access supports you with unlimited access to dozens of transformational Quests covering every area of life.
---
Learning Customized to Your Goals
Included in your Mindvalley Quest All Access subscription is the Mindvalley Life Assessment: a highly accurate 20-minute test revealing which areas of your life need the most urgent attention. You can then use your assessment results to pick the right Quests for your personal needs and goals – and design your own bespoke learning curriculum.
What You Get:
Unlimited access to Mindvalley's vault of 30+ Quests (Includes Quests being released within the next year)
Member-exclusive access to upcoming

NEW

Quests before anyone else.
Thousands off your enrollment fees compared to their normal retail price, as you design your fully personalized education plan.
Ongoing access to all your Quest communities, so you can stay connected to amazing people on the same journey as you.

FREE

Live Coaching Calls With Authors for upcoming Quests.

FREE

Official Certifications for your Quests (when available) that you can print or display on your social networking profiles.
Premium student support: meaning priority access and faster responses from our world class customer support team.
An unconditional 10-day money back guarantee, so you can try the Mindvalley All Access Subscription before committing.
Cancel anytime
Get Mindvalley Quest All Access Pass with Digitdl.com