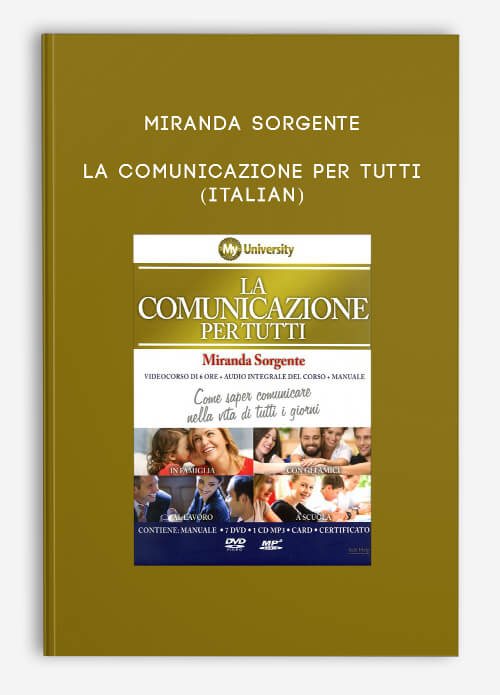 Miranda Sorgente – La comunicazione per tutti (Italian)
Description
Discover the advantages of MyLife University products! You have the opportunity to follow the growth path you prefer directly to your home with products cured in detail and full of useful tools to learn and put into practice the principles and theories of the most illustrious trainers at an international level. In the box dedicated to COMMUNICATION by Miranda Sorgente you will find 6 DVDs, the course manual that shows the slides with the key points, 1 MP3 CD to easily listen to the lessons of the course and the certificate of attendance wherever you want, plus 1 free DVD on Public Speaking. Thanks to these tools, you can follow the explanations and exercises proposed by the author step by step to improve communication in all areas of life. Not only therefore on special occasions, when you have to speak in public, hold an interview or discuss business meetings, but also and above all to interact effectively with the people you love. In fact, how many times does it happen that we have misunderstandings with your partner, or with your parents, because we do not know how to take full advantage of our communication skills, because we do not understand the other person or because we cannot convey an effective message? Miranda Sorgente explains to you the foundations of communication – MESSENGER, MESSAGE, MESSAGE – and reveals the techniques and
the secrets to make the most of them by reaching your communication goal, whatever it is. In addition, to celebrate twenty years of career in the field of training and communication, Miranda wanted to pay homage to her audience with a specific bonus DVD on Public Speaking, of which she is one of the top experts in Italy. So you can also refine the technique as a speaker on special occasions.
DVD CONTENT
DVD 1
Introduction 12:38
The three elements of communication 4:13
The messenger 13:37
The 11:14 message
Duration: 42:05
DVD 2
The messenger 19:31
Social theft 7:53
1R Find again 46:38
Duration: 1:14:27
DVD 3
2r Reinforce 54:22
The three key principles 1:30
Listening 12:05
Appreciation 6:03
Making people feel important 2:11
Duration: 1:16:41
DVD 4
3R Recover 12:22
I feel hurt 39:50
Duration: 53:25
DVD 5
Introduction 11.55pm
4R Reject 14:45
Duration: 38:57
DVD 6
How to ask for a collaboration 28:32
The principles of leadership 27:58
Duration: 57:10
DVD 7
Extra 37:10
Duration: 37:10
Miranda Source
Miranda Sorgente is the founder and coordinator of Love Management® activities and has been involved in Training and Coaching since 1994. After graduating in Economics, she began her experience in the Dale Carnegie Training Headquarters in New York. Back in Italy she turned her passion into a profession, becoming a partner of Dale Carnegie Italia.
In 2003 he created the Love Management® method, the path of growth that harmonizes the spiritual and emotional part with the rational part to get the best in personal and professional life and through this, to help create a better world. The Love Management® method allows you to greatly improve your quality of life and achieve more concrete results through the application of the two basic pillars which are summarized in the phrase "Choose with your heart (Love), Act with Method (Management)".
Miranda personally conducts customized Love Management® programs for companies, and personal growth paths open to individuals. She is the author of several books, audio and video courses and live retreats. She is highly appreciated as a speaker for corporate conventions, clubs and associations for her direct, practical and engaging and at the same time very profound way of communicating.
He has trained thousands of people and professionals including A.D. by Merril Lynch Italia, Hugo Boss Woman, Fiat SAVA, Fidis Retail Italia as well as entrepreneurs and Top Managers of Italian and foreign companies such as Siemens, Citibank, Barclays, INA and SAI Assicurazioni.
He loves sports that he uses as a tool for personal growth for the body, mind and spirit. Among the sports he practices and has practiced: mountaineering, sport climbing, skiing, mountain biking, kitesurfing, he has run two marathons and has a parachuting license. For her inner growth she practices yoga and meditation daily and every year she dedicates several months to the study in close contact with masters of different traditions all over the world.
Your reviews
Get Miranda Sorgente – La comunicazione per tutti (Italian) with Digitdl.com