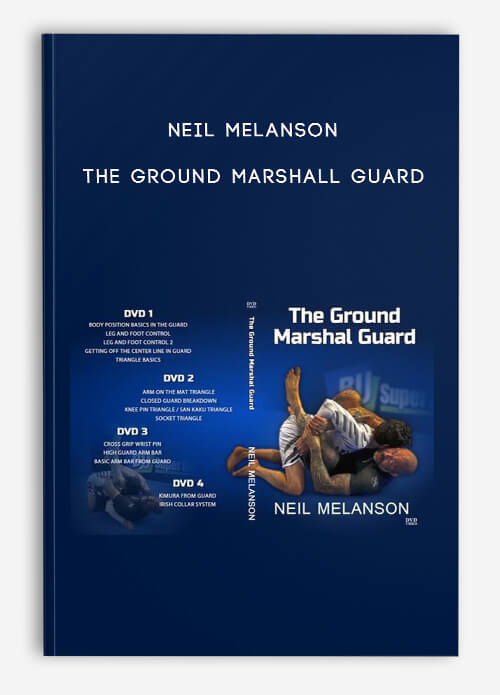 Neil Melanson – The Ground Marshall Guard
Description
From The Man Who Does Everything Different – Yet All The Big Stars Worship Him: The Weirdest
Blackzillians MMA Coach Neil Melanson's Guard Game Is More Efficient and So Much More Advanced Than Any Other Guard Out There
Your Opponents In The Gym & In Tournaments Won't Have A Chance
Neil is one of the most detailed, thorough, and savage grappling coaches in the game today
Learn the unorthodox secrets of the most notorious grappling coach out there
Change your game
Blackzillians MMA Coach Neil Melanson's Guard Game Is More Efficient and So Much More Advanced Than Any Other Guard Out There – Your Opponents In The Gym & In Tournaments Won't Have A Chance
You may not have heard of Neil Melanson but the elite MMA fighters and coaches know exactly who he is and they listen when he speaks. Neil is one of the most respected figures behind the scenes. Take a minute to read what some of them have to say:

placeholder
"He has torn apart submission fighting and reconstructed it in a way that has never been done. I'd slap Rickson Gracie in the face five times before I'd disrespect Melanson." – Chael Sonnen
"The creative and different ways that Neil uses a technique as basic as a triangle and triangle setups is a true testament to his mastery of that structure. Learn it or be left behind." – Greg Jackson, World Famous MMA Coach
"Neil has a unique perspective that makes him a fantastic grappler and a tremendous coach. I've enjoyed learning from him, and I'm honored to have a black belt in his system. If you think his triangles are badass you should see the rest of his game." – Randy Couture, Former UFC Champion
"Coach Neil's knowledge and use of the guard is unparalleled. He has so many threats at once." – Matt Mittrione: Perennial Heavyweight Contender
"Neil's Guard system is the closest thing to unstoppable I've Ever Seen." – Mike Chandler: Bellator Lightweight Champ
"I have rolled with some of the best in the game over my 15 years in this sport and Neil, has by far the most aggressive, slick and violent guard game that I have ever experienced" Frank Trigg – UFC Title Challenger
"Neil has created one of the most unique and effective styles I have ever seen." – Gray Maynard – UFC Title Challenger
"He can find a way to triangle anyone – I've never seen anything like it" – Vitor Belfort

placeholder
Two Birds One Stone
Neil developed a guard system that is different and more effective than any other on the planet as all the famous fighters above attested. Neil started off learning grappling in the Hayastan school – it has roots in Catch Wrestling, Judo & Sambo under world famous coaches Gene Lebel and Gokor Chivichyan. To say it was a strict school would be to understate the reality by a mile. Gokor told Neil that he would have to learn the bottom game very well, since his training partners such as UFC star Karo Paryisian were too advanced in their takedown games that Neil would be able to catch up anytime soon.
placeholder
Neil did as he was told but he was forced due to his body type to pick and choose the moves that worked for him. Sambo and Catch Wrestling don't have as well defined moves from the bottom as does BJJ so Neil developed a lot on his own. What he came up with speaks to his own mind: he's obsessed with independent and free thinkers like Nicola Tesla and in Grappling he is Tesla and beyond. What Neil came up with was pure brilliance
The Hover
Neil discovered something that no one else has ever been able to articulate. Attacks from the bottom don't work unless your opponent is at the proper distance. Go grab a good wrestler to roll with and try a Triangle or a straight armlock and see how it goes… If you don't know exactly what you are doing you will get smashed. Neil figured this out very quickly.
Getting off The Center Line in Guard
Neil has a different idea. He uses the legs from closed guard to pull his opponent in and his forearms to push the opponent's head away. The opponent is in a very uncomfortable spot
placeholder
There is no way to go. Now Triangles, regular chokes and armlocks become very easy to get. Once you are in this spot, you are basically unstoppable. That is why all of the fighters above rave about Neil. He knows how to get them there.
Neil Wrote The Book On Triangles: Literally
placeholder
Neil's triangle game is second to none. And he will unlock all of his secrets on this DVD. First he gets them to hover then he uses a series of finishes depending on what the opponent gives him. It is pure genius. To Finish The Triangle, Neil has a few different techniques depending upon what his opponent gives him. Each finish is super technical and is one that you can actually use…
The Irish Collar System
Neil has a few systems from the bottom and his Irish Collar system is equally unique and effective. In the guard, especially in MMA the worst case scenario is if the guy can break the guard backwards, pull out and strike or pass. This system stops that. If he breaks you down and gets you into this system, it is all done. The opponent is caught into a web of triangles, and Kimuras…
placeholder
Arm on the Mat Triangle
A Guard Unlike Any Other
Neil's guard isn't totally Catch Wrestling, Sambo, BJJ or anything else.. Neil is a unique guy – he thinks of things and his mind creates. He isn't interested in how it looks… only if it works. He doesn't use anything that doesn't work, he's the highest level MMA coach – maybe the best one in the world – and he tests his techniques in the training room against the toughest guys on the planet. Guys like Anthony Johnson, Mike Chandler and up and comers like Linton "The Swarm Vassell." These are techniques that work against incredibly explosive guys who are sweaty and slippery trying to power out:
placeholder
The Baddest Guy In The Room
When we went to film the DVD, some of the quotes we heard blew our minds. Neil apparently rolled with an ADCC Champ (a famous guy that you've heard of) and tapped him numerous times – it wasn't even close. "If you get in Neil's closed guard – just tap man: it's nuts."
When we asked this fighter about the prospects of Neil rolling with 2 of the biggest and baddest BJJ and Submission wrestlers on the planet, the guy scoffed: "Against Neil? Neil would f***ing kill them."
What This DVD Set Can Do For You
You will learn a guard system unlike any other on the planet. No one will have any idea or have the tools to deal with hit. It is that good of a system and more importantly it is so different. You have the limited opportunity to learn from one of the best guys on the planet.
So What Is On this DVD Series?
DVD 1
-body position basics in the guard
-leg and foot control
-leg and foot control 2
-getting off the center line in guard
-triangle basics
DVD 2
-arm on the mat triangle
-closed guard breakdown
-knee pin triangle / San kaku triangle
-socket triangle
DVD 3
-cross grip wrist pin
-high guard armbar
-basic arm bar from guard
-DVD 4
-Kimura from guard
-Irish collar system
So How Much?
Well, what is it worth to learn groundbreaking secrets from a true master – someone that has brought real innovation to the sport and is spoken of so highly by some of the top fighters on the planet?
This is one of the most groundbreaking programs on the market. Neal Melanson has achieved an almost cult-like status and he is going to draw back the curtain and let you in on the secrets he's perfected through the years.
We'd ask how much do you think it would cost to get a personal instructional from Neal but we won't bother – unless you're a top-flight competitor on the world stage there's no chance.
So again, how much would you expect to pay for this kind of learning experience?
We could easily have charged $147 and it would have been a bargain. But we're not going to do that.
Get Neil Melanson – The Ground Marshall Guard with Digitdl.com