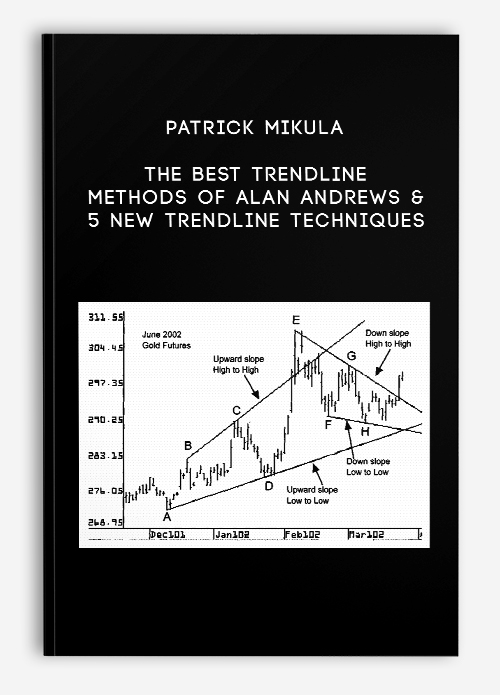 Patrick Mikula – The Best Trendline Methods of Alan Andrews & 5 New Trendline Techniques
Description
The rare trendline methods originally taught by Alan Andrews have been collected and published by Patrick Mikula CTA. For over two decades it has been almost impossible for traders to find any literature on these rare trendline methods. These trendline methods have been slowly collected over the past decade and are now available in one volume titled. The Best Trendline Methods of Alan Andrews and Five New Trendline Techniques. In this book you will learn the rare trendline methods such as how to draw Trigger Lines, how Trigger Lines are used to signal trades, how to draw a Median Line, rules and techniques for using the Median Line, how to draw the Pitchfork. You will learn about the Mini-Median Line and how to draw Warning Lines. You will learn the two Action Reaction methods Andrews
developed including how to draw Action Lines, the Center Line and how to draw
Reaction Lines. You will learn about Andrews Sliding Trendline concept and
More! In addition to the original trendline methods of Alan Andrews
this book also includes exclusive new trendline methods developed by Mr.
Mikula. This includes new trading rules for the Pitchfork, a new high
probability swing trading method which uses the Median Line, a new trendline
tool named the Pitchfork which was developed to work better
than the original Pitchfork in markets which are moving sideways. You will
learn a very powerful tool for swing trader named the Median Line
Pivot Zone. You will see the new Action Reaction Method 3. You will learn
how to draw one of the best trendline pivot finding tools ever developed named
the Super-Pitchfork. This book discusses trendline methods
from beginning to end and does not spend time with off subject discussions of
trading psychology, traditional indicator, the exchanges or anything else. This
book was written with the intent that it would become a reference guide for the
Alan Andrews trendline methods. As far as we know this is the first book ever
published which discusses the Alan Andrews trendline methods.
Forex Trading – Foreign Exchange Course
Want to learn about Forex?
Foreign exchange, or forex, is the conversion of one country's currency into another.
In a free economy, a country's currency is valued according to the laws of supply and demand.
In other words, a currency's value can be pegged to another country's currency, such as the U.S. dollar, or even to a basket of currencies.
A country's currency value may also be set by the country's government.
However, most countries float their currencies freely against those of other countries, which keeps them in constant fluctuation.
Get Patrick Mikula – The Best Trendline Methods of Alan Andrews & 5 New Trendline Techniques with Digitdl.com