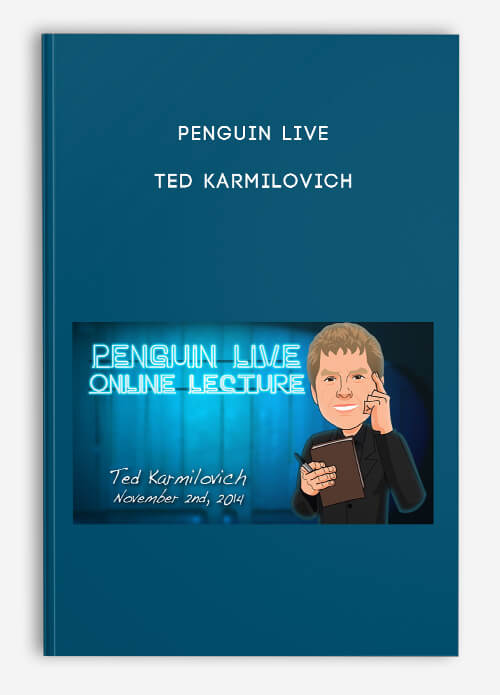 Penguin Live – Ted Karmilovich
Description
"One of the most creative mentalists of all time." – the late Charles Reynolds, magic and mentalism historian.
"No one thinks like Ted when it comes to mentalism." -Neal Scryer
What will he teach?
Ted will showcase effects for close-up, stage, and walk-around including:
PSYCHIC 'SNAPS'!
A psychic version of an effect made popular by Caribbean bartenders where a celebrity name freely chosen by a spectator is transmitted to another person. A secret kept underground for more than a decade.
VOICE PRINT PLUS!
A handling of Ned Rutledge's Voice Print that shows that the performer knows much more than a simple name a spectator is thinking of.
2 BOWL Q&A
The perfect Q&A for any-size group requiring absolutely NO pre-show.
DIME & PENNY
A group of spectators try their hand at intuition with the performer showing he knew all along what the outcome would be.
BLOCKS
Three children choose blocks and concentrate on an image on them. The performer perceives their thoughts.
IMPOSSIBLE PRINCESS
A normal deck is shuffled and distributed to 3 people who each think of a card. The deck is left with the audience as the performer tells each person the card they have in mind.
17
A deck, which has been in full-view, is shown to be a reflection of a person's personality when they are asked to simply name any card.
Who is he?
Most people know Ted Karmilovich as the creator of the Mother Of All Booktests. He also has had numerous effects and notes on the market including Now Is The Time, Vision In Black, Food For Thought, etc. He has received a number of awards including the Psychic Entertainers Association's Creativity and Contributions To The Art awards. He is also a recent recipient of the Annemann Award for contributions to the art of mentalism. Besides being a creator and full-time performer, Ted has been a top consultant for other performers including shows and specials for NBC, CBS, SYFY, and A&E.
If you could ask ONE question to one of the world's most creative professional magicians, what would it be?
If you've never been to a magic lecture, there's never been a better time. Sunday November 2nd at 7:00pm, we're live-streaming Ted Karmilovich LIVE in a spectacular 2-hour interactive online lecture. Watch, ask questions and learn things you won't find in any book or DVD.
Get Penguin Live – Ted Karmilovich with Digitdl.com