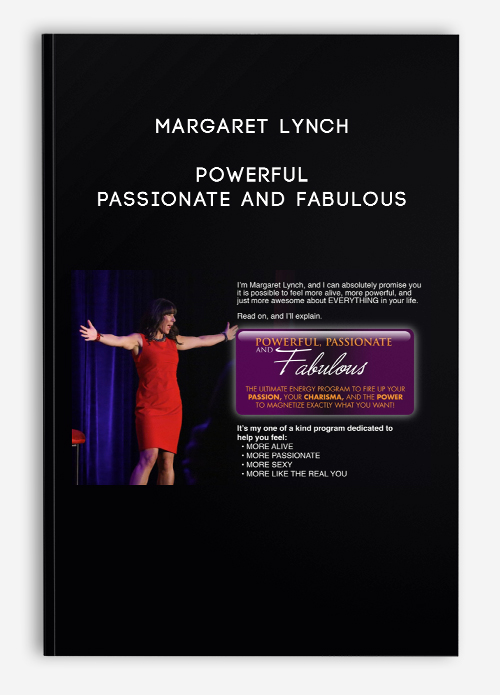 Powerful Passionate and Fabulous by Margaret Lynch
Sale page
Archive page
Get Powerful Passionate and Fabulous by Margaret Lynch with Digitdl.com
Description
Yes, Margaret!
I'm ready to go from feeling "lukewarm" about my life to RED-HOT – with a whole new level of passion and charisma people FEEL and are WOW'd by!
Enroll me in Powerful, Passionate and Fabulous!
HERE'S WHAT YOU GET!
6 Transformational Modules – each an 80-minute recorded teaching, instant mp3 download ($1400 value)
Separate audio mp3 files for just the tapping rounds from each module
Full PDF transcript of entire program of teaching, tapping scripts and participant Q&A
PLUS AMAZING BONUSES:
Preparatory Module – 70 min foundational training on the Profiles. ($100 value)
7 Chakra Toned Healing Meditations from Rhys Thomas – Powerful energy medicine to support your progress. ($120 value)
Ticket to my annual Live Event – Ignite Your Power ($497 value)
1 year free access to my Private Facebook Group Ignite Your Power for support from your new tribe and my coaches. (Priceless!)
NLP online course
So what is NLP?
NLP stands for Neuro-Linguistic Programming. Neuro refers to your neurology;
Linguistic refers to language; programming refers to how that neural language functions.
In other words, learning NLP is like learning the language of your own mind!
NLP is the study of excellent communication–both with yourself, and with others.
It was developed by modeling excellent communicators and therapists who got results with their clients.
NLP is a set of tools and techniques, but it is so much more than that.
It is an attitude and a methodology of knowing how to achieve your goals and get results