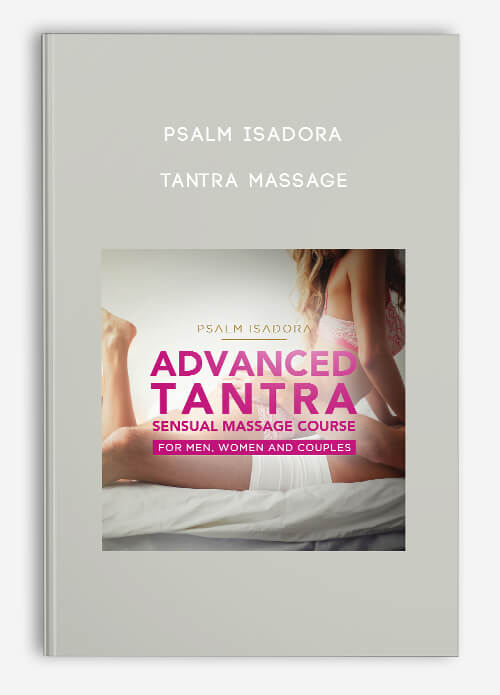 Psalm Isadora – Tantra Massage
Description
Let's be honest.
Part of what makes your ears perk up when you hear "Tantra" is the thought of experiencing infinite amounts of heavenly, mind-blowing physical pleasure and joy. Ecstasy and heat flowing through your veins, merging your body with your mind and soul, and that of your partner's as well.
It is a beautiful union that goes beyond space and time, reconnecting you with the Universe through the unlocking of your sexual power via an ancient thousands-year-old practice.
So yeah, Tantra IS physical. And it's absolutely amazing.
Then Why Do So Many Tantra Courses Fail To Deliver On Those Mind-Blowing Orgasms?
The issue with a lot of Tantra courses is their failure to fully encapsulate ALL areas of Tantra, from the physical to the metaphysical. What happens is students learn either just the physical or just the spiritual part of Tantra. But that's not how it works. You can't expect to see the whole picture when you have just one part of the puzzle.
However, with this program, you'll be fully equipped with the wisdom, enlightenment, and tools to achieve a sexual transformation that's completely out of this world.
That will lead you to be ready to use, understand, and fully take advantage of the sacred Tantric massage techniques we're about to share with you…
Dripping-Wet, Heart-Pounding Ecstasy…
When your sexual psyche finally opens up and your mind and spirit are ready to receive, so will your body.
Whether you're alone or with a partner, imagine this: You're lying on your bed, your body warm to the touch. You can feel your heart beating in your chest. You're at the edge of being out of breath, but each inhale and exhale is controlled and strong. You're in a puddle of sheer ecstasy, having just experienced:
Full-body orgasms that went from your head to your toes, filling your body with heat
Intensified waves of oxytocin, the "Love Hormone", pulsing through your veins
Passion so strong it won't stop the moment you put your clothes back on, but will continue long after you leave the bed
Absolute confidence in your body, sexuality, and attraction
A surge of of dopamine and serotonin, elevating your feelings of love, pleasure, and happiness
And a powerful climax that'll make even the girls on Sex and the City jealous.
Congratulations. You've just been initiated to a highly exclusive club
The Best Massage You'll Ever Give Or Receive…
This exclusive 6-part advanced video course will shift your sexual psyche. It will change how you see the world from black and white to bright technicolor. It's ancient wisdom far beyond the grasp of most of the population, and its power lies in a sacred connection with the Universe and your mind, body, and spirit.
This isn't a generic meditation for those fresh to personal growth. This isn't a simplistic guide written by a self-acclaimed guru. And it isn't temporary gratification that will pass the moment you walk away.
What lies before you is the next level to achieving the ultimate expression of passion, love, and euphoria. It's power at your fingertips.
"She has such an amazing insight from the woman's perspective."
Psalm Isadora, there's not enough paper or time to describe this woman, she has such an amazing insight from the woman's perspective. She is definitely a pioneer with getting people to start having real dialogue about the taboos of sex, intimacy and relationships.
Keith Mitchell,
NFL linebacker, Pro Bowl
"My partner and I found strength in intimacy."
Simply being in Psalm's presence begin the Tantric wheel turning. Melting the ego into the breath, Psalm's gentle guidance allows the body to respond to nature cues in the most sensual and profound way. In trusting Psalm with the delicacy of our relationship, my partner and I found strength in intimacy; a breakthrough of unimaginable pleasure!
Gabrielle Anwar,
Actress br Scent of A Woman, Burn Notice
Welcome To Multi-Orgasmic Tantra Massage – Lesson Outline
This advanced master course focuses specifically on using the physical expressions of Tantra to further deepen and intensify your relationship with your own sexuality, your partner, your body, and your spirit. The lessons can be practiced on your own or with a partner and can be used as foreplay, pleasure, or simply to deepen your intimacy or understanding of your own body.
Lesson 1: The Heart Opener Massage For Women
In this video lesson, you'll discover how to perform an erotic massage for women focusing on the heart and breasts. You'll discover how to:
Have deeper or multiple orgasms and create waves of pleasure whether alone or with a partner
Understand how to tease ecstasy and sexual pleasure from the nipples and transfer it to the rest of the body
Connect to your body and fully let go and get away from self-judgement
Give yourself a Tantric breast massage and release oxytocin, the "Love Hormone"
Lesson 2: The Yoni Genital Massage For Women
An advanced lesson on understanding the ancient Yoni massage and how to fully experience whole-body orgasms. This goes beyond the Beginner's Yoni Genital Massage within your tantra Course by further showing you how to:
Reconnect with your own body and your partner's by releasing judgement
Fully understand the Yoni Puja, a sacred practice that will enhance sexual satisfaction
Have full-body orgasms by releasing the energy and pleasure from the clitoris to the rest of the body
Have the best self-stimulated orgasm by understanding the connection between anticipation, dopamine release, and the final climax
Experience an orgasm if you've never had one before, or intensifying your current orgasms
Lesson 3: The Heart Opener Massage For Couples
Learn how to perform the orgasmic breast massage as a form of powerful foreplay that will link you and your partner in ecstasy. In this video lesson, you'll learn how to:
Bring yourself or your partner into a state of senxual safety and comfort so that all mental and emotional blocks can be let go
Have powerful orgasms by dropping the "expectation" of the orgasm
Slow down your breathing to enhance and lengthen the pleasure your body will feel
Increase intimacy between you and your partner through physical touch and mental connection
"Tease" and manipulate the sexual energy and transfer it throughout the whole body
Use the pleasure chemicals (oxytocin, dopamine, and serotonin) to enhance intimacy and pleasure
Lesson 4: The Yoni Genital Massage For Couples
Focusing on the woman, this couple's massage re-connects you and your partner to the ancient worship and joy of sex and physical pleasure. In this video, you'll discover how to:
Go from no orgasms to powerful orgasms or mediocre orgasms to intensified and multiple orgasms
"Read" a woman's body and respond with the right touch and stimulation
Sync and slow down the breath in order to lengthen the pleasure of anticipation and increase the waves of sexual bliss
Use both touch and breath to increase pleasure
Build anticipation throughout the woman's body with just the right amount of touch, squeeze, and pressure
Activate "double sensation" by massaging both the nipples and the clitoris at the right time
Lesson 5: Five Tantric Touches For The Nipples
The nipples, when touched just right, offer exponential orgasmic waves. In this video you'll learn:
The "Spreading Touch"
The "Circling Touch"
The "Tracing Touch"
The "Pinching Touch"
The "Rolling Touch"
How to mix and use all five for enhanced waves of pleasure
Perfect for couples or for self-stimulation
Lesson 6: Five Tantric Touches For The Clitoris & G-Spot
Understand the variety of ways the clitoris and G-spot can be manipulated for enhanced pleasure. In this video you'll learn:
The "Circling" technique
The "Push+Pull" technique
The "Tugging+Rolling" technique
The "Turning+Tapping" technique
How to finding and stimulate the G-Spot
How to vary your speed, pressure, and touch to further intensify pleasure
How Multi-Orgasmic Tantra Massage Works
Not only will this program help further your understanding of Tantra, but it'll expand your spectrum of physical and sexual experience.
We suggest following the lessons as they are presented as each one continues to build on top of the previous lesson. And because this is an advanced master course, it's best to have a firm and solid foundation in Tantra beforehand. As such, we recommend spending time completing each module in order so you can get the most out of the material.
Get Psalm Isadora – Tantra Massage with Digitdl.com